Isabel Castro was a student at NYU's Tisch School of Arts, where she earned a BFA in Photography and Imaging and a BA in Journalism, with a minor in Documentary Film. She used Kickstarter in an attempt to raise $4,000 so she could make a movie about transgender immigrants seeking political asylum in the United States.
Over the last 40 days of 2011 she raised $4597.
The movie Castro has directed, Crossing Over, tells the story of Francis Murillo, Brenda Gonzalez and Abigail Madariaga, all of whom fled rural Mexico after suffering abuse at the hands of their family, their communities and even the police. The three women live in Los Angeles.

A student at New York University's Tisch School of the Arts, Castro heard the story of these women from a lawyer she consulted with on a journalism paper. She traveled to Los Angeles with other students and shot some footage for a documentary that she is hoping to expand.
Their story is fascinating. The cultural and social pressures in Mexico just made it impossible for them to live there.

--Castro
Though it is difficult for any undocumented immigrants to find safe jobs in the US, it is nearly impossible for transpeople.
Many resort to working in the sex industry, where their chances of being exposed to HIV and developing drug addictions greatly increase. Abigail became addicted to drugs while working as a prostitute, and Brenda contracted HIV. Both women have been more successful finding treatment since being granted political asylum 2008.

--Castro
Francis had not received asylum as of the the end of 2011. Her final hearing was on February 13, 2012. The movie documents her asylum process.

Francis Murillo is forty-two years old and was born in Compostela, Nayarit as the youngest of five children. To escape abuse, Francis came to the United States, living with family at first. She fell prey to depression and alcoholism, but eventually got sober and began working as a housecleaner in 1997. We meet her on the brink of her final asylum hearing, as she prepares for trial with her lawyer, as she goes to work, as she receives emotional support from her best friend, and as she dreams of what her life could be after receiving asylum.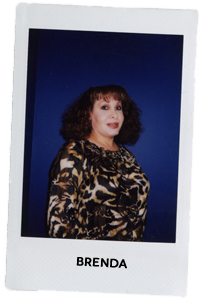 Brenda Gonzalez is forty-four years old and came to the United States after attending La Universidad de Guadalajara because of the emotional and sexual torture that she encountered in Mexico. When she first arrived in Los Angeles, she survived as a prostitute and contracted HIV. She was granted asylum on May 8, 2008. Now she is fully medicated and her HIV is undetectable. She is a leader, the matriarch of her community, and works at Bienestar, a non-profit organization that provides support and resources for marginalized Latino communities in Southern California.
Castro produced a photo essay of Francis and Brenda
available at forovisura
.
Abigail Madariaga is twenty-eight years old and immigrated from Mexico to escape abuse. Upon first arriving in the United States, she worked as a prostitute and consequently became addicted to drugs. After being pulled over for a DUI, she was deported but consequently received asylum in 2009. Though she still struggles with insidious demons like depression, addiction, and loneliness, she strives to be a leader like Brenda. She works as a dancer and Quinceñara planner to put herself through community college and hopefully, someday, law school.
The
Crossing Over
trailer:
Rabbit Hole Studios threw a party February 15 to launch its post-production fundraising phase to raise the necessary funds for editing and distribution.