Yes, the press are, at best, clueless enablers. Yes, Dick "Dick" Cheney is a vulpine ghoul who saved the company he near-bankrupted with the blood of innocents. And, yes, Junior Bush is an Oedipal Wreck who will never wrap his bourbon-boiled brain around the fact that, unlike Sally Field, they really, really don't like him.
And, shock of all shocks and awes, Donald Rumsfeld has finally made himself marginally useful to the world, if only by inspiring another to add a truly masterful phrase to the language.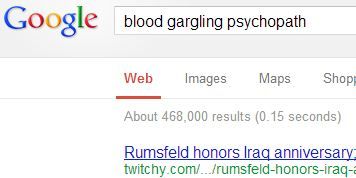 The decennial of our nation's perhaps most cynical war since Spanish West Florida has led scribes to vomit countless pixels, seeking "lessons" in a bloodfest they call folly because "premeditated genocide" clogs their spell-checkers.
Was Junior trying to outdo Poppy? Was Condi trying to show she was one of the boys? Was Dick hearing footsteps after 9/11?
What have we learned? What lessons should we draw? Can I fluff this out to 500 words?
I have a suggestion for those who are sincere in their quest for enlightenment: fucking LISTEN!
The next time some corrupt shill for massive construction contract suckers or modern-day bullet molders starts sputtering implausible reasons to send your kids off to die, LISTEN!
We told you. In detail. In volumes. In majorities.
But you wouldn't listen. We were harshing your buzz. It was just too much fun renaming fried potatoes and singing about boots in asses and making bonfires of CDs from midlist acts who dared ask the other lemmings what they were all running for.
And now the cheerleaders sit with kicked puppy eyes on the sideline, heads turned from the mangled players on the field to search the grass at their feet for lessons.
Next time, listen.
Please.