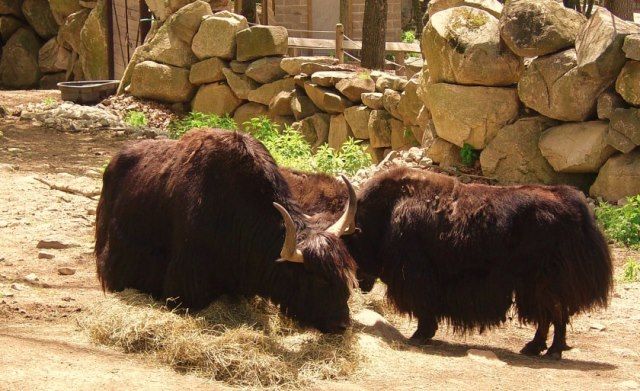 These particular Yaks, unlike the WW2 fighters from the design bureau of Alexander Sergeyevich Yakovlev (OKB-115), have all the aerodynamic qualities of a brick!
Here we see a small group of Yak (Bos grunniens) quietly munching on a pile of hay, at Southwick's Zoo, Menden, Massachusetts, far from their natural range on the Tibetan plateau and the Himalayan region. It is highly likely that these are domesticated yak, as the population of wild yak is very small, and under constant threat from the Tibetan Wolf (Canis lupus chanco) and hunting by the local population. The yak has a number of physiological modifications which enable it to handle the extreme cold and altitude of its native region. Its blood contains a greater proportion of red blood cells than other bovidae, and these platelets are smaller than usual, giving a more efficient exchange between carbon dioxide and oxygen, which along with their greater lung volume, endows the yak with the capacity to act as a beast of burden at high altitudes. Secondly, its coat has a coarse outer layer, and a finer inner one, allowing air to become trapped and therefore acting as an excellent insulator (rather like a high technology 'fleece' jacket). The yak has a concentration of body fat immediately beneath the skin which protects the inner organs from major heat loss, and has far fewer sweat glands than other breeds of cattle. All these inherited physiological characteristics mean that the yak is superbly adapted to life at high altitude, but can suffer from dehydration and even heatstroke in temperate climates, unless managed carefully. Bos grunniens can be crossed successfully with breeds of cattle such as Holstein and Simmental, to produce higher-yielding animals, but these hybrids have to be kept at lower altitudes as they are less hardy. As well as milk and butter (BOTH of which are used in Tibetan and Mongolian tea), yak hair can be braided into rope, and the inner fleece – which can be combed out – despite being of fairly short staple can be mixed with silk and other fibers and spun into a durable yarn (it can also be turned into a superior felt). Yak meat has only 1 ⁄ 6th the fat of beef, and is said to have a delicate flavor.
The domesticated yak (Bos grunniens has been domesticated for at least 2,500, possible 4,000 years) and are found in China, Mongolia and Tibet, with small numbers in Tajikistan, Kyrgyzstan, Bhutan, Nepal, Sikkim, Pakistan, Afghanistan, Siberia in Russia, and India and have also been introduced into the Northern Caucasus. Outside of Asia, yak have also been introduced into New Zealand, Canada, Switzerland and Austria, with small herds in Alaska, Nebraska, Colorado and several other American states. In the United States, the International Yak Association (IYAK) is encouraging both meat production, fibre spinning and the use of yaks as beasts of burden in trekking operations ('The International Yak Association exists for the purpose of advancing awareness of the Yak and for benefiting its members through education and communication. IYAK – est. 1992′).
Yaks do not make lowing or mooing sounds as other cattle do, but grunt instead (their Latin name means 'the ox that grunts'). They are, however, an animal of great utility and, despite their inability to perform aerobatics, I think these yaks are quite something!