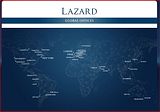 Al Franken might have his first GOP opponent. MPR reports that Lazard Middle Market co-CEO Mike McFadden is at the considering stage.
Lazard Middle Market is a part of Lazard Ltd., a financial corporation that according to its web site operates in 27 countries. Lazard is based in Bermuda --- presumably for the convenient freeway access --- and trades on the New York Stock Exchange under the symbol LAZ. Oddly, the Bermuda HQ isn't on the map of global offices (Maybe there's nobody to talk to at the post office box?).
Lazard appears to engage mostly in mergers and acquisitions, asset management, and private equity. Private equity like in the sort of leveraged buyouts engaged in by other private equity firms, like Mitt Romney's Bain Capital? Can't tell.
Well sure, nominate a 1% candidate who made his money moving companies around for a company based in a tax haven. What could go wrong? I expect if he runs, all fundraisers will include a thorough check of the serving staff for cameras.