The media has been reluctant to provide exact locations in the recent chasedown of the Boston marathon bombing suspects, with good reason. But thanks to eyewitness Andrew Kitzenberg, who posted his address on Twitter (62 Laurel Street), we got a bird's eye view of the shootout between the Tsarnaevs and police which happened right on the street below. Later Kitzenberg appeared on the Today show to describe the events. The carjacked SUV and another green sedan were parked right below his apartment and the brothers were firing from behind the SUV toward the west on Laurel where police had assembled a sort of roadblock.
Kitzenberg verified that at the end of the gunfight Tamerlan (the older brother) rushed headlong toward the police, who tackled him to the ground. At this point the younger brother Dzhokhar got into the SUV and drove it directly at the police who were holding Tamerlan. He succeeded in running over his brother, who became entangled with the underside of the SUV. As a result he was dragged along as Dzhokhar rammed into the police roadblock, got past it, and made a sharp turn at the corner of Laurel Street and Dexter Avenue at which point Tamerlan's body became unstuck and was left sprawled on the pavement.
The SUV may have been somewhat disabled, because Dzhokhar evidently made the decision to abandon it near the intersection of Dexter and Nichols Avenue, about 1000 feet along Dexter Avenue from where Tamerlan's body had been left. Dexter and Nichols is where the police radio traffic told all police to congregate. By then the SUV had been abandoned and Dzhokhar had fled, and shortly afterward the "lockdown" was put in place over a twenty-block area.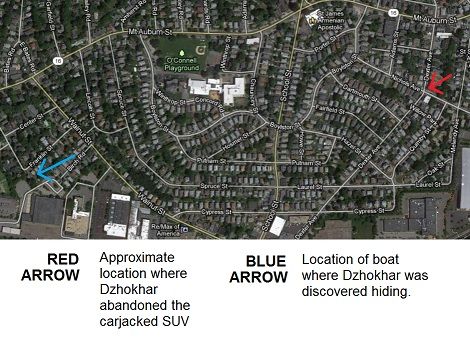 Below, a photograph from the Sunday New York Times showing the curious who had come out to take pictures of the bloodstained patch of pavement where Tamerlan Tsarnaev's body had come to rest.