With the stock market hitting new all-time highs and interest rates hitting new all-time lows, you might be under the impression that the economy is doing great.
The layman and the news media believe that stocks and bonds somehow reflect the economy. They believe that stocks and bonds go up because investors believe the economy will grow. That's how its supposed to work in theory.
The reality is very different.
Last week the GDP, existing homes sales, and Richmond and Dallas Fed numbers came in below estimates, while durable goods orders collapse.
The week before the Philly Fed, Empire State Manufacturing Index, and building permits all came in below estimates.
The week before that Retail Sales made a huge miss, while NFIB Small Business Index
came in low.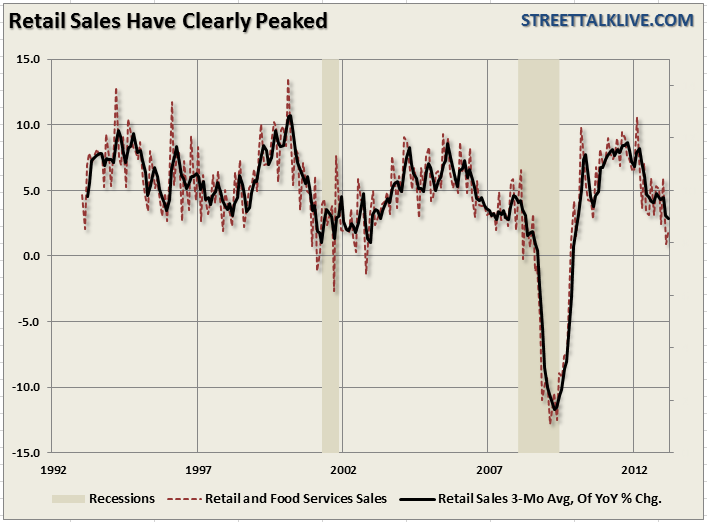 The week before that Non-Farm Employment dissapointed, while Challenger Job Cuts came in very high, and ISM Non-Manufacturing PMI and ISM Manufacturing PMI came in very low.
The week before that it was Chicago PMI, Pending Home Sales, New Home Sales, and Richmond Manufacturing Index that gave depressing news.
I think you can see the trend here. Not every economic number have been terrible, but all the big ones have been bad for quite some time.
Major economic trends are marching downward while poverty is on the rise.
Yet the stock market has powered ahead as if nothing could possibly go wrong.
And it isn't just in America. The same is true in Europe as well.
Europe's leading indicators are pointing down.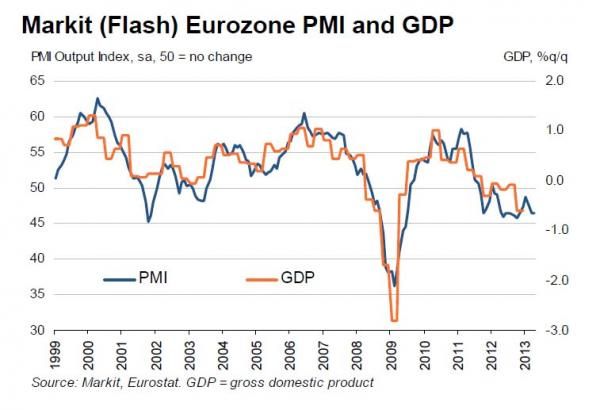 Greek children are picking through trash for food as the economy has gotten so bad that an American-style Great Depression would actually be an improvement.
Meanwhile Spain's unemployment rate hit its highest point since Franco was still dictator at 27.2%.
To make matters worse, the economic depression in southern Europe is finally starting to spread to northern Europe.
Just one more consecutive quarter of shrinking economic output and Germany would officially enter a recession. The same is true of Belgium, France, Luxembourg, Austria, even Sweden and Finland. The Netherlands has already suffered two quarters of declining gross domestic product.
And it isn't just the continent.
British food banks
are starting to be overwhelmed by demand.
Yet European stocks are going strong and the bond markets of Spain and Italy have nearly recovered to pre-crisis levels.
Why the disconnect? Well, one theory is that its because too many brokers are high on cocaine, but I prefer a theory with a little less speculation.
Others, especially those tasked with selling you stocks, would say its because stocks are cheap because of fantastic corporate earnings. But that wouldn't be true.
In fact the reason why the financial markets are powering ahead is rather simple: central bank intervention.
The bond markets of Italy and Spain have recovered because the European Central Bank has threatened to do whatever is necessary to stabilize them.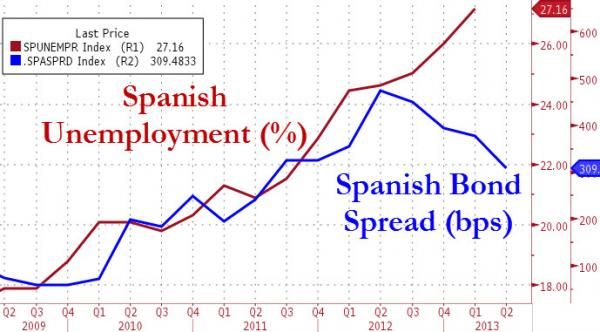 The quantitative easing bond purchasing around the globe has become permanent.
As for the stock markets, central banks are now some of the largest buyers of equities in the world.
Central banks, guardians of the world's $11 trillion in foreign-exchange reserves, are buying stocks in record amounts as falling bond yields push even risk- averse investors toward equities.
In a survey of 60 central bankers this month by Central Banking Publications and Royal Bank of Scotland Group Plc, 23 percent said they own shares or plan to buy them. The Bank of Japan, holder of the second-biggest reserves, said April 4 it will more than double investments in equity exchange-traded funds to 3.5 trillion yen ($35.2 billion) by 2014. The Bank of Israel bought stocks for the first time last year while the Swiss National Bank and the Czech National Bank have boosted their holdings to at least 10 percent of reserves.
What is happening is that central banks are printing money to buy bonds and equities by the trillions of dollars. Central bankers have the ability to create unlimited amounts of money by pressing a few keys on a keyboard.
What this means to you is that the global stock and bond markets are reacting to the massive anticipated purchases from the central banks, rather than from the actual economy. Thus, when an economic report comes out reporting massive layoffs and a weakening economy, you can expect the stock and bond markets to jump higher.
Why? Because the weak economy will force the central banks to purchase more stocks and bonds in order to stimulate the economy. Wealthy investors simply have to step in front of those purchases to buy low and sell higher to the Federal Reserve.
It's the perfect mechanism for transferring wealth to those who own the stocks and bonds (i.e. the wealthy).
It all makes perfect sense in a completely irrational way.