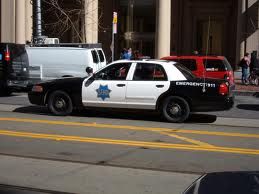 There was a meeting at San Francisco's City Hall on Thursday, called by Supervisor David Campos, who represents the Mission District. Campos said he called for the meeting because he wants to ensure that the City has a workable violence-prevention plan in the face of three recent attacks on transgender people in the area of 16th and Mission. There were two assaults, on February 26 and March 30, and a robbery on April 8. Suspects have been arrested in two of the cases, according to Mission Police Station Captain Robert Moser.
Since 2011 the DIstrict Attorney's Office has reviewed 11 cases of hate crimes against transpeople, brought charges in 9 of those cases, and resulting in 6 convictions.
It is widely believed that such a statistic is a result of underreporting. In the 11 cases above, the two not pursued were because the victims could not be located. Some victims may have immigration status issues and there is distrust of authorities.

There is no trust from this particular population and this Police Department right now, and we need to change that.

--Campos
Campos said he would like to beef up the hate crimes unit, expand the Human Rights Commission's focus on hate crimes, and implement violence-prevention services tailored toward transgender people.
The executive director of San Francisco's Human Rights Commission is transwoman Theresa Stark. Sparks says that progress has been slow. At the meeting she related a story about a meeting she had six years ago with the mother of Nicaraguan immigrant Ruby Rodriguez, who was brutally murdered. Her body was found naked and strangled near I-280 in Potrero Hill.
Her mother sat down and said, 'Why is my daughter seen by this city and this country as a throwaway soul?' And I couldn't answer that because all the actions of The City that were happening at that time, this population was seen as a throwaway. And maybe I am being a little harsh, but history seems to be repeating itself.

--Sparks
The February 26 incident
involved two transwomen who were having a drink at a bar. A group of men told them they needed "to stop pretending" and that they were "really men." The men followed the women out of the bar when they left, grabbed one of the women and tried to remove her pants. when the other woman attempted to intervene, she was struck unconscious from behind. Then the suspects fled.
In April Police Chief Greg Suhr designated the City's 10 police stations as Safe Zone's for the LGBT community. He promised a respectful, courteous and compassionate encounter with police for those who take advantage of the new status.
Suhr said the history of distrust needs to be replaced by "a mentality of a progressive, accepting police force" that includes members of the LGBT community.

We're a Police Department for everybody.

-Suhr