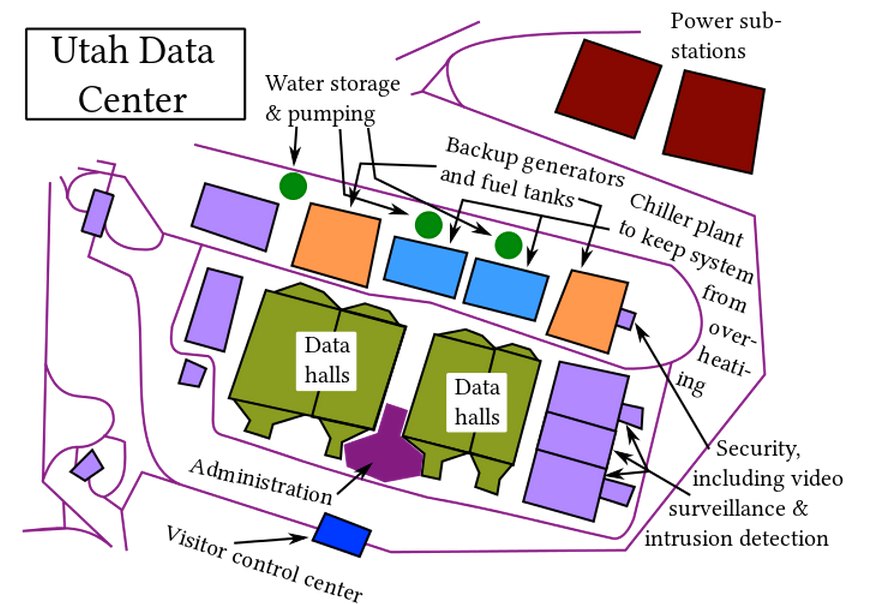 The NSA is building its "Biggest Data Farm" in Bluffdale, Utah. This picture shows a diagram of the Utah Data Center, pictures of the constructed complex are available here and here and here. The Guardian link caption says the Utah Data Center "will be the largest of several interconnected data centres spread throughout the US." Last month, the NSA started construction of another data farm at Ft. Meade, Maryland.
The Utah Data Center is large:

The gargantuan $1.2 billion complex at a National Guard base 26 miles south of Salt Lake City features 1.5 million square feet of top secret space. High-performance NSA computers alone will fill up 100,000 square feet.
The
Utah Data Center
is "a data farm that will begin harvesting emails, phone records, text messages and other electronic data in September." Last summer, NSA Director Gen. Alexander was asked whether the Utah center will "hold the data of American citizens?"
"No," Alexander responded. "While I can't go into all the details of the Utah Data Center, we don't hold data on U.S. citizens."
Given all the parsing of words by government officials in the recent disclosures about NSA spying, Alexander's response depends on the meaning of the word "hold." Is an NSA hold the keeping of data for 20 years, but the NSA perhaps holds data on American citizens for a mere 15 years, and therefore data on Americans is not being held?
However, even if the NSA does not "hold" data on U.S. citizens, "privacy advocates worry that the Utah Data Center provides the agency more tools for gathering and analyzing electronic data generated by American citizens."
Surveillance requires storage and computing resources to conduct the searches, both available at this data farm:

The estimated power of those computing resources in Utah is so massive it requires use of a little-known unit of storage space: the zettabyte. Cisco quantifies a zettabyte as the amount of data that would fill 250 billion DVDs.

…"They would have plenty of space with five zettabytes to store at least something on the order of 100 years worth of the worldwide communications, phones and emails and stuff like that," Binney asserts, "and then have plenty of space left over to do any kind of parallel processing to try to break codes."
The new NSA data farms will
store decades of electronic communications
and require as much electricity for the computers and offices as the power used by "all the houses in Pittsburgh."
That's apparently what NSA thinks it will need to intercept, copy and mine the metadata from 1.7 billion daily phone calls, texts, emails and other electronic communications the agency reportedly tracks in a world where digital storage is getting cheaper to manufacture and maintain.
Last year
, James Bamford wrote about this NSA data farm, quoting a senior intelligence official who was involved with the program: "Everybody's a target":
But "this is more than just a data center," says one senior intelligence official who until recently was involved with the program. The mammoth Bluffdale center will have another important and far more secret role that until now has gone unrevealed. It is also critical, he says, for breaking codes. And code-breaking is crucial, because much of the data that the center will handle—financial information, stock transactions, business deals, foreign military and diplomatic secrets, legal documents, confidential personal communications—will be heavily encrypted. According to another top official also involved with the program, the NSA made an enormous breakthrough several years ago in its ability to cryptanalyze, or break, unfathomably complex encryption systems employed by not only governments around the world but also many average computer users in the US. The upshot, according to this official: "Everybody's a target; everybody with communication is a target."
President Obama is right: We need a public debate. In clear language, no parsing like with President Clinton's qualifiers of the meaning of the word "is."