Last night on Fox Rush Limbaugh lectured wayward Republicans about the evils of compromising with Democrats.
But first Rush talked about Republican prospects for the future.

Rush Limbaugh: There is anything that we're not even conceding is possible a scandal or some such thing that could happen which could cause people to start voting against Democrats in droves regardless what the Republican do.
Ah! A bright future is in store for Republicans if they just keep shaking that phony scandal tree.
Greta Van Susteren: ...Are you suggesting Republicans shouldn't negotiate and have a bipartisan approach with Democrats?

Rush Limbaugh: Well.........Yeah pretty much, because I don't think we have anything in common with em. I mean where's the commonality?
That the two parties have a country to govern is far less important than Republicans getting their way on everything.
Rush Limbaugh: Too often in Washington it means conservatives have to compromise their core in order to be nice people or what have you.

I...I'm about defeating them rather not compromising with them. They don't...Compromise is a one way street! why don't you... not you. Why doesn't the press ever ask Obama or any Democrats why don't you... are you willing to compromise? What are you willing to give up? Its always a one way street! What do Republicans have to do to make something work? What do Republicans have to change to make something work?
So liberals having to compromise their core values so conservatives won't have to is Rush's idea of a fair compromise. If and when the parties do reach a compromise those resolute Democrats barley budge making the always conciliatory Republicans have to cave in again and again.
Rush Limbaugh: He doesn't want our ideas on the table! He's not about ideas he's brute force! Obama is about eliminating opposition not working with it. So why would we help him?
Obama and those dastardly Democrats want a one party state!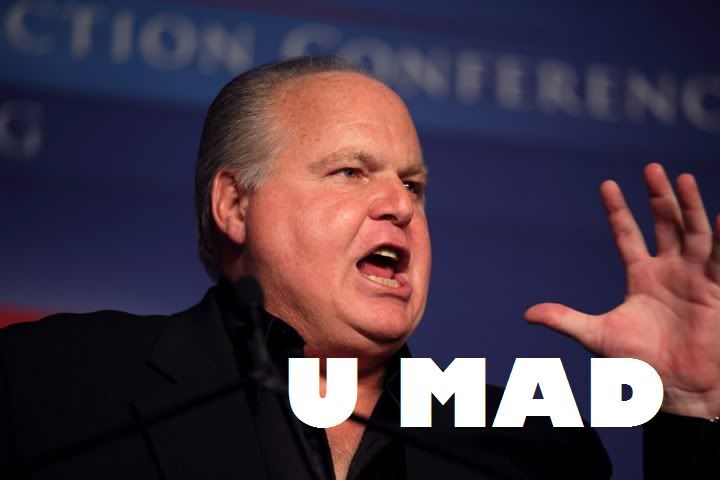 Its so ironic that Rush is urging the Republican Party to adopt the imperious no compromise tactics of a party pursuing one party rule, because he claims Obama wants to eliminate his political opposition.