A Note from Aji: This diary was actually written by Patriot Daily News Clearinghouse, who organized the blogathon. She developed a scheduling conflict and was unable to post today, so I am doing so on her behalf. My only contributions to this diary are some minor edits and the posting of it.
Often when climate change impacts are discussed, the focus is on charts, graphs, stats and science to establish the impacts. The data may make the impacts seem innocuous or abstract, almost sanitized and divorced from the harm to people and critters, which makes it easier for people to push aside or ignore it. But when people see the harm themselves or experience the harm personally, some eyes open to the reality that we need to address climate change, while others are now more open to questioning what they've been told by the GOP or corporations.
The purpose of our blogathon is to show how climate change impacts happening now personally affect people today. Individual diaries will vary widely: One may be a personal story of the diarist; another might be a story about how impacts have harmed other people. Our hope is that we might bring more people on board our climate change movement to pressure politicians and policymakers in D.C. and elsewhere to take effective measures now, because together we can make a difference.
In PDNC's own words: "After we decided to do this blogathon, I came across this story which illustrates how even Texans who supported the oil industry now see the harms that environmentalists have discussed for years."
LOCAL IMPACTS AND GENERATING DISCUSSION
A town in Texas suffers water shortages, partially due to climate change impact of drought and also due to fracking, which uses up to 8 million gallons of water each time a well is fracked. Barnhart, Texas already ran out of water. Prayer circles to pray for rain are held as perhaps 30 communities face running out of water by the end of this year. Authorities scramble to truck in water and build pipelines to save these communities.
In the video below, women talk about how it hurts to run out of water, to not be able to bathe themselves or their grandchildren. After losing the water, community members are angry at the frackers for stealing their water, because without water they cannot continue live in their own town.
One man says that it amounts to two words: "Greed" and "money." He wants restrictions on oil companies that amount to the government telling them to "shut her down." A woman asks, "Why can't I have a say?" She notes that oil companies don't understand because they did not have to turn on a tap that is dry. Another man says that the water level keeps decreasing: "I guess our atmosphere is changing."
One landowner who does have water on his land has been selling it to energy corporations for tracking, and he is now "fighting a legal battle with the county to resume selling water to fracking companies." Even he admits: "Seems like the climate is changing, not only here but all over the world." He says he's not sure it's due to global warming, but that that might be a "good excuse" for it. "I'd hate to see it go on for 10 years and then we really realize that's what it was."
A woman then points out that if the water is gone, so is their town, and asks, "Why do you think the people of this town should be quiet about it?"



The video represents a snapshot of local conversations that will increasingly, necessarily become a part of the community discourse all over the country. And while such discussions may now be marked by confusion and dissension as much as by solutions, they're a crucial first step.
Similarly, we're hoping that when readers learn about how climate change impacts are affecting people today, it will generate discussions that include deniers and delayers. People are already getting sick and dying, wildlife are getting sick and dying, and natural resources are being degraded and destroyed. As these impacts become undeniable, we hope that it will evoke a sense of urgency in everyone who reads about them. We also hope it will inspire more people — deniers, delayers, and those who simply have not had the issue on their radar before now — to join our climate change movement.
LOCAL IMPACTS, CURRENT AND FUTURE
We hear about the impact of sea level rises in the future, so some might view as a harm to occur years down the road. My diary for Hummingbirds will be about how indigenous communities in the U.S. face relocation now due to rising sea levels now. There are communities now discussing how to mitigate or adapt to sea level rise now. In California alone, "we're not talking about just Malibu or Santa Monica. Big time sea level rise - the long term kind - would put at least a quarter of of 85 California cities underwater at high tide. That includes Huntington Beach, Long Beach, Carson, Marina del Rey, and Seal Beach." Hundreds of U.S. cities face watery futures (interactive map here).
We hear about the climate change impacts of heat waves, which some might write off as no biggy because we have had heat waves for many years. But this ignores the change in the intensity and frequency of heat waves that is killing and sickening people now. catilinus is writing for Hummingbirds on the climate change impacts on migrant farm workers, who are dying now, becoming sick now due to heat. Schools in Arkansas, Arizona, Connecticut, North Carolina, New Jersey and Texas have implemented rules limiting practice time for football because heat is a partial factor in a trend where schools noticed that "their players were dying more and more frequently due to heat stress, three times as frequently from 1994 to 2009."
LOCAL IMPACTS, FROM LIFE'S LITTLE PLEASURES TO BASIC SURVIVAL
Climate change also affects what food we will be able to eat. Climate change impacts beer! Beer requires clean water, barley and hops that are impacted by the pollution spewing from burning fossil fuels. "Colorado's New Belgium Brewery, the third-largest craft brewing company in the United States, warns that climate change is hurting beer quality today." Climate change also impacts maple syrup, hiking, coffee, chili peppers, sweaters, fishing, wine, apple pie, surfing, peanut butter, and firework displays on the Fourth of July.
And chocolate! One parent wondered if the simple joy of baking a homemade chocolate cake with your daughter will be possible for her to do if she has children:

When my daughter turned 7 last week, we celebrated with a homemade chocolate cake. I wonder whether she'll be able to do that with her own child someday. Scientists are already warning that chocolate and wheat (the raw material for flour) will become harder to grow as temperature and rainfall patterns are disrupted.
Do you like to fish or eat fish?
Another report found that "increasingly severe droughts, warming winters, and wildfires, are expected to destroy approximately 50 percent of the nation's coldwater fish habitat by the end of the century." Heat and drought combine to lower water levels and warm up the waters, but warmer water means less oxygen for fish to breathe. "Last summer also saw 58,000 fish — including 37,000 sturgeon worth $10 million — wash up dead along a 42 mile stretch of the Des Moines River." And, "1,100 Alaskan king salmon died while traveling to their hatchery because of 80 degree water temperatures."
LOCAL IMPACTS, WILDLIFE HABITATS AND ECOSYSTEMS
Do you like plant and animal critters? Today, polar bears starve to death with such extreme emaciation to the point of looking as flat as a bear rug. "Experts predict that one-fourth of Earth's species will be headed for extinction by 2050 if the warming trend continues at its current rate." We already lost the last Golden Toad in Central America in 1999.
In fact, a study found that "found species would have to evolve 10,000 times faster than they have in the past in order to keep up with the earth's rapidly changing climate, a rate of evolution that the study's authors say is "largely unprecedented based on observed rates."
Susan Gardner will be posting a powerful diary for Hummingbirds on the beautiful wildlife that we may have to say goodbye to if we don't take action.
OUR HUMMINGBIRDS
Our DK Blogathon Team is proud to announce our guest bloggers this time include: (list of names).
Aji explains why our blogathon next week is called Hummingbirds:


"Hummingbirds" Blogathon: September 9-September 13, 2013
---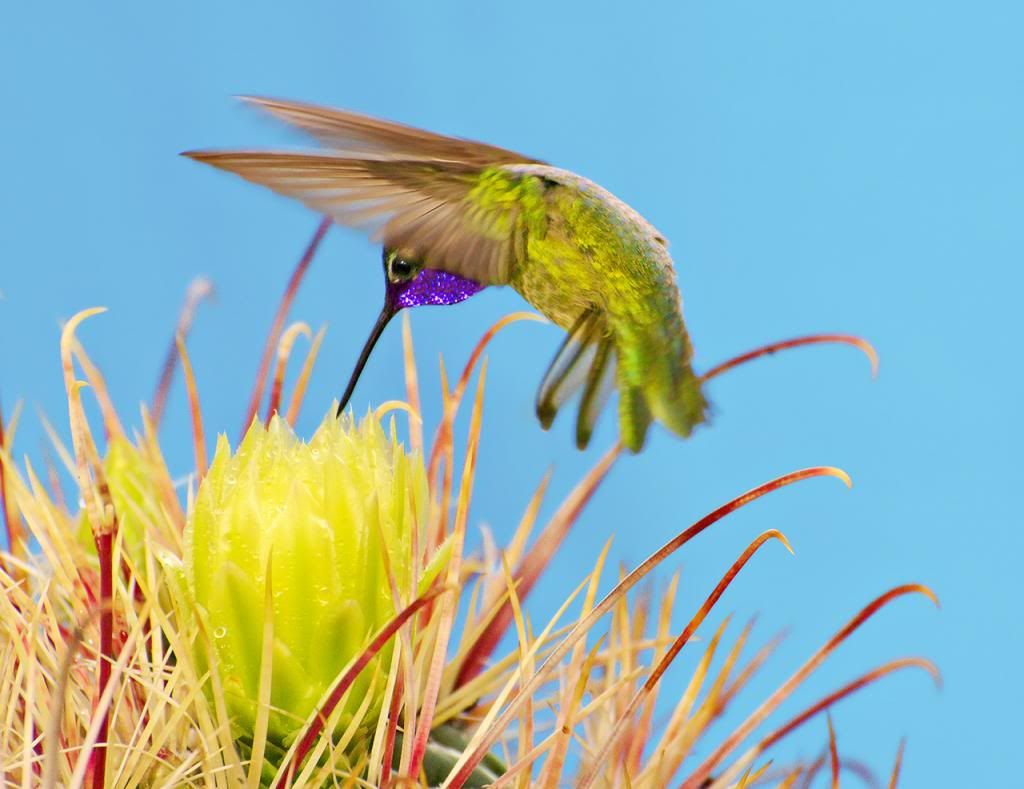 ---
In May 2006, the late environmental activist and Nobel Peace Prize winner Wangari Maathai addressed 7,000 international educators who had gathered in Montreal for the 58th annual conference of the National Association of Foreign Student Advisers (NAFSA). Here is the story she shared with them.

One day a terrible fire broke out in a forest - a huge woodlands was suddenly engulfed by a raging wild fire. Frightened, all the animals fled their homes and ran out of the forest. As they came to the edge of a stream they stopped to watch the fire and they were feeling very discouraged and powerless. They were all bemoaning the destruction of their homes. Every one of them thought there was nothing they could do about the fire, except for one little hummingbird.

This particular hummingbird decided it would do something. It swooped into the stream and picked up a few drops of water and went into the forest and put them on the fire. Then it went back to the stream and did it again, and it kept going back, again and again and again. All the other animals watched in disbelief; some tried to discourage the hummingbird with comments like, "Don't bother, it is too much, you are too little, your wings will burn, your beak is too tiny, it's only a drop, you can't put out this fire."

And as the animals stood around disparaging the little bird's efforts, the bird noticed how hopeless and forlorn they looked. Then one of the animals shouted out and challenged the hummingbird in a mocking voice, "What do you think you are doing?" And the hummingbird, without wasting time or losing a beat, looked back and said:

"I am doing what I can."
In this time of escalating climate change, this is our challenge.

To refuse to surrender to the apathy of denialism and fatalism.
To be fierce in our defense of the Earth.
To continue to fight in the face of overwhelming odds.
And always, always, to do what we can.

Because it is only by each of us doing what we can, every day, that we will save the Earth – for ourselves, and for the generations to come. Like the hummingbird.
---
Our Daily Kos community organizers are Patriot Daily News Clearinghouse, boatsie, rb137, JekyllnHyde, citisven, peregrine kate, John Crapper, Aji, and Kitsap River. Photo credit and copyright: Kossack desertguy and Luma Photography. All rights reserved. Used with permission.