Interrogatories
It's International Chocolate Day. Do you prefer American chocolate, or something more International? What is your favorite chocolate?
Do you defy superstitions by doing those things that the superstitions warn against (walking under ladders, etc.)?
Remembering that it's Think Positive Day, would you let your kids take over the kitchen? Have you done so in the past? If so, are your kids good in the kitchen? (If your kids are grownups, maybe the question would work better for grandkids.)
Are you or any close to you celiacs? If so, have you found any good products or recipes that are as tasty as the gluten-filled things?
The Twitter Emitter
John McCain plans to personally vet every rebel requesting arms in #Syria using his famous "terrorist gaydar."

— John Fugelsang (@JohnFugelsang) September 12, 2013
Iowa just wants give Stevie Wonder more options for being arrested for being black. #ArmTheBlind

— Gen JC Christian (@JC_Christian) September 12, 2013
Dear Congress: please fund @NASA. It's worth it. I'm from the future, so I know what I'm talking about.

— Wil Wheaton (@wilw) September 12, 2013
My can of whupass has expired.

— Crutnacker (@Crutnacker) September 12, 2013
Twitter has filed for an IPO. It's very important that everyone keep tweeting great content during this important valuation period.

— pourmecoffee (@pourmecoffee) September 12, 2013
Twitter is going public, which means your retweets are now all endorsements and your favorites still are useless. Thank you.

— LOLGOP (@LOLGOP) September 12, 2013
Ted Cruz: "It's time to shut down the American government and let Putin run things for a while"

— The Daily Edge (@TheDailyEdge) September 12, 2013
Vladimir #Putin couldn't find the moral high ground with a Sherpa.

— John Fugelsang (@JohnFugelsang) September 12, 2013
"Working in mysterious ways" is functionally indistinguishable from "fucking up".

— God (@TheTweetOfGod) September 12, 2013
The narrative last week: Romney was right about Russia being our greatest enemy! This week: Putin should be our leader!

— Jesse Taylor (@jesseltaylor) September 12, 2013
Obama: "Hey Vlad, could also write an op-ed about why you and the Pope think universal healthcare's so great."

— The Daily Edge (@TheDailyEdge) September 12, 2013
On This Day
In 1501, Michelangelo began carving his famous statue of David.
In 1788, the Philadelphia Convention decided on the date of the very first Presidential election.
In 1814, the Brits failed in their bid to capture Baltimore, and Francis Scott Key was inspired (if you call it that) to write The Star Spangled Banner.
In 1899, a man called Henry Bliss became the first American automobile fatality (he was run over by a New York taxicab).
In 1932, parts of Libya reached temperatures up to 136° Fahrenheit. At least it was a dry heat.
In 1948, Margaret Chase Smith became Senator, making her the first woman to serve in the House and Senate.
In 2001, commercial aircraft were allowed to take off in the U.S. for the first time since 9/11.
In 2007, the UN General Assembly adopted The Declaration on the Rights of Indigenous Peoples.
Born on This Day
1436 - Benvenuto di Giovanni, Italian painter (d. ca. 1518)
1475 – Cesare Borgia, Italian politician and cardinal (d. 1507)
1521 – William Cecil, 1st Baron Burghley, English statesman (d. 1598)
1601 – Jan Brueghel the Younger, Flemish painter (d. 1678)
1623 – Pieter Wouwerman, Dutch painter (d. 1682)
1676 – Élisabeth Charlotte d'Orléans, French wife of Leopold, Duke of Lorraine (d. 1741)
1766 – Samuel Wilson, American meat-packer, namesake of Uncle Sam (d. 1854)
1829 - Henry Stacy Marks, English painter (d. 1898)
1842 - Guglielmo Ciardi, Italian painter (d. 1917)
1851 – Walter Reed, American physician and biologist (d. 1902)
1857 – Milton S. Hershey, American businessman, founded The Hershey Company (d. 1945)
1860 – John J. Pershing, American general (d. 1948)
1861 - Frederick Judd Waugh, U.S. painter of seascapes, (d. 1940)
1880 – Jesse L. Lasky, American film producer (d. 1958)
1893 – Larry Shields, American clarinet player (d. 1953)
1903 – Claudette Colbert, American actress (d. 1996)
1904 – Gladys George, American actress (d. 1954) See Tipple Jar
1914 – Leonard Feather, English pianist, composer, producer, and journalist (d. 1994)
1916 – Roald Dahl, English pilot, author, and screenwriter (d. 1990)
1922 – Charles Brown, American singer and pianist (d. 1999)
1922 – Yma Sumac, Peruvian soprano (d. 2008)
1923 – Édouard Boubat, French photographer (d. 1999)
1924 – Maurice Jarre, French composer (d. 2009)
1925 – Mel Tormé, American singer, actor, and composer (d. 1999)
1931 – Barbara Bain, American actress
1941 – David Clayton-Thomas, Canadian singer-songwriter, guitarist, and producer (Blood, Sweat & Tears)
1943 – Mildred Taylor, African-American author
1944 – Jacqueline Bisset, English actress
1944 – Peter Cetera, American singe-songwriter, bass player, and producer (Chicago)
1948 – Nell Carter, American actress (d. 2003)
1949 – Fred "Sonic" Smith, American guitarist and songwriter (MC5 and Sonic's Rendezvous Band) (d. 1994)
1954 – Steve Kilbey, English singer-songwriter, bass player, and producer (The Church and Jack Frost)
1964 – Tavis Smiley, petulant American talk show host, journalist, and author
1967 – Stephen Perkins, American drummer, songwriter, and producer (Jane's Addiction, Porno for Pyros)
1969 – Tyler Perry, American director, screenwriter, and producer
1971 – Stella McCartney, English fashion designer
1977 – Fiona Apple, American singer-songwriter and pianist
Died on This Day
1506 – Andrea Mantegna, Italian painter (b. 1431)
1625 - Tommaso Salini, Italian painter (b. 1575)
1677 - Simon Renard de Saint-André, French painter (b. 1613)
1813 – Hezqeyas, Ethiopian emperor
1847 - Prosper Georges Antoine Marilhat, French painter (b. 1811)
1885 - Henri Charles Antoine Baron, French painter and illustrator (b. 1816)
1881 – Ambrose Burnside, American general and politician, 30th Governor of Rhode Island (b. 1824)
1903 - Karl Schuch, Viennese painter (b. 1846)
1907 - Emilio Sánchez Perrier, Spanish painter (b. 1855)
1946 – Eugene Lanceray, Russian painter (b. 1875)
1959 - Gilbert Adrian, American costume designer (b. 1903) Garbo in one of his creations, a lovely black silk velvet concoction:
1973 – Betty Field, American actress (b. 1913)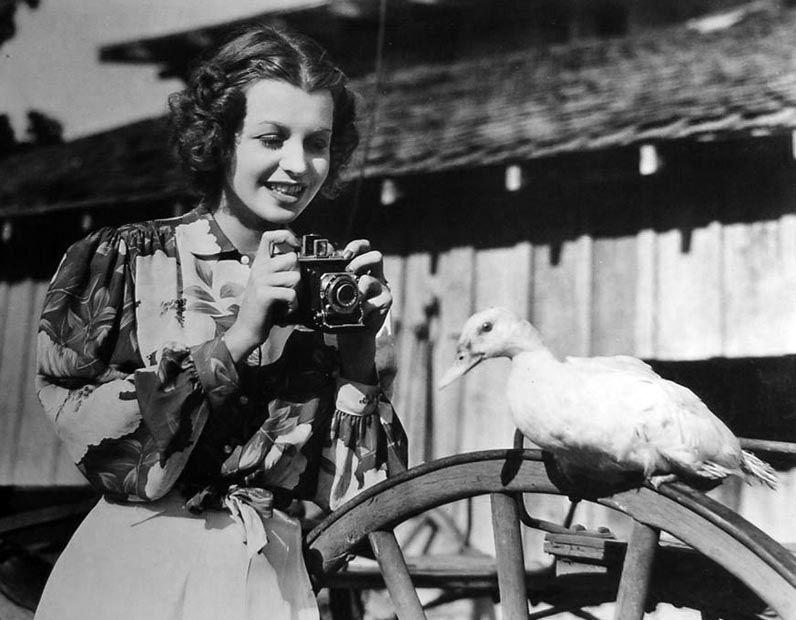 1977 – Leopold Stokowski, English conductor (b. 1882)
1982 – Reed Crandall, American comics artist (b. 1917)
1987 – Mervyn LeRoy, American director (b. 1900)
1991 – Joe Pasternak, American director (b. 1901)
1996 – Tupac Shakur, American rapper, producer, and actor (b. 1971)
1998 – George Wallace, American politician, 45th Governor of Alabama (b. 1919)
2006 – Ann Richards, the witty and much missed 46th Governor of Texas (b. 1933)
Today is
Programmers' Day
International Chocolate Day
National Peanut Day
Snack a Pickle Time
Defy Superstition Day
National Peanut Day
Positive Thinking Day
Kids Take Over The Kitchen Day
National Celiac Awareness Day