The blame squarely lands on DreamActivist.org if we hear Republicans in the House wanting stronger border security than what was proposed in the Gang of Eight legal comprehensive immigration bill that was passed.
Co-founders of DreamActivist are on the record for wanting to kill CIR efforts.
Actions by anarchist anti-Obama DreamActivist.org via Prerna Lal (Fijian immigrant who is not technically a DREAMer) and Mohammad Abdollahi (Iranian immigrant who refers to our Nation as "Amerikkka") are causing House Republican Representatives to take stricter border restrictions.
According to Breitbart, an internal DHS document was shown to Arizona Rep. Matt Salmon who is the chairman of the House Foreign Affairs Committee's subcommittee on the Western Hemisphere and he saiid: regarding "open border / amnesty" supporters where he said:
".... it is unacceptable for leftwing activists to engage in such behavior...

...the mere fact that these individuals are able to do this stands to further highlight our need for stronger border security," Salmon said. "While I agree we have a broken immigration system that needs reform, these individuals are adding additional burden to the already overstressed personnel in order to push their own liberal agenda."
The above information is not accurate because Prerna Lal, Mohammad Abdollahi and DreamActivist.org are not leftists. They are anarchists who have received 'guidance' from a Republican-Liberatarian lawyer according to
FOX news
.
I facilitated a call into Arizona Rep. Matt Salmon's office with regard to this anarchist group, alerting them to this group. I told the staffer DreamActivist is not a leftist group and gave attention to their anarchy and money-making views. They are exploiting Mexican children to line their own pockets.
For instance, Prerna Lal and Mohammad Abdollahi are anti-Obama and have become one of his biggest critics. They support anarchist views [whereas the majority of American voters are in support of national and border security alongside a reasonable and humane legal immigration reform plan]. See their support for Republicans below and their anti-Obama views.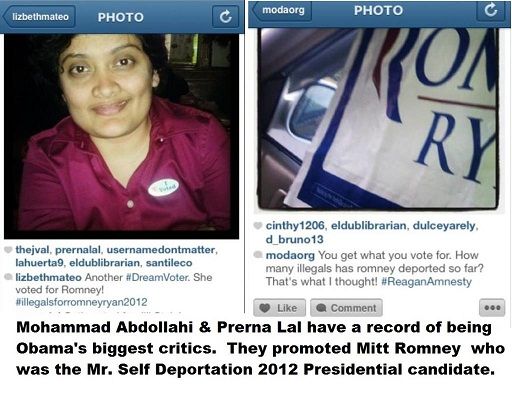 More importantly, these so-called DreamActivist leaders who consist of radicals and extremists appear to be participating in a money making scheme.
We have already informed the FBI with regard to Mohammad Abdollahi (Iranian immigrant) and Prerna Lal (Fijiian immigrant) who are founders of the sham DreamActivist.org with regard to their financial activities here and here. Bottom line? According to a FBI representative, there is no such thing as "legal coyote" work as DreamActivist.org would have you believe. More importantly, we demanded DreamActivist stop misleading the public when they claimed they were a non profit organization when in fact they are a for profit LLC. In other words, they appear to be in support of Capitalism ideals to further their agenda. DreamActivist.org responded to our demands and took their fraudulent information down within the same day we facilitated our demand.
Though Prerna Lal plays the victim card often, she is not completely a 'dummy.' She knows what she is doing as she was a research assistant at The George Washington University Law School. We caution our reader to not be fooled with her playing the victim card because she has benefited financially from doing so.
Prerna Lal has been receiving funds as of September 8, 2013 (see here) and she listed herself as a spokesperson for the DREAM9. Most people don't know that Prerna Lal used her LLC to save her $600,000 home in Antioch, CA, from foreclosure and later modified a loan for $300,000.00. Indeed she brags about getting free cheese but pulls on Americans and their heart strings when she asks for handout$ when she paints herself a victim — yet we discovered she gives non of that 'free cheese' to followers of Mexican descent.