GUS (Gave Up Smoking) is a community support diary for Kossacks in the midst of quitting smoking. Any supportive comments, suggestions or positive distractions are appreciated. If you are quitting or even just thinking of quitting, please join us! We kindly ask that politics be left outside.

You can also click the GUS tag to view all diary posts, or access the GUS Library at dKosopedia for a great list of stop-smoking links. Check it out! Want to make sure you never miss us? Follow (♥) the GUS tag to keep GUS in your Stream and easily find the link to the latest one. It's just that easy!

A message to ALL quitters (and would-be quitters): You don't have to avoid GUS if you have a failed quit. We won't give you a bad time or nag you. We consider the failed quits as "practice" for the real quit.
For me, the last few weeks have been an exercise in learning to go with the flow, roll with the punches, and expect the unexpected. No matter how carefully we plan out our lives, there are always times when nothing seems to unfold as we'd anticipated, to put it kindly.
Whether it's workplace glitches, unexpected deadlines, interpersonal drama, unwelcome information, People Being Wrong On The Internet, or some other life hiccup you hadn't planned for (illness, financial squeezes, natural disasters, or shutdown of a needed government service by a rogue band of wingnut pinheads), every so often life offers up a big ol' WTF?!? that leaves you off-balance and scrambling to cope.
In my case, it was two parts work (project glitches, big deadlines), one part unwelcome news (hey, the mortgage company hasn't been calculating my escrow correctly and I have to cough up a few thousand bucks or see my mortgage payment skyrocket), one part worry (a friend was in a car accident) and one part homefront hiccup (unexpected last-minute family visit) that threw me for a loop. I'm behind on my email and calls and To Do List; I haven't had much time for socializing or even enough time to do the basic stuff like dishes or laundry. It's not pretty, folks.

In the old days, I used to cope with this sort of thing by smoking a lot, and sometimes by smoking a lot and also flat-out ignoring whatever it was that was hitting the fan. These days, I don't have the former coping strategy to fall back on, and I long ago realized that the latter coping strategy isn't really much of a strategy and only makes things worse. So I'm left to invent new ways to deal.
One of these things is to---well, if not exactly welcome the unexpected, to at least be open to the idea that not all unexpected things are bad. For example, saying "yes" to an unexpected last-minute invitation from my sister in the middle of a busy weekend let me see the Biennial at the Portland Museum of Art for free on a Saturday morning. It also let me be in the right place at the right time (a thrift shop, while waiting for a bus) to let me find one of these babies (in mint green, to match my kitchen) for $7! Score!
It also helps to recognize that we don't always have to do battle with or overcome the not-so-great things. Sometimes it's okay to just roll with the punches, to pick your battles, and to give yourself permission to be "good enough" when "good" isn't possible. I say this as if I've mastered the art, but to be honest, I still struggle with this one. Most people do!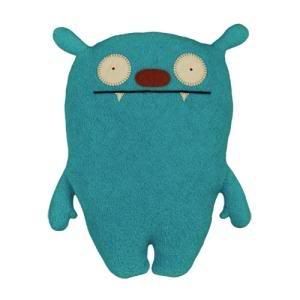 So many of us endlessly postpone efforts to make changes in our lives because "the timing isn't right" or "there's too much going on right now" or "things are too stressful" to cope with anything else. We miss opportunities to improve our lives at those moments when we most need them to improve. We fear adding one more thing to the pile, fear having one more issue to cope with, without realizing that facing up to it, and giving it a "good enough" try (even in the midst of all sorts of craziness!) might be all it takes to improve other things.
Accepting that there never WILL be a perfect, stress-free moment to make the changes you need, and giving yourself permission to be just good enough and go with the flow when stressful situations present themselves (as well as accepting unexpected, positive opportunities) can make the difference between starting to feel better NOW and waiting to feel better someday.

Who's Your Little Buddy?
1BQ, 2thanks, 3rdGenFeminist, 417els, A Man Called Gloom, Abra Crabcakeya, Actbriniel, addisnana, AfroPonix, aishmael, Alise, Alpha99, also mom of 5, ambeeeant, American in Kathmandu, amk for obama, andsarahtoo, angry marmot, Anne933, anodnhajo, aoeu, AoT, aquarius2001, arcadesproject, Archie2227, arodb, Arthur Wolf (in memoriam), assyrian64, Aunt Acid, awkawk, b4uknowit, BadKitties, bamablue, BARAKABETH, barnowl, b barrie, bdizz, beatpanda, beefydaddy18, betterdemsonly, BFSkinner, bgblcklab1, BigAlinWashSt, Bike Crash, BirderWitch, BJKay, bleeding heart, blingbling65, blue husky, Blue Intrigue, bluedust, BluejayRN, BlueJessamine, Bluerall, bluestatedem84, BoiseBlue, boudi08, Brahman Colorado, breedlovinit, BrenP, BrianParker14, Bronxist, broths, BrowniesAreGood, bsmechanic, buddabelly, Bugsydarlin, bumbi, BusyinCA, cactusgal, cagernant, Carol in San Antonio, CathiefromCanada, CathodeRay, CDH in Brooklyn, Cedwyn, cee4, Cen Den, ChocolateChris, ChurchofBruce, ciganka, cinnamondog, citizenx, ClapClapSnap, claude, Cleante, Code Monkey, codobus, Coldblue Steele, Colorado is the Shiznit, coloradomomma, common green, commonmass, Common Sense Mainer, congenitalefty, coppercelt, dadanation, Damnit Janet, dangoch, DarienComp, dauber, Dauphin, Dave in AZ, Dave in Northridge, David54, deedogg, demkat620, Dexter, Diana in NoVa, Dickie, DiegoUK, Dingodude, dirtdude, distraught, djMikulec, docreed2003, dolfin66, donnamarie, Donna O, dotsright, Dr Teeth, Dreggas, DRo, droogie6655321, Dube, duckhunter, Eclectablog, Eddie C, EdgedInBlue, effervescent, elbamash, El barragas, el vasco, electricgrendel, entrelac, ericlewis0, Everest42, Ex Con, exlrrp, ExpatGirl, ezdidit, fat old man, fauve, fhamme, Fineena, fiona2, fishhawk, Flea, flumptytail, Friend of the court, fritzi56, FrugalGranny, Garrett, Gator, gchaucer2, GDbot, Geiiga, GenXangster, glpaul, gooderservice, gooners, gravlax, GreenMountainBoy02 (in memoriam), greylox, grndrush (in memoriam), GrumpyWarriorPoet, GuerillaLiberal, GulfExpat, gzodik, Haole in Hawaii, HappyinNM, henlesloop, here4tehbeer, HeyMikey, hideinplainsight, High Tide, hiliner68, history first, hold tight, Hugh Jim Bissell, hulibow, I love OCD, I said GOOD DAY sir, Im a frayed knot, imisa, Indexer, indubitably, indyada, Interceptor7, Inventor, Isaacsdad, ItsaMathJoke, itsbenj, Jahiz, James Earl, JamesEB, janl1776, Janeo, jarbyus, JayinPortland, jayjaybear, jbalazs, JBL55, jbou, Jeffersonian Democrat, jillwklausen, jmadlc55, jmonch, Joes Steven (aka Steven), john keats, john07801, johngoes, johnny wurster, jsfox, just another vet, JVolvo's Mom (in memoriam), jwinIL14, Kai99, kailuacaton, Kamakhya, kat herder, katchen, Kelly of PA, khloemi, Khun David, Kitsap River, kittania, kos, KrazyKitten, Kristina40, Ksholl, labwitchy, ladypockt, Lahdee, langerdang, LarsThorwald, LA rupert, last starfighter, LaughingPlanet, Laurie Gator, Lava20, Leo in NJ, Lipstick Liberal, litoralis, lmdonovan, lockewasright, Lonely Liberal in PA, Lonely Texan, longislandny, Lorinda Pike, LtdEdishn, lunacat, lunachickie, luvsathoroughbred, lying eyes, maggiemay, magicsister, mango, Marc in KS, MargaretPOA, Marjmar, Mark E Andersen (Kodiak54), marknspokane, marsanges, maryabein, Matt Esler, Maxiemax, maybeeso in michigan, MBNYC, mdemploi, Meteor Blades, Micburke, michael1104, MillieNeon, minerva1157, MinervainNH, Missys Brother, mjbleo, MnRaindog (in memoriam), mntleo2, mollyd, Morague, MotoGP, Mr Bojangles, mrsgoo, mskitty, msmacgyver, MsWings, Murphoney, nannyboyz, ncsuLAN, NearlyNormal, Nedsdag, Nespolo, Nick Zouroudis, nokkonwud, notgivingup, NY brit expat, oceanview, Ole Texan, OleHippieChick, Olkate, one pissed off democrat, One Pissed Off Liberal, Onomastic, operculum, OrangeMike, Ordvefa, Overseas, Over the Edge, Pager, paige, PaintyKat, palmer18, paradox, parryander, paulitics, peglyn, Pennsylvanian, peterfallow, phrogge prince, plok, Positronicus, post rational, PowWowPollock, Proud Mom and Grandma, psycho liberal, ptolemynm, Purple Priestess, PvtJarHead, racheltracks, randallt, ray bob, real world chick, red mittens, Reepicheep, regis, relentless, revelwoodie, revsue, Rex Manning, rexymeteorite, RiaD, rickeagle, ridemybike, rightiswrong, Rileycat, rincewind, rkex, roadlion, RoCali, Roger Fox, Rosebuddear, roses, rscopes, Rudini, RumsfeldResign, Safina, SallyCat, Sanuk, Sark Svemes, sboucher, scooter in brooklyn, Scrapyard Ape, seenaymah, Senor Unoball, sewaneepat, sfbob, sgary, Shahryar, sheddhead, shesaid, Shifty18, shmuelman, shopkeeper, sidious666, sidnora, slksfca, slowbutsure, smartcookienyc, smeesq, Smoh, snoopydawg, snorwich, SnyperKitty, SoCalHobbit, SoCalSal, sofia, soonergrunt, sostos, sowsearsoup, SpecialKinFlag, spmozart, spotDawa, SpotTheCat, StateOfGrace, Statusquomustgo, stiffneck, stonekeeper, suesue, sunbro, Super Grover, Syoho, tallmom, Tay, tdslf1, teknospaz, theatre goon, The Eyewitness Muse, TheGeneral, TheStoopingRabbit, TigerMom, Tim DeLaney, tiredofcrap, TomP, tonyahky, Toyotabob7, TracieLynn, TreeFrog, triciawyse, tripodisblack, trs, trueblueliberal, TrueBlueMajority, ttanner, Tulsonian, Turn VABlue, Turtle Bay, Tyto Alba, uc booker, UncleCharlie, Unduna, Unforgiven, ursoklevar, USArmyParatrooper, VA02 femocrat, Vacationland, valadon, Vayle, vc2, Vetwife, vgranucci, Via Chicago, Village expects idiot home soon, viral, vulcangrrl, waytac, webranding, weelzup, Wes Opinion, Whimsical Rapscallion, willy be frantic, willy mugobeer, Wood Dragon, wolfie1818, Wordsinthewind, Wreck Smurfy, x, xopher, yet another liberal, Zotz
Have you had some experience with the effects of smoking, and want to write a GUS diary or host an open thread? Please sign up in the Butt Can (Tip Jar), and name the day and time that works for you (posting times are flexible). Weekly GUS Diary Schedule (regular hosts featured in bold) is below.


Wed PM: Vacationland (You Are Here)
Thu AM: nokkonwud
Thu PM: James Earl
Fri AM: flumptytail
Fri PM: Open
Sat AM:effervescent
Sat PM: Open
Sun AM: gchaucer2
Sun PM: Open
Mon AM: Open
Mon PM: paulitics
Tue AM: gchaucer2
Tue PM: Open
Wed AM: Open

If you can spare a few hours, please consider hosting GUS. It doesn't have to be a permanent slot, it can be a one-time deal! Not sure where to start? Just ask for help in the Butt Can (Tip Jar). Seriously, it doesn't have to include specific content or require all sorts of fabulous diary formatting skills. The regulars will make sure stuff gets carried over from diary to diary, so if you want to just tell your story or provide an open thread and host for a few hours, that's cool too. We would be very grateful!