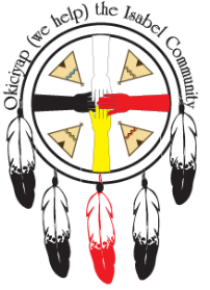 DONATE
by credit card
or PayPal
Okiciyap is a 501(c)(3)
non-profit organization
Donate by Check:
Okiciyap
PO Box 172
Isabel, SD 57633

A favorite fundraising project for many of us in the community at DailyKos is the Okiciyap (Lakota for "We Help") Food Pantry. The food pantry on the Cheyenne River reservation fills an urgent need providing much needed sustenance for young and old alike. It also works with assisting with the education of the young people in the area. In fact, in August our community was able to help Okiciyap provide the local youngsters with backpacks full of the school supplies needed for a good start to the school year. Over the years we have conducted many successful fundraisers for needs both large and small, including a wonderfully successful quilt auction. Now the need is basic and acute, money to buy food to distribute to hungry people.
Even in the best of times the people on the American Indian Reservations of South Dakota have many challenges including chronic poverty and some of the worst unemployment rates in the country. The unemployment rates on high plains reservations can reach unbelievable levels even exceeding 80 percent. And these are far from the best of times.
So exacerbating the normal difficulties with a weak economy came the sequester which made the problems so much worse, as you can read about in Meteor Blades's diary. And we are still crippling the federal programs on the reservations, funding at sequester levels. I can not even begin to imagine how the government shutdown impacted the reservation. But just for good measure throw in an early heavy severe snowstorm.
Incredibly, SNAP (Supplemental Nutrition Assistance Program) cuts are scheduled for November. All over the country food pantries are facing shortages. The donations are often down to sugary sodas and candy, if available at all. Now more than anytime the need is money to buy food. Please, will you help with this?
Follow me below the fry bread thingey for incentives to snag your donations.
Daily Kos Community Merchandise Donations to Raise Money for Okiciyap
Below are products produced by Kossacks and donated by each artist to contribute to this Okiciyap fundraising effort. Please state your intent to purchase in the comments or send the artist a Kosmail. The first offer with a conclusion of funds received at Okiciyap will be honored.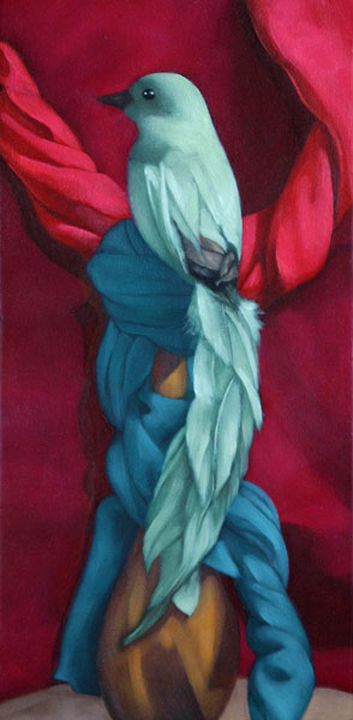 Fake Green Bird
Oil Painting on Panel
10"x5" - 2005

Originally $900
On sale for $650
NOW offered at $300, a special one time discount to benefit Okiciyap

asterkitty has a frame on hand that will fit, a 2" wide flat poplar, but it will need to painted, maybe a brown-black. The painting will need to be varnished, and then will need two weeks for the varnish to cure before framing. So curing plus delivery time will be at least three weeks.

Donated by the artist, asterkitty

So let us know you've donated $300 to Okiciyap and/or kosmail asterkitty to discuss her prize of a painting for you.

Bridle Leather Belt
I'll donate/give a Bridle Leather Belt (17+ / 0-)
to the first person after this comment who donates over $100.
I don't have extra money but in Memory of my Great Grandmother, a Native American adopted/taken from her Tribe, I'll be glad to contribute vicariously. You can donate direct to the Diaries links. Just post a reply here that you did it. I'll take your word. Then, kosmail me. We'll work out the details.

Join the Koskraft Group Koskraft
meagert is offering this donation incentive for a total of four belts.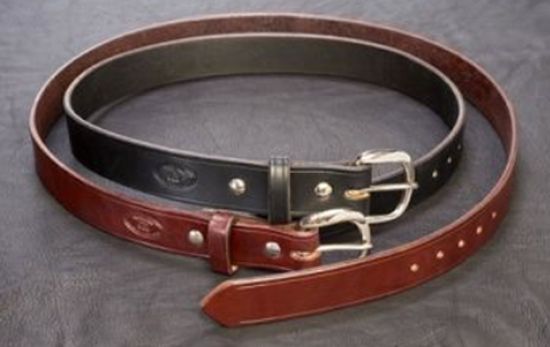 Bridle leather is the most luxurious strap leather available.
The belt edges are hand burnished and waxed. The top finish is buffed to a lustrous shine.
A solid brass buckle is included, in brass or nickel finish. This belt compares with the finest available in mens high fashion shops at literally half the cost.
Made with a single layer of 10/12 leather, this belt will last years.
The 1 1/4" width belt makes for a fine dress belt.
So let us know you've donated $100 to Okiciyap and/or kosmail meagert to discuss his prize of a belt for you.
OKICIYAP BACKGROUND


Okiciyap (we help) is a 501(c)(3) non-profit organization, your donation should be tax deductible. Okiciyap, located on the Cheyenne River Reservation in South Dakota, is working to provide a food pantry, youth center, K-12 educational support, GED & Lakota as a 2nd language class support for youth and adults. The word Okiciyap is Lakota for "we help."

Okiciyap lost its founder, Georgia Little Shield in April 2012. Georgia was instrumental in the development of the 501(3)(c) status. In early 2012, she found a building, had it moved and set up to house the food pantry and youth center. Now, the Okiciyap Board is stepping forward to insure Georgia's plans for the Isabel community move forward.

Okiciyap is registered with iGive, which means that your online purchases from participating retailers could automatically generate a donation.

The Daily Kos Fundraising for Okiciyap group was formed to support the pantry. More information is available at the Okiciyap diaries published here at Daily Kos.
Donate Directly to Okiciyap by Check:
Okiciyap
PO Box 172
Isabel, SD 57633




Donate Stuff Directly to Okiciyap:
Okiciyap
506 N Madison Ave
Isabel SD 57633




Inspiration for the header and footer banner graphics was taken from
the Daily Kos Quilt Guild's auction quilt for Okiciyap