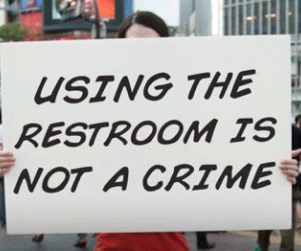 The mother of the Florence, Colorado transgender teen targeted by conservative media is speaking out in defense of her daughter.
Her child has been accused of harassing behavior in the girls' restroom. It turns out that the "harassing behavior" she is accused of perpetrating is simply using the restroom. The Pacific Justice Institute, which initiated the story, reworded its accusations after trans activist Cristan Williams contacted school Superintendent Rhonda Vendetti to fact check the story.

We do have a transgender student at the high school, and she has been using the women's restrooms. There has not been a situation. All the students of these parents who say they feel uncomfortable just about the fact that the student is allowed to go into the restrooms at the high school, into the stalls, they don't believe that that's appropriate, so that's where it stems from. There has not been an incident of harassment, or anything that would cause any additional concern.
PJI responded to the fact check with the statement that a transgender teenager in the girls' bathroom is "inherently intimidating and harassing."
Her mother, who is married to another woman, learned about the alleged harassment during a phone call from her daughter's principal. Responsible media sources are only identifying the teen as Jane Doe.

My wife and I were visiting my sister who was in the hospital while my daughter was in school. The principal called to inform me that a newscaster was at the school and wanted to interview me about my daughter's 'bathroom rights' — this was the first I'd heard about any of this. From what I understand, the school didn't even know. From what I was told, some adults tried to hold a rally protesting my daughter in a town close to ours, but only a couple of people showed up, so the news crew went to the school and the school called me to say that the news crew was showing up to talk about my daughter.

--Jane's mom
The mother darted over to the high school to protect her daughter.
I wasn't sure what was going on, but I knew they were coming for my daughter. I had no idea who started this, but we had we had to be there. I know my daughter. She's a shy and timid person. It was upsetting. As a matter of fact, before we moved to this town, she was afraid that she would be bullied at school. She had a fear that if she went to this new school, something would happen and she wouldn't be safe.
The reason that PJI circulated the story was to raise funds for its battle against California's AB 1266, which was passed in the legislature and signed into law by the governor and provides education equity for transgender students in the state's public school system. Right wing forces are opposed to equality for transgender kids.