The Federal Insurance Contributions Act tax:
Otherwise known as the FICA Tax (or more colloquially as the Payroll Tax).
If you "earn income" through means other than a weekly paycheck for hourly wages, then this Payroll Tax, this quaint, Society-building, people-protecting Tax most likely does not apply to you. ... SO carry on, with your well-funded campaigns to Cut Entitlements.
If not, if YOU are among the vast majority of us, scrabbling out a living in the "working class" tier of Society ... you might want to take a glance at this brief FICA history, and get up to speed -- your Retirement well-being may well depend on it ... on us workers being well-versed in what We've Earned.
According to current Law. Before they diminish it, to our Nation's great detriment.



As much as the GOP and the Tea Party tends to romanticize it -- quite often, for those who actually lived through them, the "good old days" (before the New Deal), weren't all that good.
At least not for vast majority of us, who actually "had to work" for a living ... pre-FICA insurance, that is.

Federal Insurance Contributions Act tax
From Wikipedia

Federal Insurance Contributions Act (FICA) tax ˈfaɪkə is a United States Federal payroll (or employment) tax[1] imposed on both employees and employers to fund Social Security and Medicare[2] -- federal programs that provide benefits for retirees, the disabled, and children of deceased workers. Social Security benefits include old-age, survivors, and disability insurance (OASDI); Medicare provides hospital insurance benefits for the elderly. The amount that one pays in payroll taxes throughout one's working career is associated indirectly with the social security benefits annuity that one receives as a retiree. [...]


History

Historical payroll tax rates for Social Security (blue), Medicare (red) and total (purple). The tax rates shown include both employee and employer contributions.[18]

Prior to the Great Depression, the following presented difficulties for working-class Americans: [19]

-- The U.S. had no federal-government-mandated retirement savings; consequently, for those people who had not voluntarily saved money throughout their working lives, the end of their work careers was the end of all income.

-- Similarly, the U.S. had no federal-government-mandated disability income insurance to provide for citizens disabled by injuries (of any kind -- non-work-related); consequently, for most people, a disabling injury meant no more income (since most people have little to no income except earned income from work).

-- In addition, there was no federal-government-mandated disability income insurance to provide for people unable to ever work during their lives, such as anyone born with severe mental retardation.

-- Further, the U.S. had no federal-government-mandated health insurance for the elderly; consequently, for many people, the end of their work careers was the end of their ability to pay for medical care.

In the 1930s, the New Deal introduced Social Security to rectify the first three problems (retirement, injury-induced disability, or congenital disability). It introduced the FICA tax as the means to pay for Social Security.

In the 1960s, Medicare was introduced to rectify the fourth problem (health care for the elderly). The FICA tax was increased in order to pay for this expense.

In December 2010, as part of the legislation that extended the Bush tax cuts (called the Tax Relief, Unemployment Insurance Reauthorization, and Job Creation Act of 2010, the government negotiated a temporary, one-year reduction in the FICA payroll tax. In February 2012, the tax cut was extended for another year.[20]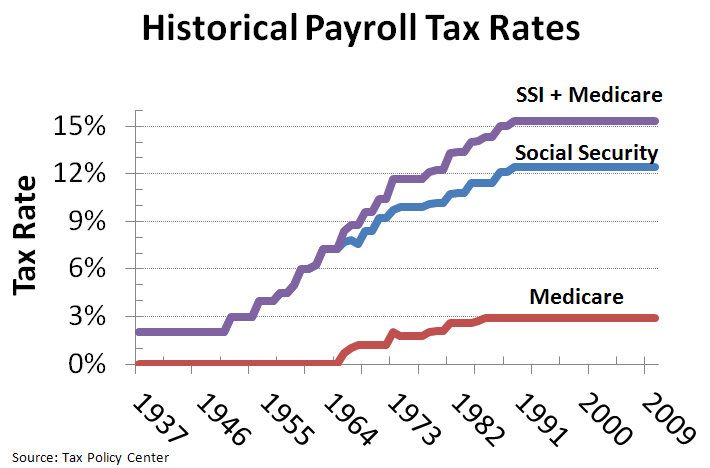 File
: Historical Payroll Tax Rates.jpg --
From Wikipedia, Creative Commons
Hey, Did Inflation suddenly stop in the 1990's -- especially inflation on Health Care?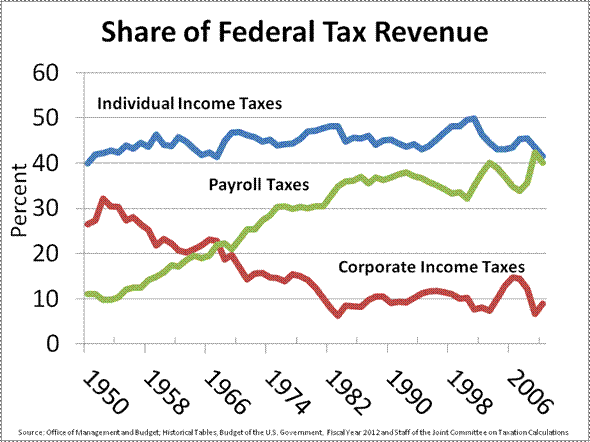 File: Share of Federal Revenue from Different Tax Sources (Individual, Payroll, and Corporate) 1950 - 2010.gif -- From Wikipedia, Creative Commons
Say, Did Corporations finally abandoned their responsibility to Society -- even though they profit from Societal services on an on-going basis?



File: Effective Payroll Tax rate for Different Income Percentiles (2010).gif -- From Wikipedia, Creative Commons
Question, What about those purple bars at the right side of the chart -- shouldn't they be taller? ... I would hazard a guess, that those income groups can afford it! (especially if us "worker bees" can.)

Historical Social Security and FICA Tax Rates for a Family of Four -- Data Tables

If we (the societal "we") don't start taking an active interest in the FICA tax applicability as a means for paying for cost increases (especially in Medicare) -- then they (as in the Tax-hating ideological "they") will end up breaking this "historic" Societal Deal our Nation once made with its with workers ... "as something that we can just no longer afford."
Because the rally cry of those who hate "big government taxes" is to return us to a time when:

"You're on your own. ... Better learn to swim, or else you'll sink like a stone."
C'est la vie
...
Caveat emptor
...
Qu'ils mangent de la brioche
;

aka. Let them eat cake. The Lake's not that deep.
Grab an Oar ... Or be handed the Anchor.
It's OUR Societal Future, in their dismantle-government cross-winds.