The Alexander & Baldwin companies, Hawaiian Commercial and Sugar (HC&S) and former division (recently split off) Matson Shipping are just creating one disaster after another.
Recall that in September 1,400 tons of molasses leaked into Honolulu Harbor and Ke'ehi Lagoon on Oahu killing every living creature including the coral. And that Matson knew about the leak for a year - without fixing it.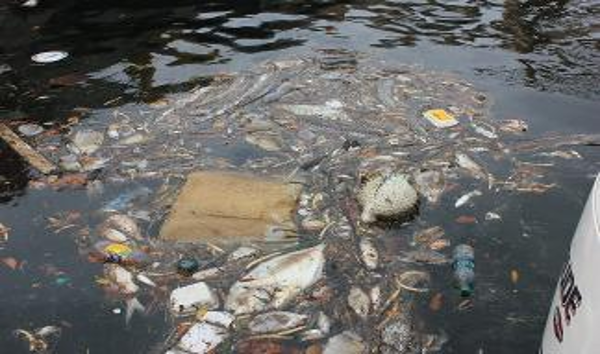 Now more HC&S molasses has leaked into Kahului Harbor on Maui.
We don't have details because this author was kicked out of the harbor and prevented from taking any photos. But security at the harbor did confirm a leak.
HC&S has been under attack for burning its sugarcane fields daily for 9 months out of the year. The smoke enters homes and businesses and has reduced highway visibility. In June a five car smash up was blamed on cane burning.
Speculation (on this author's part) is that A&B knew that their sugar operation was a money-losing proposition that would end soon and had been cutting corners on maintenance prior to divesting itself of Matson Shipping.
Because the Pu'unene sugar mill comes under special pollution exemptions negotiated by the 5 U.S. sugar plantations, their coal-fired electrical operation has been sneaking under the EPA radar for years.
HC&S will continue harvesting sugar (and spilling molasses) until their coal plant is brought under normal pollution rules. Until that time, the charade of their unprofitable sugar operation will continue. And the environmental disasters will also continue.
1:28 AM PT: A&B is saying that the spill was tiny - only a few gallons. Because Matson has stopped taking molasses after the Honolulu Harbor spill, they were loading it onto a charter. Here's more
Tue Oct 29, 2013 at 12:28 PM PT: Now A&B is increasing the amount they say was spilled and admitting that it was in the water. We wonder, had we not investigated and tipped the mainstream press whether this would have been completely covered up.