A failed attempt in Congress to derail the Affordable Care Act may have inadvertently boosted President Barack Obama's signature health reform law by prompting more Americans to take a closer look at Obamacare, according to Bankrate's latest monthly Health Insurance Pulse survey.

...

The findings suggest that recent attempts to scuttle the Affordable Care Act through a 16-day partial government shutdown and threats to force default on the federal debt may have backfired by helping to heighten public curiosity about Obamacare.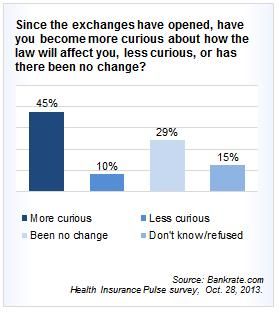 This is an interesting point of view. I think the main point to learn from it is that there were really three major stories in October all helping to raise attention levels to Obamacare:
1) Enrollment at federal and state exchanges started.
2) Glitches at the federal exchange slowed the rollout.
3) Republicans, through their ideological overreach and deliberate misinformation, actually helped make Americans more aware that something of value was now available.
All that is a lot of free air time. Red state residents are still at a horrible disadvantage, but the word is getting out and the GOP disinformation campaign will fail in time.
So thank you GOP. Your approval ratings are so low that among other things, it means that your destructive policy positions have become the perfect reverse indicator for what most Americans decide to choose for themselves.