Interrogatories
We need a major scandal, celebrity or Republican, to fill the cable news hours. What would your favorite scandal look like? (h/t KelleyRN2 for the question)
What is the best dessert of all time?
What was the last foolhardy thing you did? (It doesn't have to be major.)
What's the most disgusting thing you've ever eaten (even just a taste)?
The Twitter Emitter
I just tried to buy a gun online. Now I know why Republicans think http://t.co/... is slow.

— CJ Werleman (@cjwerleman) November 2, 2013
Me: I'll have a turkey sandwich. Mold: Hey, what's up? Me: I'm having a grilled cheese sandwich is what's up.

— Wil Wheaton (@wilw) November 2, 2013
Look on the bright side: that Rand is a plagiarist makes it unlikely he's the author of dad's racist newsletters. #lemonade

— Dean Barker (@deanbarker) November 2, 2013
And Jesus said: "Love they neighbor, unless they are gay or poor or liberal or a RINO or anyone who disagrees with you. USA! USA!"

— Kurt Eichenwald (@kurteichenwald) November 2, 2013
Troubling thought. If Obama really is an inept buffoon, what does that make those who keep losing to him? http://t.co/...

— davidfrum (@davidfrum) November 2, 2013
If LAX shooting is recognized as domestic terror perhaps response will be restrictions on purchases of assault weapons. Ha, I kid! I kid!

— Michael Cohen (@speechboy71) November 3, 2013
The Republican Party will soon collapse under its own white.

— God (@TheTweetOfGod) November 3, 2013
Rand Paul: "People accusing me of plagiarism are hacks and haters, but I'm not scared. The only thing I have to fear is fear itself."

— Top Conservative Cat (@TeaPartyCat) November 3, 2013
Never trust an atom. They make up everything.

— Eastwood (@Eagle_Vision) November 3, 2013
#RandPaul: "My initial response to the plagiarism charges would've been stronger, but #Wikipedia crashed while I was writing it."

— Eric Wolfson (@ericwolfson) November 3, 2013
On This Day
In 1677, Mary of England, daughter of Charles I, was married to William, Prince of Orange. They later reigned together as William and Mary.
In 1952 , the NSA was established.
In 1979, the US embassy in Tehran was invaded by a group of Iranians, mostly students. They took 90 hostages, 53 of them American.
In 1995, Yitzhak Rabin, prime minister of Israel, was assassinated by an extremist Orthodox Israeli.
In 2008, American voters overwhelmingly elected a black man to the White House, causing exploded white people brains to be scattered across the country.
In 2008, Proposition H8 passed in California, revoking state recognition of LGBT marriages. Thankfully, the damage has since been reversed.
Born on This Day
1575 – Guido Reni, Italian painter (d. 1642)
1592 - Gerrit van Honthorst, Dutch painter (d. 1656), also known as Gherardo della Notte
1779 - Jan Willem Pieneman, Dutch painter (d. 1853)
1787 - Edmund Kean, English actor (d. 1833)
1836 - Eduardo Rosales, Spanish painter (d. 1873)
1837 - Egisto Sarri, Italian painter (d. 1901)
1868 – Carolina Otero, a.k.a. La Belle Otero, Spanish actress, singer and courtesan (d. 1965)
1872 - Ulisse Caputo, Italian painter (d. 1948)
1879 – Will Rogers, American humorist (d. 1935)
1907 - Henry Heerup, Danish artist (d. 1993)
1912 - Pauline Trigere, French fashion designer (d. 2002)
1916 – Walter Cronkite, American news broadcaster (d. 2009)
1918 – Cameron Mitchell, American actor (d. 1994)
1926 - Albin Egger-Lienz, Austrian painter (b. 1868)
1930 – Doris Roberts, American actress
1937 – Loretta Swit, American actress
1940 – Delbert McClinton, American musician
1943 – Marlène Jobert, French actress
1946 – Laura Bush, former First Lady of the United States
1946 - Robert Mapplethorpe, American photographer (d. 1989)
1954 – Chris Difford, English musician and songwriter (Squeeze)
1956 – James Honeyman-Scott, English guitarist (The Pretenders) (d. 1982)
1956 – Tom Greenhalgh, multimedia artist and singer-songwriter known for his work with the Mekons
1960 – Kathy Griffin, American comedian
1961 – Ralph Macchio, American actor
1974 – Cedric Bixler-Zavala, American musician (At the Drive-In, The Mars Volta)
Died on This Day
1709 - Barend Graat, Dutch painter and draftsman (b. 1628)
1740 - François Octavien, French painter (b. 1682)
1856 – Paul Delaroche, French painter (b. 1797)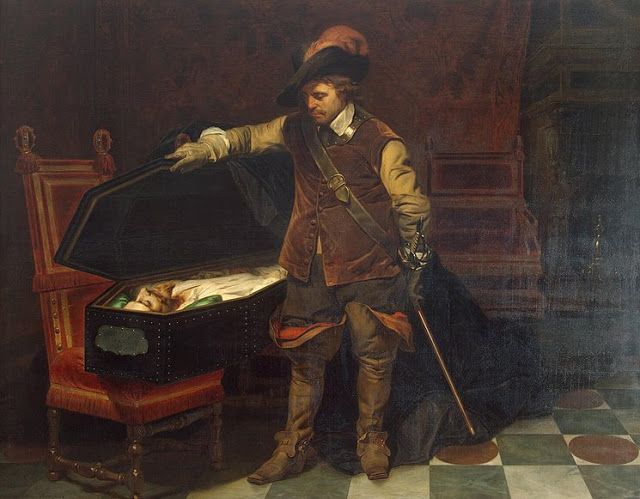 1870 - Carl von Sales, Austrian painter (b. 1791)
1908 - Richard Gerstl, Austrian painter (b. 1883)
1932 - Belle Bennett, American actress (b. 1891)
1955 – Cy Young, American baseball player (b. 1867)
1967 - June Thorburn, English actress (b. 1931)
1968 – Michel Kikoine, Belarusian painter (b. 1892)
1977 - Betty Balfour, British silent film star (b. 1903) See Tipple Jar
1994 – Fred "Sonic" Smith, American guitar player MC5 (b. 1949)
2011 – Andy Rooney, American radio and television writer (b. 1919)
Today is
Candy Day
Chicken Lady Day
King Tut Day
National Waiting for the Barbarians Day
Use Your Common Sense Day
Traffic Directors Day
Job Action Day
Fill Our Staplers Day