With the Vallejo election today it unlikely that releasing any documents I have will effect the outcome. So I can begin to release some of the correspondence that was generated along the way.
-


-
The above cartoon arrived in my email inbox this morning and I would like to share it. The cartoon beyond the fold is one I drafted up to make it easier to understand the politics on the ground here in Vallejo. I will have a follow up diary that explains it fully for the global audience.
For more information on the Vallejo race see:
Vallejo City Council Race 2013 - Introduction
Vallejo City Council Race 2013 - Meme Warfare
Vallejo City Council Race 2013 - Category Collapse Disorder
Vallejo City Council Race 2013 - Jump Start Vallejo
Vallejo City Council Race 2013 - Cartoons & Correspondence (This Diary)
Vallejo City Council Race 2013 - Election Results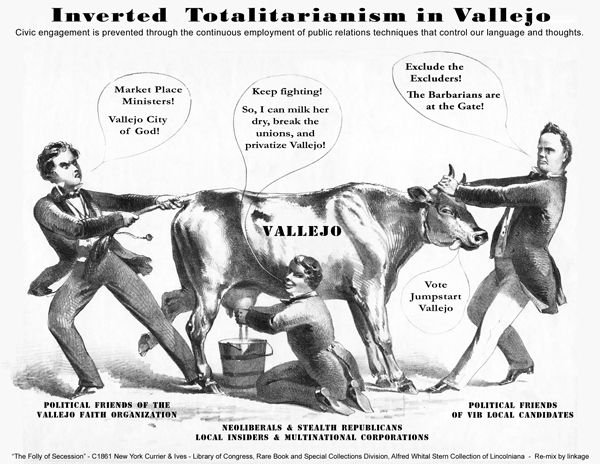 ---
Correspondence
The email below is the first email I sent to Anthony Summers. Note, I write long emails. Most all of my concerns were answered over through the many conversations we had together.

From: Jonathan Gordon (email address redacted)
Sent: Sunday, July 14, 2013 11:27 AM
To: Anthony Summers (email address redacted)
Subject: The United Democrats July Meeting - Open Letter

Anthony,

I'm sorry that you were unable to attend the July re-scheduled United Democrats meeting. Our normal meeting date is the first Thursday of the month at Sea Food City. However, this July because of the 4th our meeting was re-scheduled it to the second Thursday. I'm hoping you can attend our upcoming August meeting on first Thursday of the month.

United Democrats will be having ongoing informal discussions with the candidates for Vallejo City council at each of our meetings during the run up to the election. And, we plan a number of public forums to allow the public to get to know the candidates. I would like to take this time remind you that the Solano County Democratic Central Committee will make the endorsement not the United Democrats club.

You absence was felt, because I had to defend your right to run for office and your right to ask for the Solano County Democratic Central Committee endorsement at the June meeting. Some of the guests present at the July meeting ask me to "censor" you, and disallow your participation in the "getting to know" the candidates process. However, I see it as my duty, as a representative of the Democratic Party, to allow all Democrats running for this office to get a fair opportunity to present their qualifications for office and their philosophies that form their approach to governance. Clearly, had you attended the meeting you would have been capable of representing yourself but with your absence it fell upon me.

Frankly, I was surprised at the animosity of the directed to me when I stated that you would be give every opportunity to present your approach to governance. I was accused, in a pejorative way, of being an heterosexual and insensitive to LBGT concerns. The same faction present also got upset about being reminded of their use of the term "union thug" in a past campaign. These exchanges led to one individual walking out of the meeting. Going forward as chairperson of these forums and meetings I will make every attempt to discourage the use of purgatives in our meetings. It is a violation of the clubs code of conduct.

For your benefit I'm going to review the highlights of the meeting.

1) I presented hard copies of the 2012 Democratic Party Platform to the candidates and campaign managers present. I reminded the candidates that the eligibility for endorsement by the Democratic party depends on their acceptance and support of the California Democratic Party Platform. Therefore, I'm attaching the document for your review and study.

2) As part of due diligence, on my part, the trailer for the "Transformation Vallejo" movie was shown. However, I could not locate a copy of the actual video that was shown on June 1, 2012 at the Union Baptist Church. I'm hoping you can make the video public on YouTube so the electorate can inform themselves of your plans for transforming Vallejo. Clearly, I appreciate the sincerity of your efforts in staring in this video and I think it will be central to the public's understanding your approach to governance. When you make the movie available to the public I will be prepared to show it at our next meeting. Or if needed we will find a larger venue to host it. Also note, I'm expecting all the other candidates to attend the next meeting or any special showings of the movie and equal time will be offered to them for an uninterrupted presentation of similar length. Followed by a moderated discussion between the candidates.

3) As part of due diligence, on my part, I presented to the club a Resource Directory for the New Apostolic Reformation, see attached Document. This allows our membership to understand the philosophy behind the "Transformation Vallejo" program better. Rachel Tabachnick, the author of the document, is a nationally recognized authority on the International Transformation movement. And, she has appeared on the PBS radio show Fresh Air. See attached transcript. I am very fortunate to have corresponded with her in the past regarding the Vallejo Faith Movement. And, I will be corresponding with her if I need any clarification of history of the International Dominionism movement.

4) I handed out to the club member a summary of the planning session held by the Solano County Democratic Central committee and talked to the club on how we could meet some of the goals of the plan. See point 5.

5) Lastly, I handed out copies of the prospectus for the political version of the online software Nation Builder and recommended that the United Democrats club buy a subscription to coordinate our campaign for upcoming election. I expressed my sincere hope that we could use the service to bring in a few thousand new voters to the next election. I'm very fortunate, along with two of our club members, to have worked for a year on President Obama's campaign as a data captain and I feel confident that we can apply the processes we learned to the upcoming local election.

On a personal note, I should disclose, that I have had a lifelong interest Religion and I'm currently an administrator for the Street Prophets group blog on Daily Kos. In my regular weekly Monday open thread column that I write for Daily Kos I cover the intersection of Religion and Politics. It is through this progressive political forum that I have become familiar with the work of Rachel Tabachnik and Frederick Clarkson. I'm looking forward to sitting down sometime with you and talking about hermeneutics and eschatology. As a Street Prophet I would like to know your position on the millennial kingdom reign as it relates to democracy.

Also, at the June meeting you did not have the time to explain the connection between Ed Silvoso and C. Peter Wagner as well as I know you would have liked to. So, I would like to clear up this oversight by pointing out the following facts:

Ed Silvoso is an Apostle and Prophet in the New Apostolic Reformation. Other NAR apostles include Cindy Jacobs, Jay Swallow, Lou Engle, and C. Peter Wagner. C. Peter Wagner is the founder of this movement. Cindy Jacobs has visited Vallejo and spoke here along with Ed Silvoso. The Dominionism movement and Harvest Evangelism has spent millions of dollars developing their training materials and has refined their programs through hundreds of similar "programs" around the world. A quote from C. Peter Wagner book, Apostles and Prophets:


"It was only a very short time afterward that Ed Silvoso of Harvest Evangelism in Argentina had a meeting with me and we agreed to launch annual Harvest Evangelism International Institute in Argentina. Silvoso and I also agreed to run a large-scale experiment in strategic-level spiritual warfare in the city of Resistencia (in northern Argentina). This set in place one of my major courses for the decade of the 1990s, putting me in the front lines of field-based, evangelism-oriented prayer and spiritual warfare for many years." - (Kindle version, location 1003-6)


C. Peter Wagner, Ed Silvoso, and Cindy Jacobs have written extensively. They have created a library of how to documents for the transformation movement. For example:

Possessing the Gates of the Enemy: A Training Manual for Militant Intercession, by Cindy Jacobs (1994)
Transformation: Change the Marketplace and You Change the World by Ed Silvoso (2007)
Apostles and Prophets, by C. Peter Wagner
Deliver Us From Evil, by Cindy Jacobs (2001)
Warfare Prayer, by C. Peter Wagner (1992)
The Church in the Workplace: How God's People Can Transform Society, by C. Peter Wagner (2006)
Dominion! How Kingdom Action Can Change the World, by C. Peter Wagner (2008)

In addition there is a large collection of DVDs and training tapes that Harvest sells to individuals about the transformation movement.

I'm looking forward to your reply and your releasing the Transformation Vallejo movie to the public. And, please understand that if your movie is shown at any of our meetings or forums all the other candidates will be give equal time to present their positions and governance philosophies.

Regards,

Jonathan Gordon

"Faith and reason are the shoes on your feet. You can travel further with both than you can with just one" - Brother Alwyn (From Babylon 5 written by Joe Straczynski)

Please consider this a "open letter" and that excerpts or its entirety may be shared with the public.
______________
No virus found in this message.
Checked by AVG - www.avg.com
Version: 2013.0.3349 / Virus Database: 3204/6491 - Release Date: 07/14/13
---
Questions for Anthony Summers
I now have three questions for Anthony.


a. If Tony Summers' relationship with Silvoso is so remote, how does he pretend to know Silvoso's mind on the matter? -- by Steveningen

b. What would be the correct description of your church? Baptist, Pentecostal, Charismatic Pentecostal, Church of God, Assemblies of God, or something else? -- by Linkage

c. Troutfishing asks if you are planning to bring a Noah's Ark theme park to Vallejo and have you raised the dead.

Anthony is lagging on this one. I will ask him again tonight. He is running from one appointment to another so I sure he just has not had time. We talked about him getting an account on Daily Kos and blogging the answers, but we decided to try and do it by email. This was most likely a mistake. With the election over today I'm going to try and get him online to answer questions.
---
Reading List
Global Insanity: How Homo sapiens Lost Touch with Reality while Transforming the World by Donald C Mikulecky and James A Coffman. This book is a great starting place to understand the some of the major ideas introduced above and to understand the direction these diaries are moving in.
Regards,
Jonathan Gordon (linkage)
Vallejo Street Prophet
Disclaimer: The views and opinions expressed herein are those of the author and do not necessarily reflect the views of United Democrats of Southern Solano County, The Solano County Democratic Central Committee, California State Democratic Party, or the National Democratic Party.

---
Partial List of Endorsements for
Pippin Dew, Jess Malgapo, Rozzana Verder-Aliga, and Anthony Summers

Vallejo Chamber of Commerce Political Action Committee
Solano County Democratic Central Committee
California Real Estate Political Action Committee (CREPAC)
Vallejo Police Officers
Vallejo Firefighters
Vallejo Education Association
Napa-Solano County Building and Construction Trades Council
Napa and Solano Counties Central Labor Council
Communications Workers of America Local 9404
Bricklayers and Allied Craftworkers Local 3
Glaziers Local 169
Cement Masons Local 400
Painters Union Local 376
Iron Workers Local 378
Iron Workers Local 118
Plumbers and Steamfitters Local 343
Sheet Metal Workers Local 104
International Brotherhood of Electrical Workers Local 180
Operating Engineers Local 3
Heat & Frost Insulators & Allied Workers Local 16
United Food & Commercial Workers Local 5
Carpenters Local 180
Teamsters Local 315
Assemblywoman Susan Bonilla
Mayor Osby Davis
Solano County Sheriff, Thomas A. Ferrara
Supervisor Erin Hannigan
Supervisor Jim Spering
Supervisor Skip Thomson
Supervisor John Vasquez
Solano County Superintendent of Schools, Jay Speck
Solano County District Attorney, Donald A. du Bain
Vallejo City Councilmember, Hermie Sunga
Vallejo Unified School Boardmember, Hazel Wilson
Vallejo Unified School Boardmember, Raymond Mommsen
Vallejo Unified School Boardmember, Rev. Dr. Tony Ubalde
Solano County Assessor-Recorder, Marc Tonnesen
Solano County Board of Education Boardmember, Larry Asera
Former Vallejo City Councilmember, Michael Wilson
Former Vallejo City Councilmember, Tom Bartee
Former Vallejo City Councilmember, Cris Villanueva
United Democrats of Southern Solano County President, Jonathan Gordon