Blue Ridge Mountains near Mount Mitchell, NC
Appalachia is a vast geographic and cultural region in the eastern United States, defined by the 2,000+ mile mountain range running through it. Containing some of the most beautiful wilderness east of the Mississippi, the region is currently divided by nearly a dozen states with just one having a majority of its population in Appalachia thanks to the historical pattern of settlement and transportation realities in the early history of the United States. I wanted to see what impact redrawing the borders by creating one superstate consisting of all the culturally Appalachian regions of those states would have on the new superstate as well as the remaining surrounding states in terms of their political and demographic make up. This diary, part one of a two part series, will examine the politics past and present of the Appalachian region itself if it were its own state while part two will take a deeper look at the changes its creation would have on the neighboring states including their congressional and downballot elections.
A quick summary of presidential elections in the region shows that Appalachia would have been a swingy state from about 1960-1996 when it was relatively close to the national result, but since then has swung hard to the right. Mitt Romney beat Obama in Appalachia by roughly 24%, in part thanks to many conservative Democrats who would have propelled Hillary Clinton to a 32 point win over President Obama in the 2008 presidential primary. The net result however, is that every surrounding state becomes more Democratic, some significantly so. Follow me over the fold to see maps, stats, and more.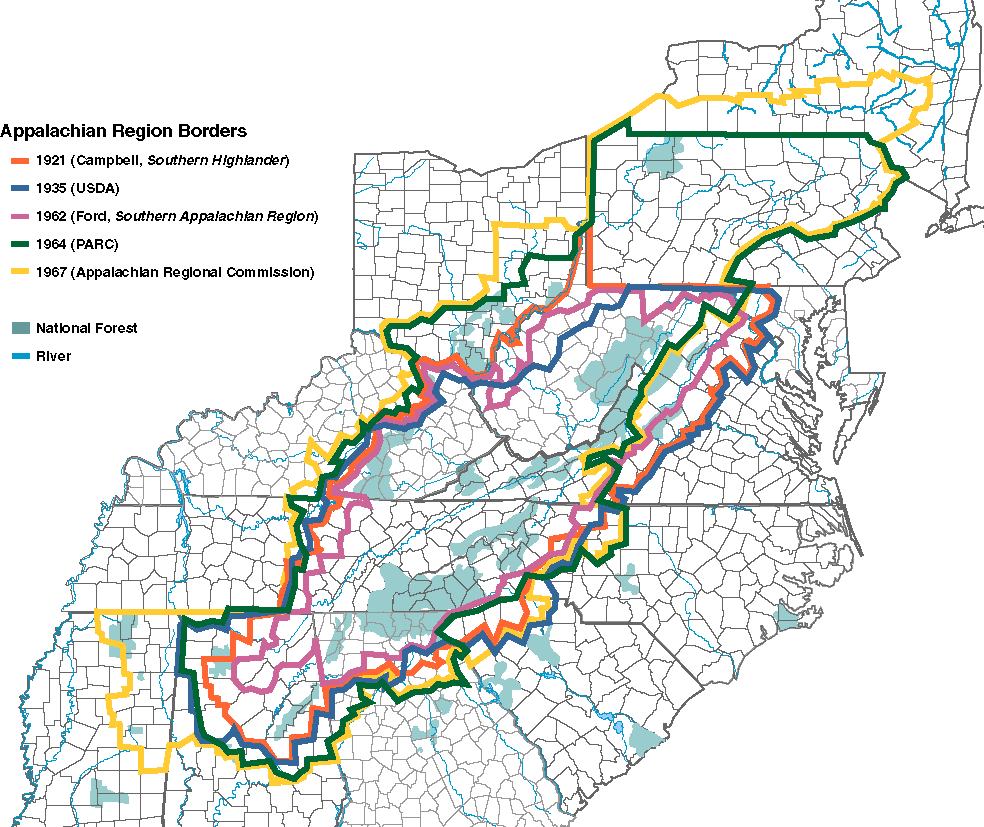 (click all maps for a larger image)
To begin I first had to establish what exactly the borders of Appalachia would be. There were several divergent definitions one could find after some quick searching displayed in the above map, but none of them alone is completely satisfactory. Because county-level data was by far the easiest to come by, I wanted to include whole counties that shared cultural affinities with Appalachia even if they weren't particularly mountainous themselves. Looking at these five different borders three of them, the two by the Appalachian Regional Commission in green and yellow, and the USDA in blue, are political definitions and inclusion came with attached appropriations which is why you see far flung areas like northern Mississippi included. Thus I wanted to narrow down the borders and relied more heavily upon the purple and red borders which are more socio-cultural definitions. Because all of these boundaries are from several decades ago, I wanted to avoid the inclusion of regions that, though they might have once been considered Appalachian, have undergone massive population changes since then and a prime example of this is Forsyth County, Georgia, which has seen tremendous growth from the Atlanta suburbs in recent decades. Overall, every county I have decided to include is contained within the Appalachian Regional Commission definition while nearly every one is included by one of the two cultural definitions.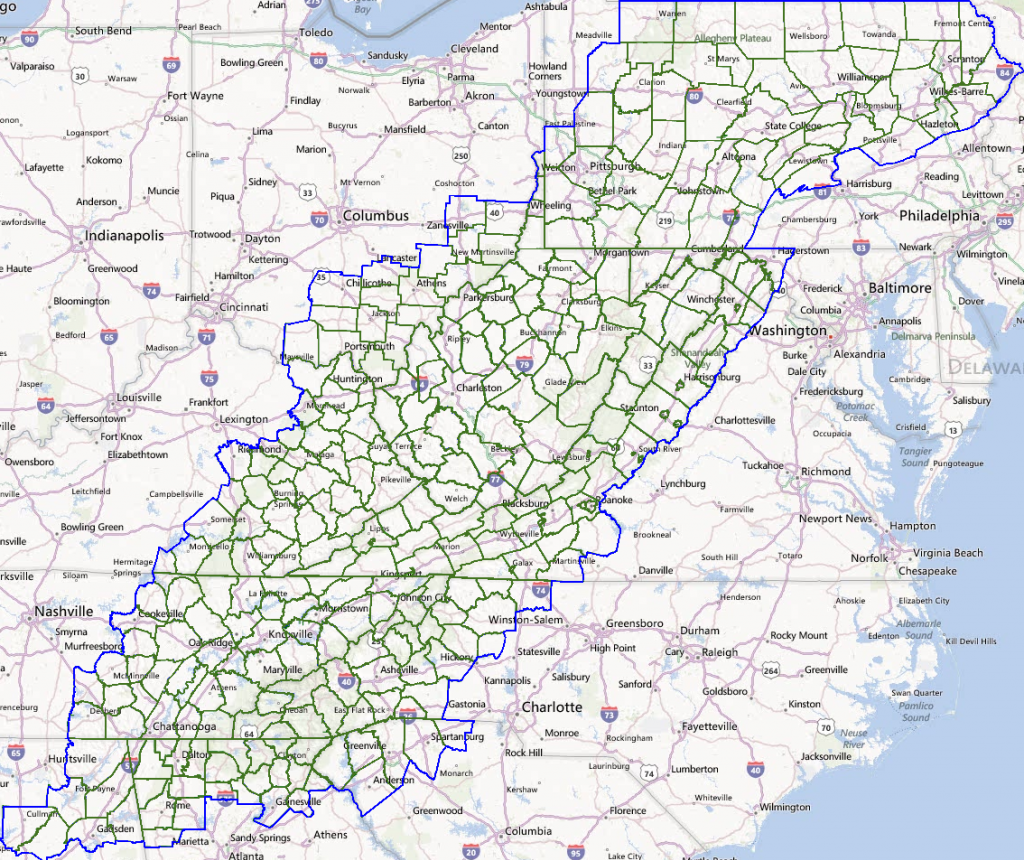 Thus, we arrive at the regions I decided to include in the new superstate: northeastern Alabama, northern Georgia, northwestern South Carolina, western North Carolina, eastern Tennessee, eastern Kentucky, southwestern Virginia and the Shenandoah Valley, all of West Virginia, southeastern Ohio, the Maryland panhandle, and southwestern, central and northeastern Pennsylvania. In total there are 298 counties and 13 independent cities.
One thing that distinguishes this new state is just how populous it is at roughly 17 million people, and how white it is at about 90 percent white among adults. That makes it the 5th most populous state overall after Florida/New York and considerably ahead of the actual Pennsylvania, but by far the whitest of the big states. The largest states to have a white adult population close to 90 percent are Minnesota and Wisconsin at 86 percent white, but each is only 1/3rd as populous as the new Appalachia. Demographically, the state is also one of the more religious areas of the country with Christian denominations making up the overwhelming majority of the population and the irreligious very low. While exact numbers are hard to come by, Protestants easily make up the vast bulk of the population in all of the subregions except for Pennsylvania, which is heavily catholic and relatively more secular.
Economically, the state is likely the poorest of the big ones and one of the poorest overall. Poverty is very high particularly in central Appalachia, where many counties in the subregions of Kentucky and West Virginia have a majority of residents on food stamps. Many parts of the new state have been economically stagnant for a long time now as education lags considerably behind the rest of the country and deindustrialization and the death of the coal industry have devastated the local economy. However there are pockets of wealth and economic growth, particularly in the more urbanized regions of the Appalachia such as Pittsburgh or Greenville/Spartanburg, the most populous metro areas.
Rather striking is just how stagnant the population has been in this region compared to the rest of the country. Compiling the census population each decade for the whole region we get:


Appalachia would have been the 5th largest state in 2010, 4th in 2000 and 1990, 3rd in 1980, 1970, and 1960, 2nd in 1950, 1940, 1930, and actually the most populous state in the country in 1920, 1910, and 1900 when it made up a huge 10 percent of the national population and was the first state to break 10 million people. I was only able to easily find census data going back that far by county but I would be very intrigued to see what results it yields in the 19th century. For a point of comparison, the United States as a whole grew by about 73 percent between 1960 and 2010, yet Appalachia grew just a meager 13 percent in that same time period.
Breaking the population down geographically by each original state as a proportion of the new whole, Appalachia looks like this: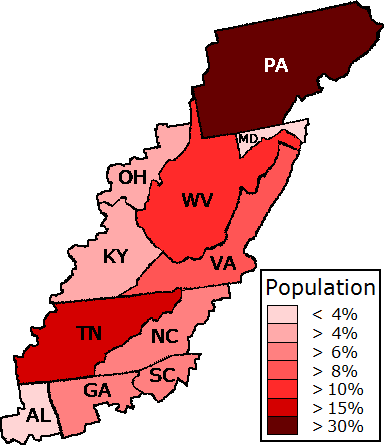 Pennsylvania, which roughly comprises the northern Appalachia region, makes up a plurality at just over 30 percent while no other state makes up a huge percentage. West Virginia is the most populous state part in central Appalachia and is the only one of the original 11 to even have a majority of its original population included, let alone the entirety. Tennessee is the largest constituent part of southern Appalachia, but even still it only makes up about 15 percent of the total.
The population totals by county tell a very different story than the previous map. For consistency and map clarity I combined the independent cities in Virginia with their relevant county. Most of the 298 counties don't vary wildly in area and show some pretty striking divergences in population density. By far the most populous metro area is the Pittsburgh region in southwestern Pennsylvania while Greenville-Spartanburg in South Carolina and Knoxville in Tennessee are also fairly populated. After that there only a few other large metro areas with the Wyoming Valley in northeastern Pennsylvania home to Scranton/Wilkes-Barre, Chattanooga in southeastern Tennessee, and Asheville in western North Carolina. Still, only Allegheny County has more than 1 million people and no other county even breaks 500,000 persons. Vast swaths of Appalachia are relatively sparsely populated such as nearly all of West Virginia and Kentucky where no city has more than 100,000 residents and many counties are under 25,000 people.
Pittsburgh is the most populous city in the state at just over 300,000 with a metro area of well over 1 million, but I would assume the state capital would likely be in either Charleston, West Virginia given its centralized location, or Knoxville, Tennessee if Republicans want to move it into the heart of their base. Which leads into the next segment on the politics of the region and here, in contrast to the total population map, is the distribution of Republican primary voters which is considerably different: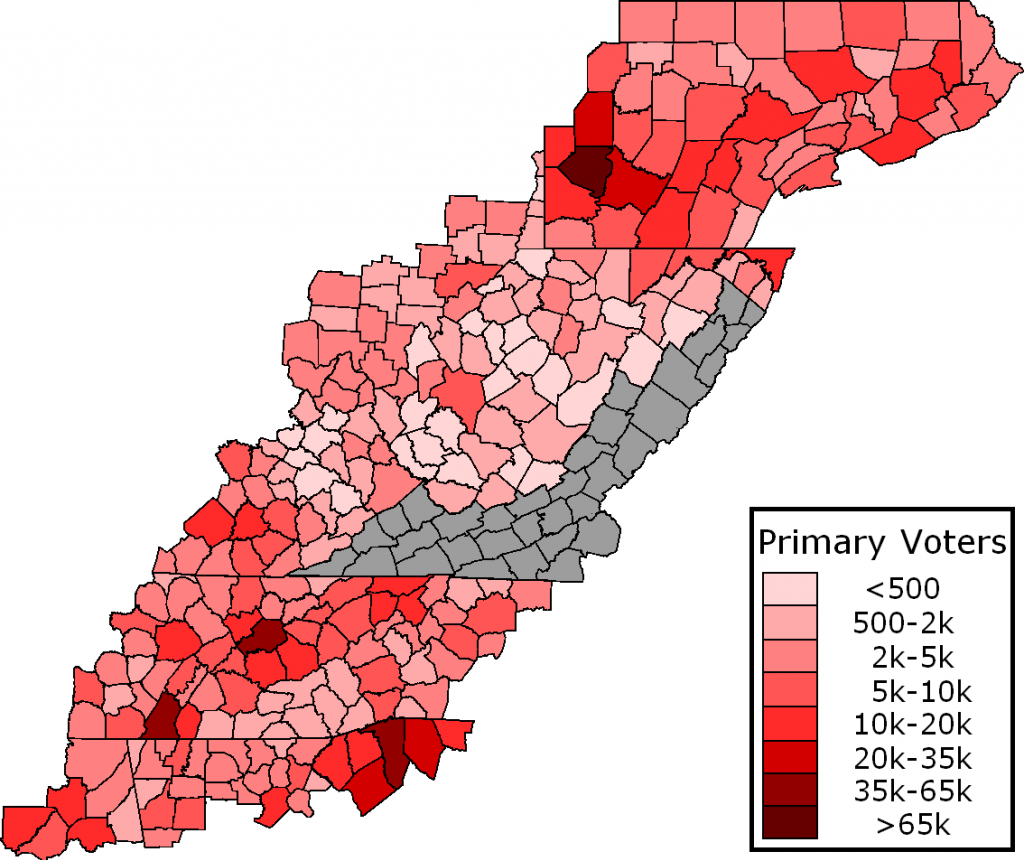 Note that the scale changes. In this map I've taken the primary votes for U.S. Senate or governor for 2010/2011 for every state except for Virginia (which had none); this is because those races almost all had contested primaries for both parties that year, while only half the region utilizes partisan registration and closed primaries making that approach less useful. What this map reveals is that southern Appalachia contains a much larger share of Republican primary voters, central Appalachia contains almost no Republican primary voters, and northern Appalachia while still containing a fair amount of the gross total contains a much lower share of the primary electorate relative to its census population. Therefore, it is very likely that Republican candidates for statewide office would be from the southern end of the state, particularly Knoxville, Chattanooga, and Greenville-Spartanburg. In fact about half of the Republican primary vote comes from just Alabama, Georgia, North Carolina, South Carolina and Tennessee.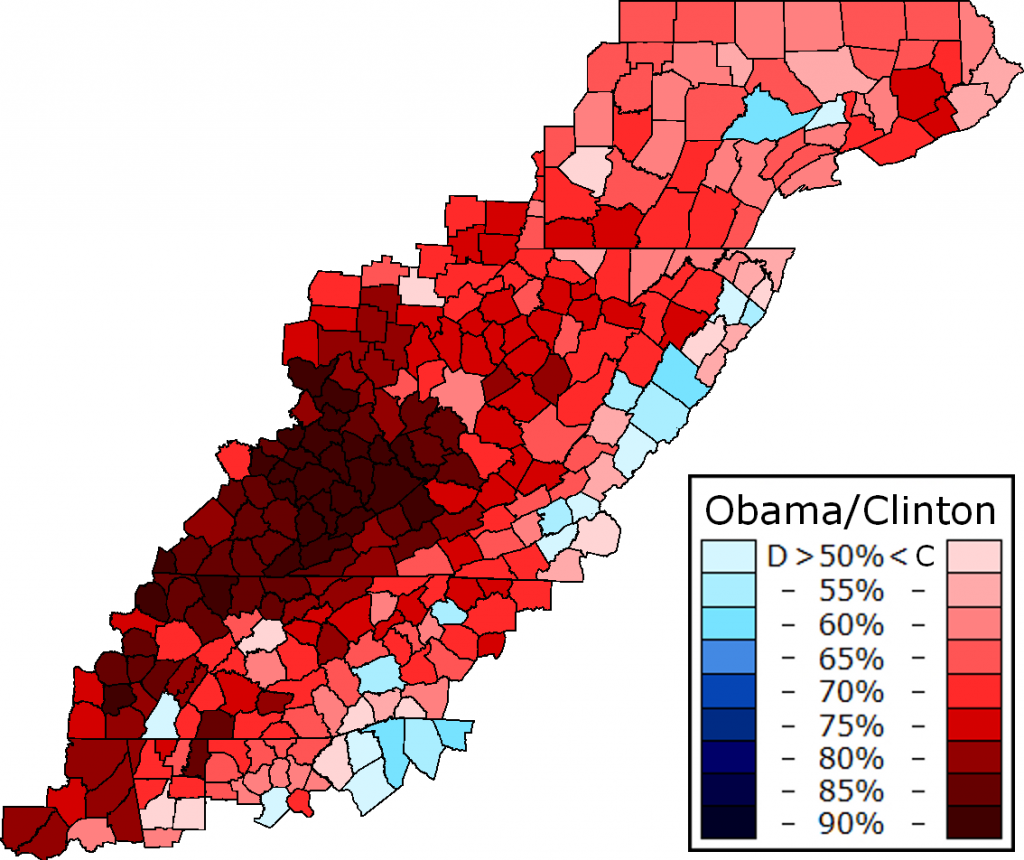 While we're on the subject of primaries, here's the county by county results for the 2008 presidential primary between President Obama and then senator Hillary Clinton. Overall Clinton demolished Obama by a punishing 66.1% to 33.9% between the two of them. The only state where John Edwards got a non-trivial share of the vote was in South Carolina, where he actually carried Oconee County in the northwest corner of that state and it was by far his best region, while the only one Obama carried with a majority was Greenville County. Clinton ran up the score by ridiculous margins in rural counties, but particularly those with a long Democratic tradition. Obama won a few more urban ones as well as performing better in those with a major public university, such as Center County, Pennsylvania home to Penn State and Watauga in North Carolina, home to Appalachian State. Interestingly, Obama actually wins the primary in the rest of Pennsylvania, while his vote share improves in all of the remaining states aside from Ohio. Clinton won the Appalachian region of every state included except for South Carolina.
Here I've summarized the population and general election politics of the new super state and the 11 constituent parts. You can see each substate's share of the total population, the racial demographics of the adult population, the proportion of total primary votes by party by substate, the 2012 presidential vote, and the 2010-2013 downballot partisan average. Note that the average is with respect to the original state and cannot be uniformly measured across all of the states. However, you can clearly see that in every single state other than West Virginia it was Republican overall and each substate was more Republican than the original state. This I found quite interesting because even though Mitt Romney won overwhelmingly in Appalachia and carried every single sub-region, there is vast divergence between presidential and downballot performance in those sub-regions. The counties in southern Appalachia, especially in Eastern Tennessee and the small southwest half of eastern Kentucky that I included have been voting Republican up and down the ballot since the Civil War. Regions such as the Shenandoah Valley, upstate South Carolina, and central Pennsylvania have been voting Republican downballot for a long time as well. But when we get to West Virginia, western Pennsylvania, southeast Ohio, and especially the northeastern half of eastern Kentucky, those regions have only just recently started voting Republican for president and still vote Democratic locally, even overwhelmingly so in Kentucky and West Virginia where ticket splitting is the highest of anywhere in the country.
Overall though, ticket splitting is dying out even in places like West Virginia and this new state of Appalachia would be quite safely Republican as even if the Democratic candidate carried the northern and central part, the Republican would be able to count on huge margins in southern Appalachia to put them over the top. At the presidential level, this would be one of the most Republican states in the country as you can see by Mitt Romney's 24 percent win in 2012. Let's take a look at some of these data points mapped out.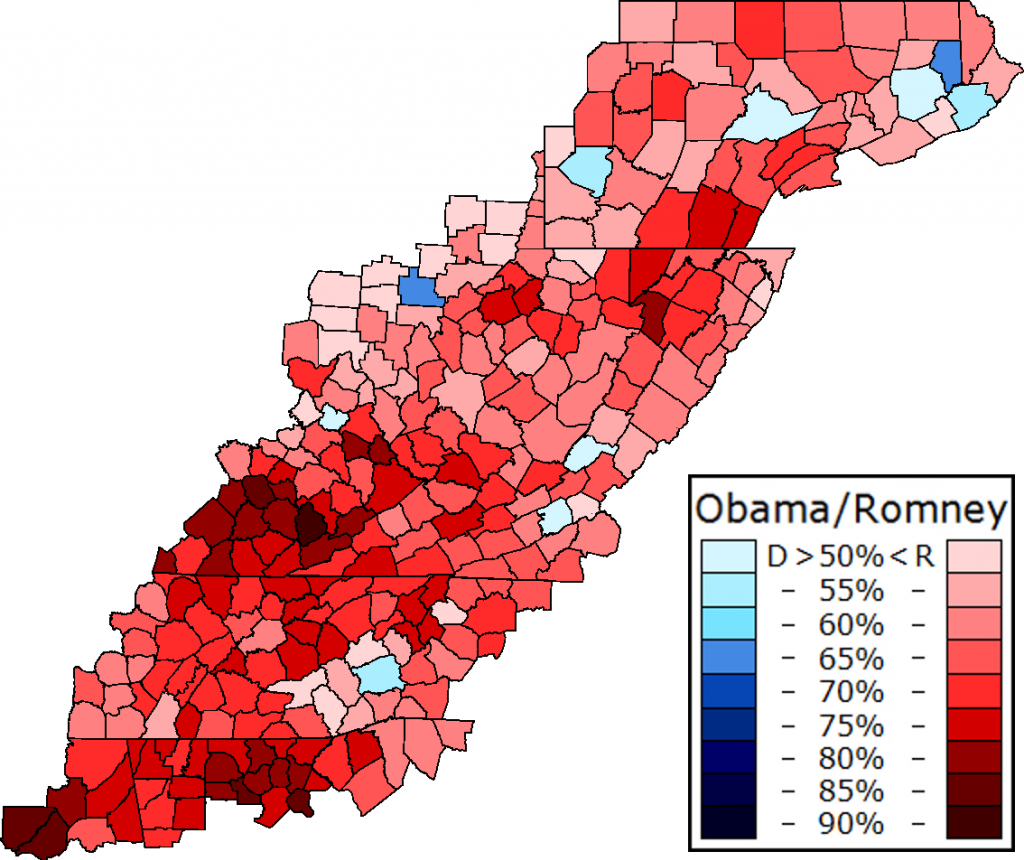 The 2012 presidential vote is perhaps the most striking simply because it is a sea of red with only a few islands of blue. Obama carried just 10 counties in total and half were in Pennsylvania while only a single one was in southern Appalachia. Romney on the other hand carried many counties with over 70 percent of the vote and of the 10 counties where he won over 85 percent of the vote east of the Mississippi, 6 of them are in Appalachia. His single best county in the eastern half of the country was Leslie County in eastern Kentucky at over 90 percent Romney. But as I described above, presidential performance doesn't always equate to downballot performance here, so let's look at a few other races.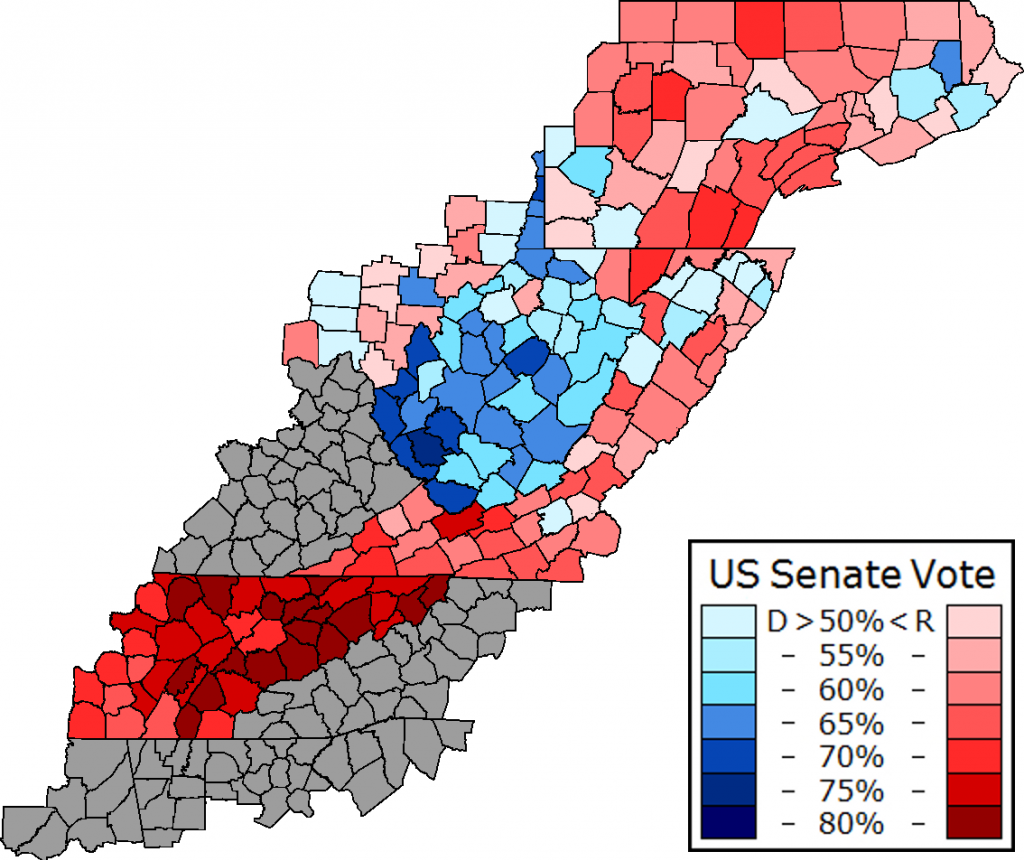 This map displays the 2012 U.S. Senate vote in the region and is the one I hope convinces you just how red it is overall. There were just 6 states where seats were up that year, Democrats won all but one of them, yet there is still a ton of red on the map. Even when you take into account that Democratic counties like Allegheny, Pennsylvania, are heavily populated, there are still plenty of heavily populated Republican ones like neighboring Westmoreland or Knox, Tennessee. West Virginia, while voting heavily for senator Joe Manchin, is still just 11 percent of the total state. The map doesn't even include most of southern Appalachia where Democrats might expect to carry just a handful of counties, or the fact that Democrats had very popular incumbents in four of these states and won the open seat in Virginia. In a Republican year like 2010 this map could turn sharply red.
So what would we be more likely to see in statewide and local elections in the new state? Here's the U.S. House of Representatives election by county: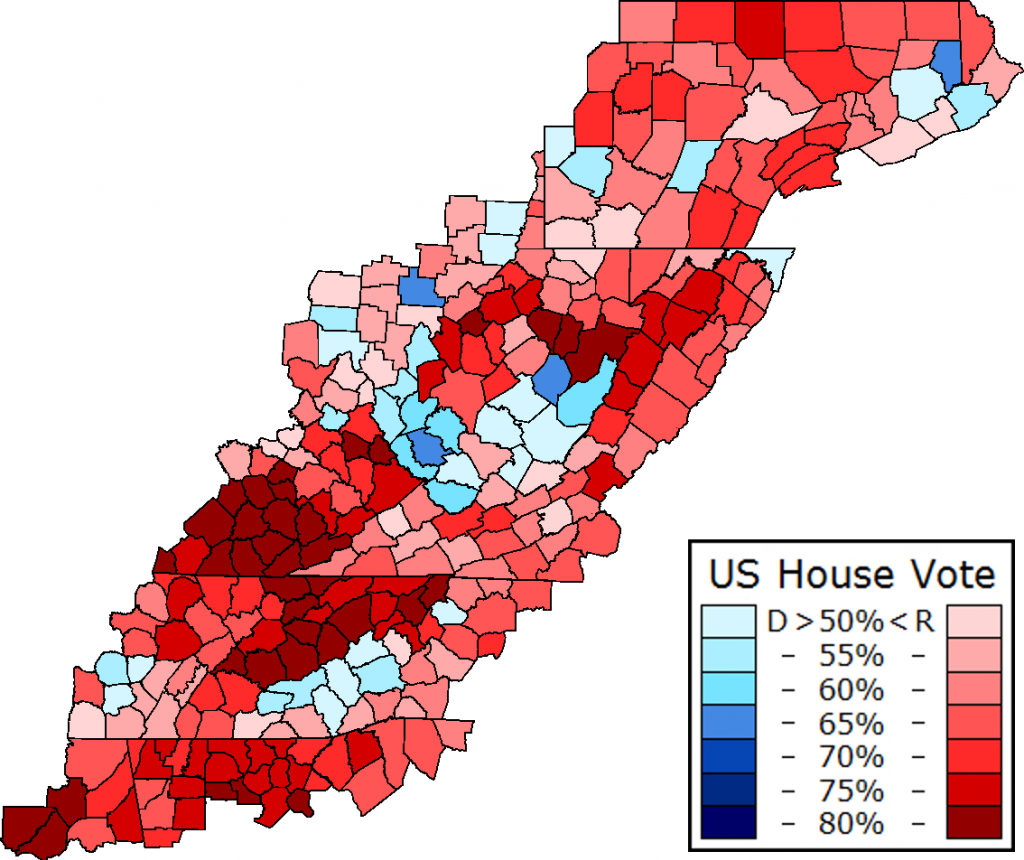 There's a lot less blue and a lot deeper red here. Part of this is because while those counties in Kentucky, West Virginia, etc, are very open to ticket splitting, they also quickly get acquainted with voting heavily Republican for GOP incumbents. Overall the U.S. House vote in this state wasn't even close as Republican candidates beat Democratic ones by a total of 23 percent and thanks to the region's partisanship plus Republican gerrymandering reduced Democrats to just 3 House seats out of about 24 total.
The next congressional county map is the divergence between U.S. House performance and presidential performance: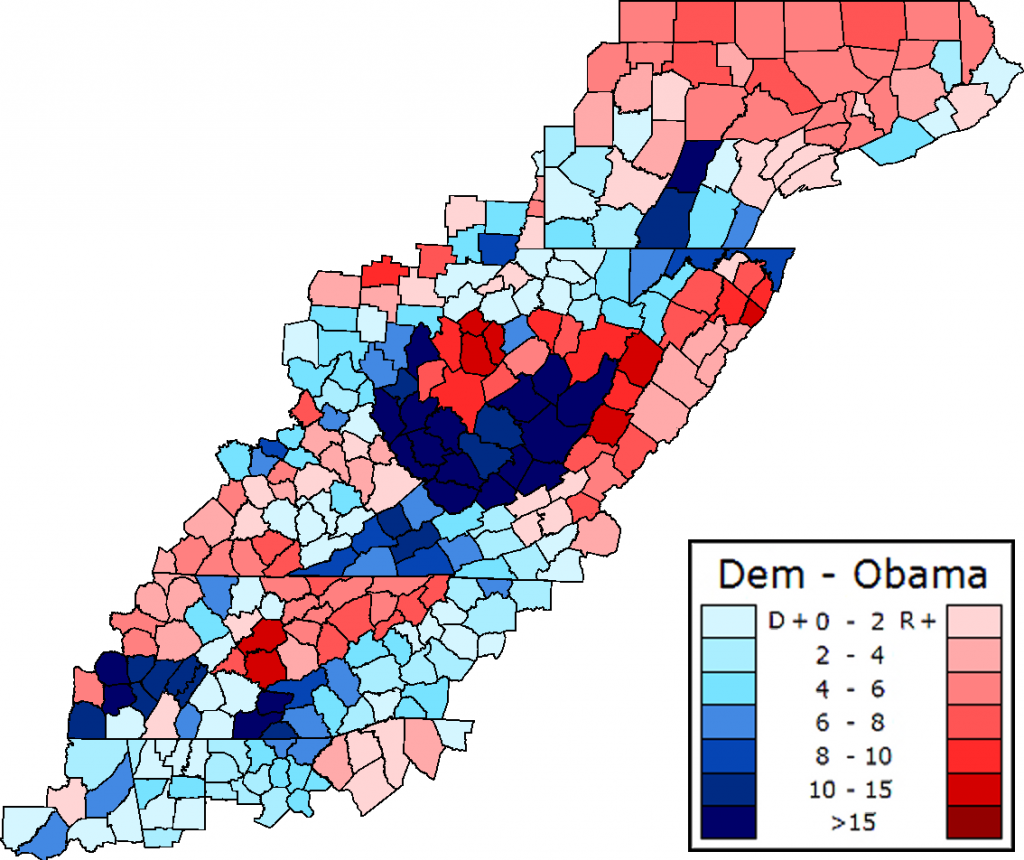 What is most interesting to me is that in areas without entrenched Republican incumbents, Democratic challengers who were even underfunded and unknown did better than President Obama. This is exemplified in the counties in Alabama, Georgia, southwest Virginia, and western North Carolina. On the other hand, even areas most open to ticket splitting such as eastern Kentucky or central West Virginia where we would expect a generic Democrat to perform far better than Obama saw Democratic challengers run significantly behind the president due to having very entrenched GOP incumbents. However, when you have an entrenched Democrat the reverse happens in huge fashion. You can literally see the outline of West Virginia's 3rd congressional district by the shades of deep blue where incumbent Dem Nick Rahall ran over 15 percent or even 20 percent ahead of Obama in practically every county. All of this was to show that on the whole, we might expect Generic D to to better against Generic R than Obama did against Romney in Appalachia, but that voters do react very strongly to incumbency from both parties.
The final county map entails the single year PVI (Partisan Voter Index) trends in Appalachia from 2008 to 2012, or in other words the amount each county swung towards Romney minus the national swing which was 1.7 percent.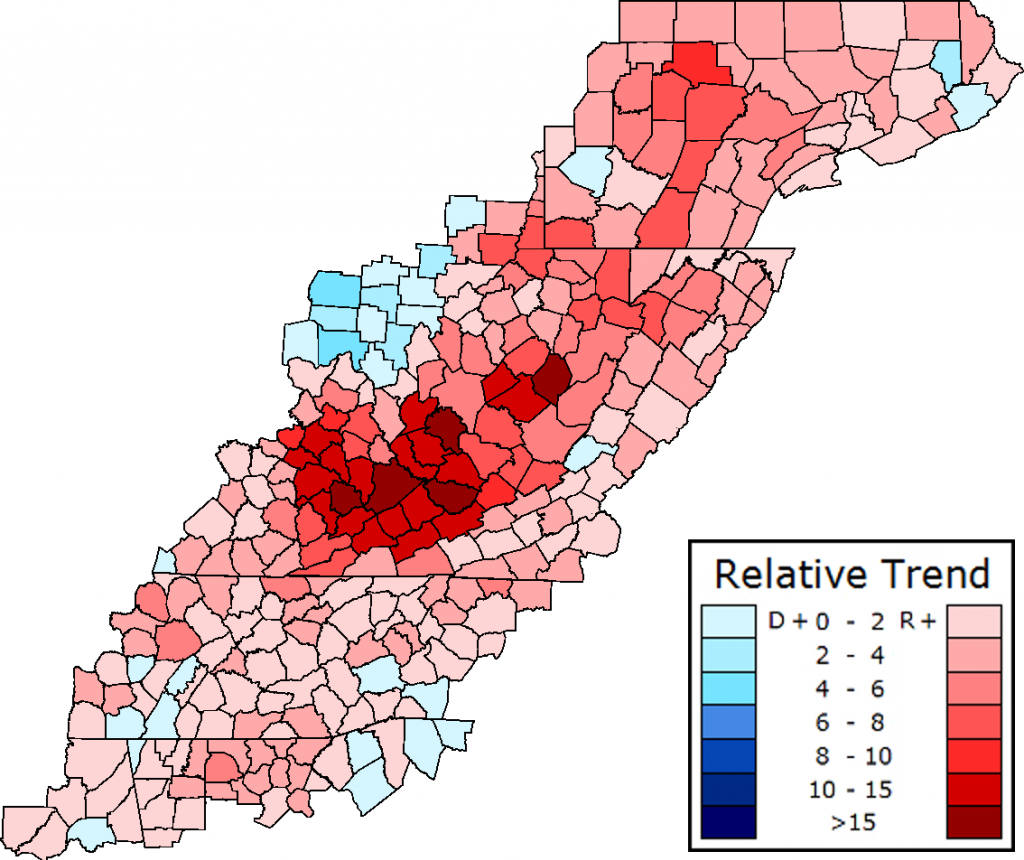 Yet again there's pretty much a solid sea of red and only a few patches of light blue. Central Appalachia saw the sharpest swing of any region of comparable size towards Romney outside of Utah, overwhelmingly due to the issue of coal and Obama's energy policies. The counties in the darkest red were for the most part areas that are incredibly Democratic downballot that have been moving sharply away from the party as the national party has included combating climate change and carbon pollution as a key part of its platform. Historically, eastern Kentucky, southwestern Pennsylvania, and West Virginia were the heart of coal country in the United States though I was surprised to learn that Wyoming now produces nearly twice as much tonnage annually as all three combined today. Still, the legacy of coal has had a strong impact on the politics of the region. It brought with it industrialization and unionization which turned the region into a Democratic stronghold until about the 1990s, but over the past several years with the Democratic Party's stance on fossil fuels and the sharp competition from natural gas, coal has turned the region toxic for Democrats (no pun intended).
As such, we could probably expect to see even further erosion of Democratic presidential performance in the state thanks to those conservative Democrats shifting to the GOP as well as dying out and being replaced by younger Republicans. This more than outweighs the minimal Democratic trend in southern Ohio and the urban areas of Appalachia such as Pittsburgh.
The last section of this diary will detail presidential performance at the state level for Appalachia from 2012 back to 1960. The first map up is the 2012 presidential vote share by state:
The immediate thing you should notice is that without its Appalachian counties, North Carolina flips to President Obama from a 2 point loss to a very narrow 0.4 point win making it the closest state of 2012, while no other state changes hands. (Also note that I had to give Erie, Pennsylvania to Ohio to avoid making the remainder of Pennsylvania non-contiguous.) Appalachia is now Romney's 6th best state and by far his best one east of the Mississippi.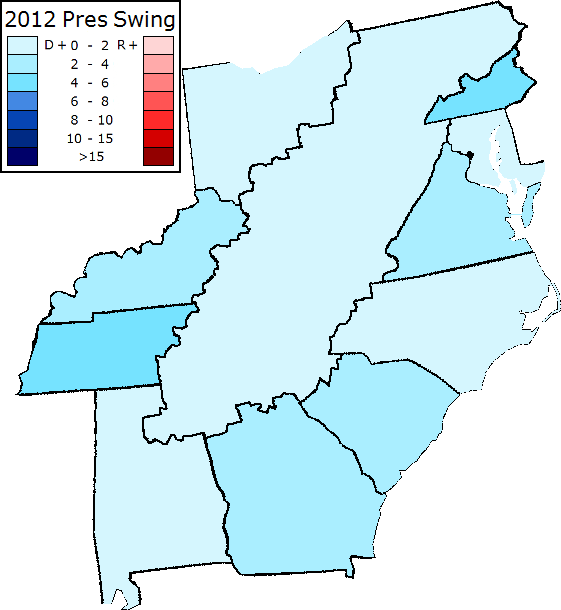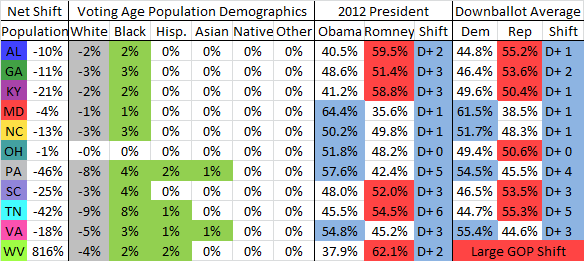 At the regional level, every single state improves in vote share for President Obama with the lines redrawn (if we compare the new Appalachia to West Virginia which Romney won by 27.4). This is thanks to the Appalachian parts of the states being more Republican than the remainder in each state, but as a whole still more favorable to Obama than West Virginia. The best improvement comes in Tennessee where Obama wins roughly a 6% higher share of the vote with Pennsylvania close behind at 5%, making that state totally safe. Virginia also becomes a safe state and voted for Obama by the same margin that Michigan did. North Carolina again flips to Obama, while Georgia and South Carolina were close enough with practically no investment from team Obama that they almost certainly would have been swing states. Part of what causes these shifts is that every state also becomes less white, Tennessee and Pennsylvania considerably so. Downballot every state improves for Democrats except West Virginia which goes from winnable to unwinnable and is something I will examine in more detail in part two.
On the whole, the electoral college is negligibly more favorable to Obama, with the state that puts him over the top being Colorado instead of what was nearly an identical margin with the actual Pennsylvania. However, the total distribution of electoral votes shifts more Democratic and forces Republicans to play a lot more defense in the South and most importantly the overall Democratic advantage in the electoral college would only increase in future cycles.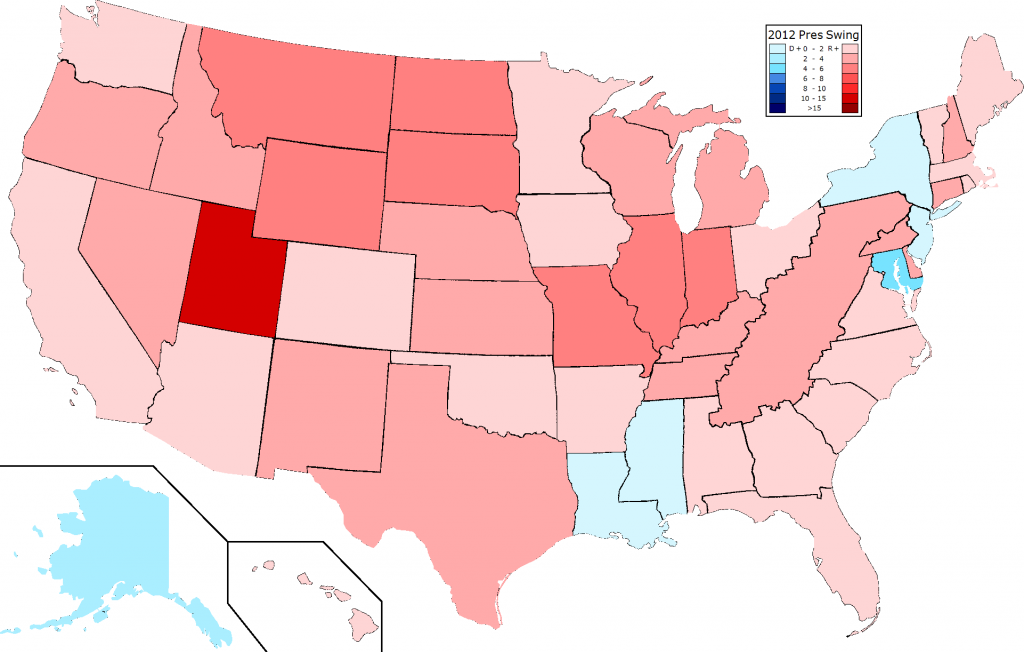 Looking at Appalachia again, it swung towards Romney by a pretty decent amount at 3.6 percent two party between 2008 and 2012, more than double the national swing of 1.7 percent. Then, we have the single year PVI trend which shows the state getting just under 2 percent more Republican between 2008 and 2012 while most of the surrounding states trend Democratic: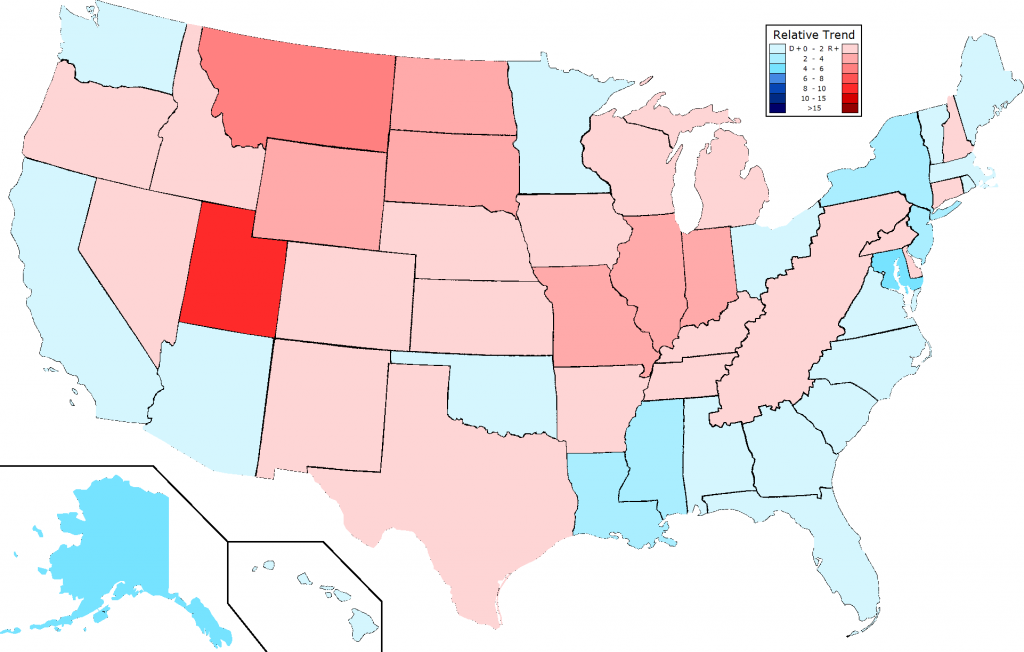 So the net change for 2012 is that Obama flips North Carolina and wins 4 additional electoral votes for a total of 336 to 202. Let's take a look at the next 13 presidential elections.
2008: Nominally no states flip and Obama is reduced 14 electoral votes to a 351-187 win. However, rather than losing it by 5.2%, Obama lost Georgia by just 0.6% despite not going all-in there. With Virginia that year being an 11 percent blowout, I would strongly have expected him to shift resources to Georgia and win it which would have given him another 13 electoral votes for a net loss of just one from reality. South Carolina and Tennessee would have also been swing states in 2008 with Obama losing South Carolina by just 2.8% and Tennessee by 4%; perhaps saturation level campaign investment could have swung one or both but that's more speculative than Georgia. Obama loses Appalachia with 41.4 percent to McCain's 58.6 percent.
2004: No states change hands, meaning John Kerry loses a net of 9 electoral votes for a 242-295 loss. Now, unlike in the actual election, even a win of Ohio's 19 electoral votes doesn't put him over the top even though his loss there narrows somewhat to just 1.8 percent. Kerry loses Appalachia with 40.9 percent to Bush's 59.1 percent.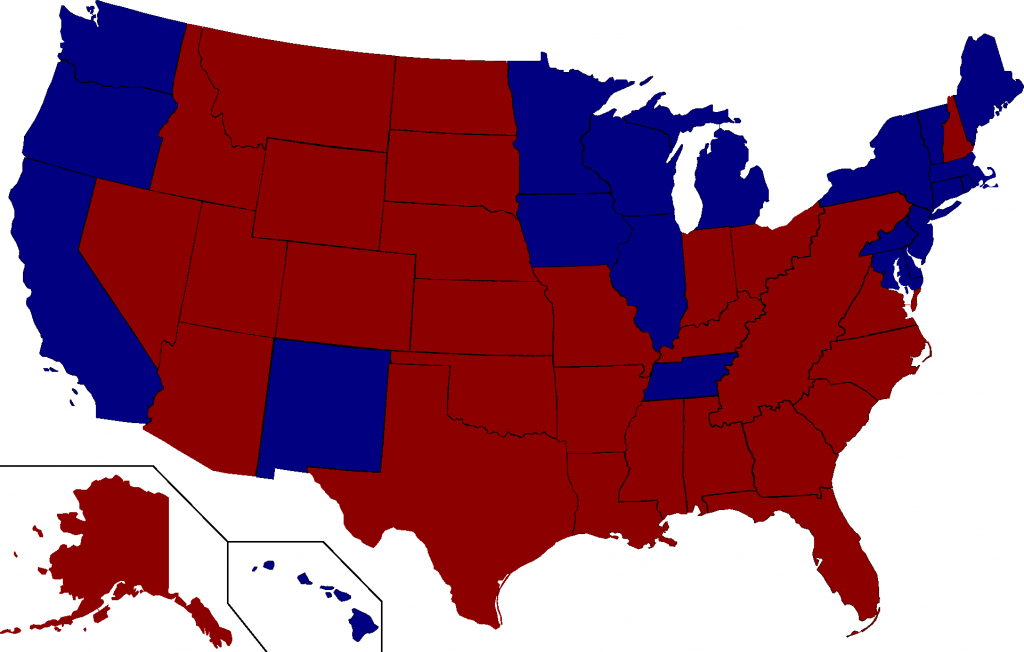 2000: Al Gore actually manages to win the remainder of Tennessee, but because Appalachia reduces so many of the electoral votes he won from Pennsylvania, he actually loses a net of 4 electoral votes for a total of 262 to Bush's 275. Gore loses Appalachia with 43.1 percent to Bush's 55.3 percent and Nader's 1.6 percent (though Nader wasn't on the ballot in Georgia or North Carolina).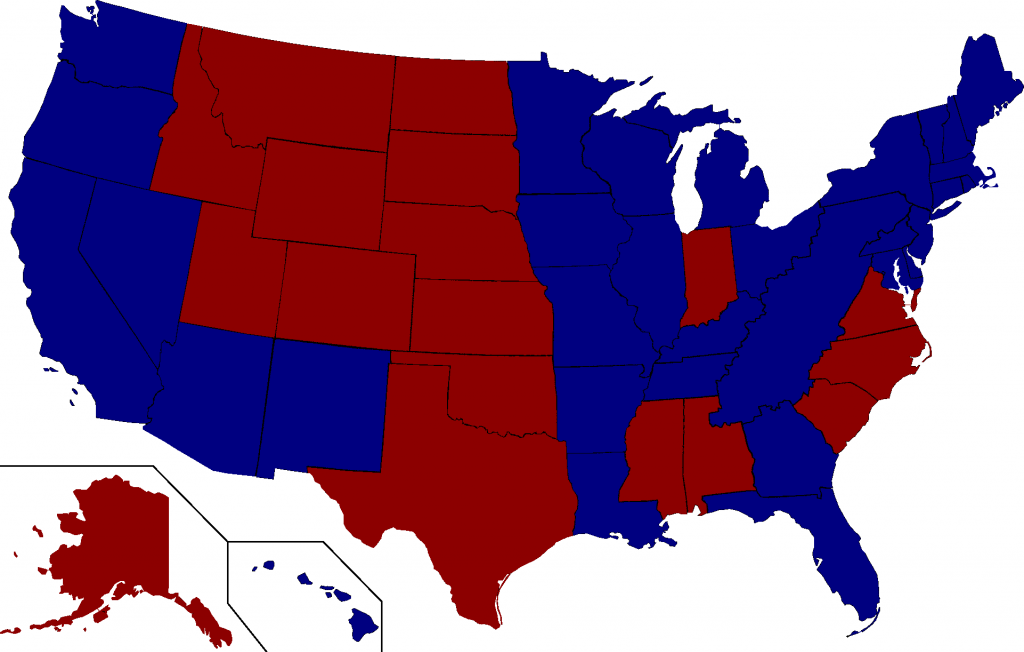 1996: This one may come as a surprise given the 2012 politics of the state, but Bill Clinton actually won the new state of Appalachia and because the portion of Georgia it takes in is more republican than the remaining state, he flips that state. That expands his electoral college votes by a net of 19 to a commanding 398 to Dole's 140. Clinton carries Appalachia narrowly with 45.2 percent to Dole's 44.9 percent and Perot's 9.9 percent.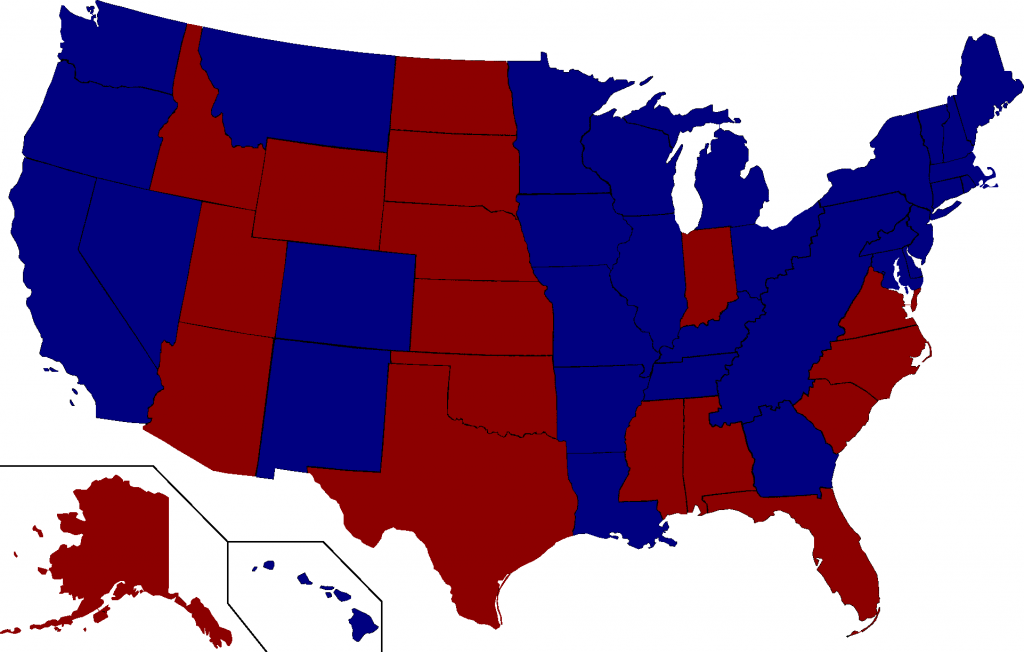 1992: Clinton again carries Appalachia and while no states flip, North Carolina comes damn close with Bush winning it by just 504 votes over Clinton. Clinton still expands his electoral college lead by a net of 6 to a solid 376-162 electoral vote win. Appalachia votes for Clinton with 43.3 percent to Bush's 40.6 percent and Perot's 16.1 percent.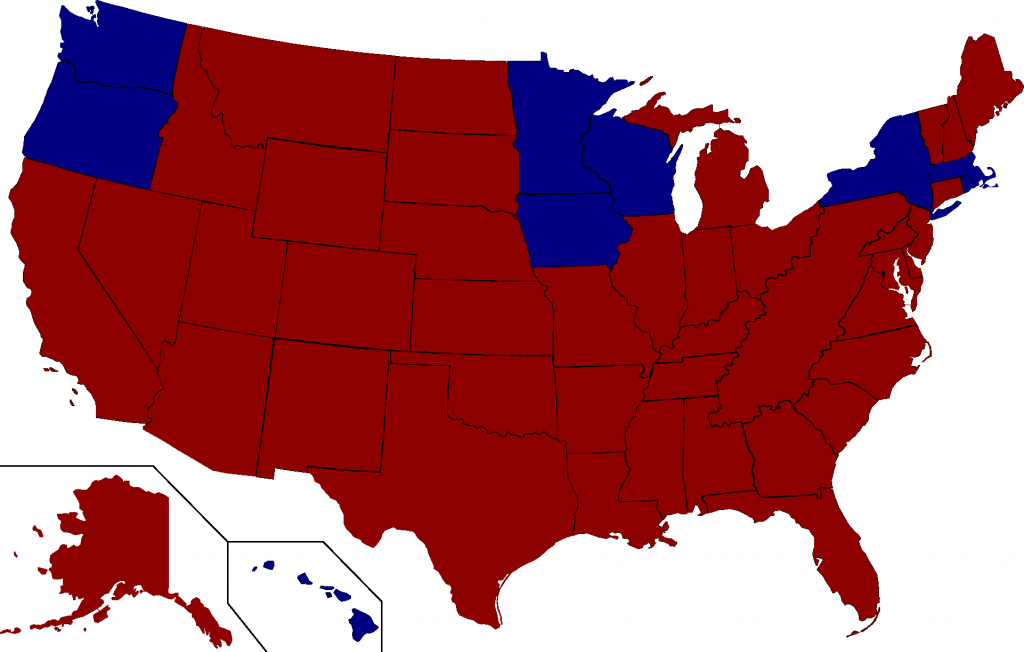 1988: Dukakis loses a net 6 electoral votes because he actually carried West Virginia leaving him with 105 to Bush's 432. Dukakis loses Appalachia with 45.4 percent to Bush's 54.6 percent.
1984: Mondale of course couldn't fall any further in the electoral college with no states changing hands. He loses Appalachia with 42.1 percent to Reagan's 57.9 percent.
1980: Carter manages to flip Tennessee, but since he carried West Virginia sees a loss of its electoral votes to Appalachia and the net outcomes cancel each other out for a 49-489 electoral vote loss to Reagan. Carter loses Appalachia by a relatively narrow 45.8 percent to Reagan's 50.5 percent and Anderson's 3.8 percent.
1976: No states flip, but Carter expands his electoral college win a net 3 votes to 300-238. This is also the last time that a Democrat utterly dominates in Appalachia. Carter carried it with a solid 53.7 percent to Ford's 46.3 percent, but even more impressive is that Carter managed to win every single constituent state part of it other than Maryland, even heavily Republican eastern Tennessee which voted for Goldwater.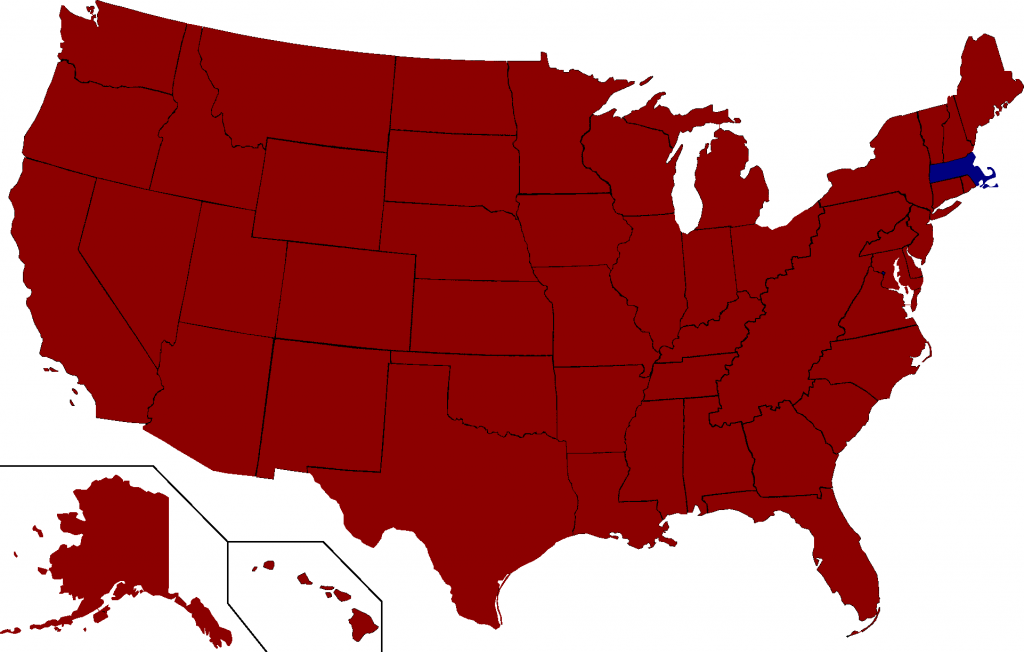 1972: Similar to Mondale, McGovern's electoral vote loss couldn't get any worse as no states flip. He loses Appalachia with 34.1 percent to Nixon's 65.9 percent. Let this sink in for a moment, Obama only did 3.8 percent better in 2012 in Appalachia than George McGovern did in 1972 despite his winning nationally by 4 and McGovern getting obliterated by nearly 24 nationally and setting the record for worst Democratic performance of all time in the South.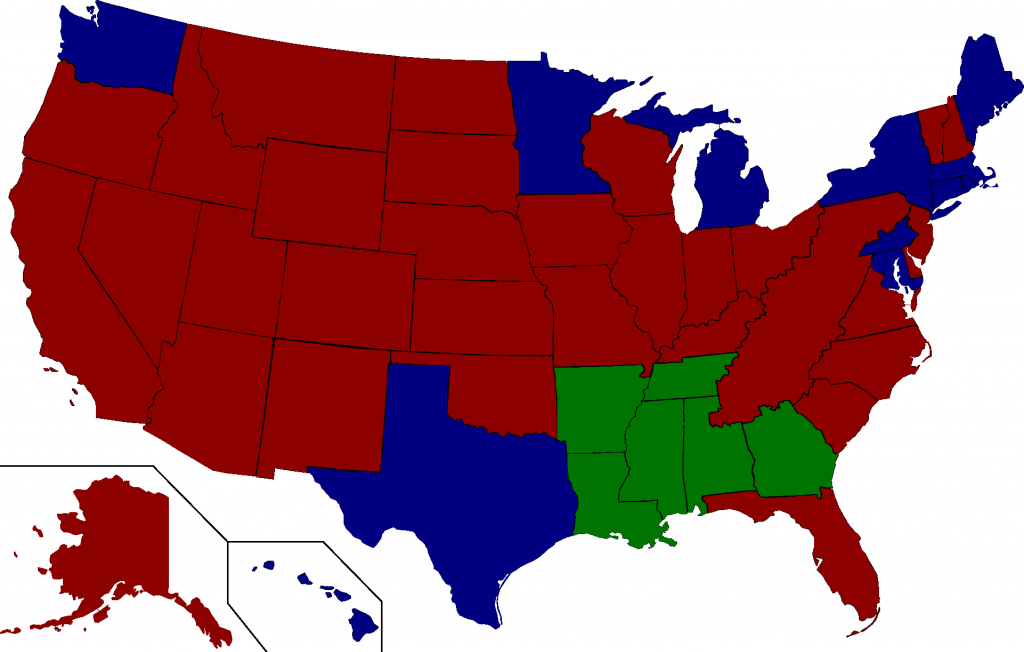 1968: Here Tennessee actually flips to George Wallace with him winning by 10 percent there over Humphrey with Nixon in close 3rd. Wallace also comes within 4 percent of carrying North Carolina, but slips to a narrow 3rd in South Carolina. Overall that yields him a net of 4 more electoral votes, and since Humphrey carried West Virginia, he loses a net 21 due to reapportionment and Nixon carrying Appalachia, giving Nixon an additional 17. The final electoral college margin widens to a blowout of Humphrey 170, Nixon 318, Wallace 50 despite Nixon's narrow popular vote win. Humphrey loses Appalachia with 40.3 percent to Nixon's 44.2 percent and Wallace's 15.6 percent.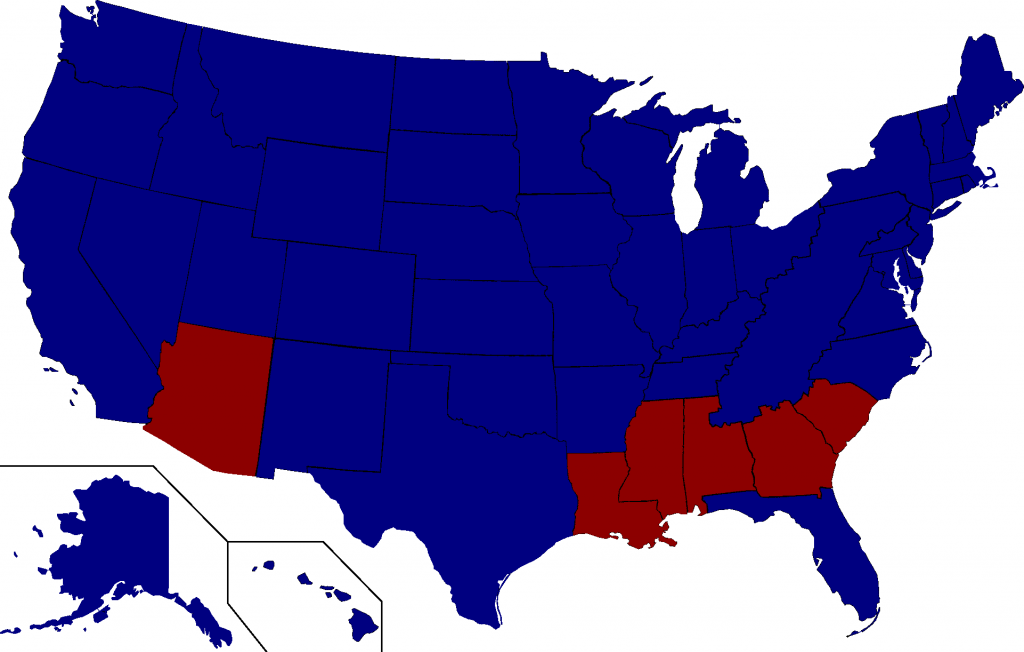 1964: Johnson's record-setting landslide over Barry Goldwater sees him expand his dominating electoral college vote by 5 though no states change hands to 491 total to Goldwater's 47 though Goldwater expands his vote share in Alabama, Georgia and South Carolina. Johnson carries Appalachia and does by far the best of any Democrat for the years I calculated it, winning it with 61.1 percent to Goldwater's 38.3 percent and .6 percent for unpledged Democrats due to Alabama where Johnson wasn't on the ballot.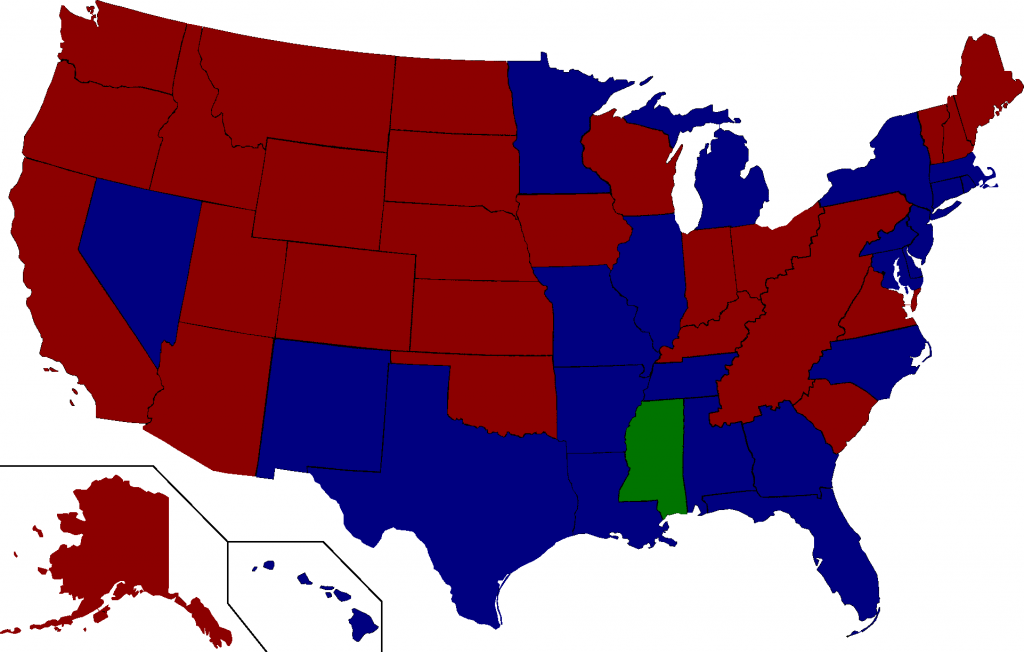 1960: The final map is Kennedy's win over Nixon where he flips Tennessee, making that the fourth time in 40 years that the loss of the Appalachian region causes the Republican candidate to lose that state. Making up for it and then some though is South Carolina which narrowly flips to Nixon, Kennedy's loss of West Virginia which he carried and now becomes Appalachia which Nixon wins, and the lost of the rest of Pennsylvania which at the time carried a hefty amount of electoral votes. The net result is that Kennedy loses a whopping 24 electoral votes, Nixon gains 25, and unpledged electors who voted for Dixiecrat senator Harry Byrd lose 1 giving us a total of Kennedy 279, Nixon 244, Unpledged/Byrd 14, still good enough for a Kennedy win outright without Dixiecrats in the House of Representatives via the electoral college. However, Kennedy now just barely wins the electoral college since he carries Illinois by a mere 0.18% or 9,000 votes. Kennedy loses Appalachia narrowly with 48.7 percent to Nixon's 51.3 percent (ignoring the screwiness in Alabama and taking the vote as is), which is very respectable for the first Catholic president running in a heavily protestant Dixiecrat state in 1960.
That completes all the presidential elections for which I have data. I would eventually like to calculate results going back even further. To summarize though, from about 1960-1996 the Appalachia superstate was one that voted for the popular vote winner all but once and was overall very swingy and close to the national margin. Beginning in 2000 though, the state took a sharp rightward turn and didn't look back. By comparison, its single year PVI in 1988 was just R+0.6 meaning Dukakis did barely worse there than his national vote share. Downballot Democrats could probably still win here well into the 1990s but after 1994 Republicans would be very competitive and increasingly dominant. By 2012 however, the state had become R+14.1 making it one of the most Republican states in the country at the presidential level and seeing Obama do nearly as bad as George McGovern and considerably worse than Dukakis and Mondale. In the future, the Republican vote share in the state would eventually bottom out as the urban areas trend in the opposite direction, but for now and in the next few presidential elections we could expect the strong Republican trend in the rural areas of the state to pull it further towards the Republican Party. Downballot the results would be even more pronounced as conservative Democrats switch to voting Republican and slowly but surely die out and are replaced by conservative Republicans.
This concludes part one. Part two will look at each of the 10 remaining states and how the loss of their Appalachian region changes their politics at the downballot statewide and congressional level. You can find all of my demographic and election data for the Appalachia state here and previous entries in the political geography series here. I'll leave you with a question to consider: who would Appalachia's statewide officeholders be?
My guess for governor would be Bill Haslam (R-Knoxville), current governor of Tennessee who has the strongest base in the region, followed by current Pennsylvania governor Tom Corbett (R-Pittsburgh) if our point of departure was 2010. For senate, only Bob Corker (R-Chattanooga) and Lindsey Graham (R-rural northwest SC) are from the state (though Lamar! Alexander (R-Nashville) is originally from there) and Corker probably stays in Tennessee and I doubt Graham could win a primary. Of the Democratic senators from West Virginia, Jay Rockefeller is retiring in 2014 but I can't imagine Shelley Moore Capito (R-Charleston) winning a primary to replace him while Joe Manchin would either put up a fight and lose the general election, or switch parties and lose a primary. So the senate seats and other statewide offices would probably be up for grabs, with Republicans in southern Appalachia having the strongest chance of winning the nominations.
Author's edit - The first version of this diary had mapped the independent cities of Virginia separately instead of combined with the surrounding counties, did not include Cherokee County, South Carolina in Appalachia, and also did not include the 2008 Democratic presidential primary map.