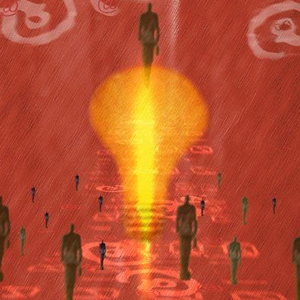 Commentary: African American Scientists and Inventors
by Black Kos Editor, Sephius1


Hildreth "Hal" Walker, Jr. has won fame as an innovative thinker, collaborator and role model, in the realm of energy technology, especially in applications of lasers.
Born in Alexandria, Louisiana in 1933, Walker faced two major challenges as a young boy. On the one hand, his family forebade him from seeing his estranged father; on the other, black persons were virtually forbidden from significant social or academic advancement. However, Walker visited his father on the sly, and on one memorable occasion received as a present a toy Buck Rogers ray gun; he also found a white family willing to let him work as an informal apprentice at their vacuum cleaner repair shop. Thus, by fighting the earliest obstacles he encountered, Walker gained both the inspiration and the experience that would lead him to a career in high technology.
(con't.)
Walker's family soon moved to Los Angeles, and through high school there, he sharpened his skills in mechanics and electronics. He had decided on a career in the film industry after graduating, but was shut out because he was black. He could find work only with the Navy, installing radar systems in fighter planes; but after the Korean War ended (1953), his four years' experience was ignored by employers.
In a few years, Walker got a long overdue big break. RCA hired him to help develop the US government's Ballistic Missile Early Warning System, designed to warn the US in the event of a Soviet nuclear attack (1959). Walker loved the work, and excelled at it; he went on to direct other global telecommunications projects, including the first television broadcast transmitted from Earth to a satellite and back to Earth again (1962).
In 1969 came Walker's most sensational success. Working for Union Carbide's Laser Systems division, he led a team that adapted a ruby laser for measuring the distance from the Earth to the Moon during the Apollo 11 mission. Walker's team trained a laser beam from Lick Observatory in California at a reflector mirror, only 18 inches wide, that Neil Armstrong and Buzz Aldrin had set up on the Moon's surface. Walker's team recorded by far the most accurate measurement of the distance ever, exact to within 5 meters. The equipment used for the experiment is now on permanent exhibit in the Smithsonian's National Museum of American History.....Read More
~~~~~~~~~~~~~~~~~~~~~~~~~~~~~~~~~~~~~~~~~~~~~~~~~~~
News by dopper0189, Black Kos Managing Editor
~~~~~~~~~~~~~~~~~~~~~~~~~~~~~~~~~~~~~~~~~~~~~~~~~~~

~~~~~~~~~~~~~~~~~~~~~~~~~~~~~~~~~~~~~~~~~~~~~~~~~~~
As the White House prepares to launch a major economic opportunity effort, record high unemployment among black and Latino youth underscores how essential it is to create job opportunities for young people of color. Color Lines: The Crisis in Black and Brown Youth Unemployment.
~~~~~~~~~~~~~~~~~~~~~~~~~~~~~~~~~~~~~~~~~~~~~~~~~~~
The critical issue here is that the ages of 16 to 24 are make or break years for lifelong earning potential. With one out four blacks and one out of six Latinos under the age of 25 without work, a generation of youth of color risks falling behind.
The situation for black and Latino unemployed youths is so alarming that leading think tanks and economists are raising red flags about it at a staggering pace. One report on the topic by Demos, the public policy organization, argues that the "exclusion of young people of color" from job opportunities "weakens the promise of America."*
Why's that?
With wealth in African-American and Latino communities already the lowest on record, a loss of income on a generational scale would likely harden existing inequities and set back economic progress in the country for decades. That's because there are simply so many young blacks and Latinos who want work but can't find it.
The jumpoff for understanding what's going on is that the youth jobs market as a whole, like the broader labor market, is in shambles.
With one out six young people without work, youth unemployment is higher than at any point since most people under the age of 25 have been alive. Close to half of the four million young people without work are African-American or Latino. They are joined by another six million young people of all racial backgrounds who have given up looking for work out of frustration.


~~~~~~~~~~~~~~~~~~~~~~~~~~~~~~~~~~~~~~~~~~~~~~~~~~~


~~~~~~~~~~~~~~~~~~~~~~~~~~~~~~~~~~~~~~~~~~~~~~~~~~~
An Islamic court in Nigeria's northern state of Bauchi has put on trial 11 Muslim men accused of being homosexuals in violation of their religion, a religious leader has told the BBC. BBC: Nigeria Islamic court tries gay suspects in Bauchi.
~~~~~~~~~~~~~~~~~~~~~~~~~~~~~~~~~~~~~~~~~~~~~~~~~~~
A 12th person arrested - a Christian - would be tried under secular law, a BBC reporter says.
Under Islamic law, a person can be sentenced to death by stoning if convicted of homosexuality. It is also illegal to have gay sex in Nigeria, according to its secular laws.
Earlier this month, President Goodluck Jonathan signed a parliamentary bill which tightens laws against homosexuals, banning same-sex marriages, gay groups and shows of same-sex public affection.
The new legislation applies across Nigeria, affecting all citizens.
Most states in the predominantly Muslim north of Nigeria have adopted Islamic law, known as Sharia, since the end of military rule in 1999. Nigeria is a deeply conservative country, with an influential Christian evangelical movement in the south and strong support for Islamic law among many Muslims in the north.
Hostility towards gay people has escalated since parliament debated the Same-Sex Marriage Prohibition Act last year, Dorothy Aken'Ova, a rights activist with the Nigeria-based International Centre for Reproductive Health and Sexual Rights, told the BBC.
She said that she was aware of 38 people being arrested in Bauchi state last month, and was trying to confirm reports of more arrests in both the north and south of Nigeria since the new law was approved.



~~~~~~~~~~~~~~~~~~~~~~~~~~~~~~~~~~~~~~~~~~~~~~~~~~~
Local entrepreneur makes black dolls to fill gap in African market, as economists predict consumer boom for Nigeria.
The Guardian:
Barbie who? Nigeria's Queens of Africa dolls take on US toymaker Mattel
.
~~~~~~~~~~~~~~~~~~~~~~~~~~~~~~~~~~~~~~~~~~~~~~~~~~~
With a booming economy in Nigeria and more black children than anywhere else in the world, Taofick Okoya was dismayed when he could not find a black doll for his niece.
The 43-year-old spotted a gap in the market and, with little competition from foreign firms such as Mattel Inc, the maker of Barbie, he set up his own business. He outsourced manufacturing of doll parts to low-cost China, assembled them onshore and added a twist – traditional Nigerian costumes.
Seven years on, Okoya sells between 6,000 and 9,000 of his Queens of Africa and Naija Princesses a month, and reckons he has 10-15% of a small but fast-growing market.
"I like it," says Ifunanya Odiah, five, struggling to contain her excitement as she inspects one of Okoya's dolls in a Lagos shopping mall. "It's black, like me."
While multinational companies are flocking to African markets, Okoya's experience suggests that, in some areas at least, there is still an opportunity for domestic businesses to establish themselves by using local knowledge to tap a growing, diverse and increasingly sophisticated middle class.


~~~~~~~~~~~~~~~~~~~~~~~~~~~~~~~~~~~~~~~~~~~~~~~~~~~


~~~~~~~~~~~~~~~~~~~~~~~~~~~~~~~~~~~~~~~~~~~~~~~~~~~
In many ways she is the embodiment of the contemporary, urban, well-heeled middle-aged American woman. Except she is also Michelle Obama. New York Times:
A First Lady at 50, Finding Her Own Path.
~~~~~~~~~~~~~~~~~~~~~~~~~~~~~~~~~~~~~~~~~~~~~~~~~~~
She has perfected a mean forehand, is working on her yoga poses, dishes with girlfriends over brussels sprouts and dirty martinis (one olive) at the Mediterranean hotspot Zaytinya, pushes her two daughters to play two sports — one of her choosing and one of theirs — and said this week that the wonders of modern dermatology, like Botox, are in the realm of possibility for her.
Michelle Obama is in many ways the embodiment of the contemporary, urban, well-heeled middle-aged American woman. She likes to take "me time," as she did during an extra vacation week this month without family in Hawaii, setting off a tabloid furor over the state of her marriage. She frets that her older daughter, 15-year-old Malia, hangs out with the boys a grade above her. She gardens, although unlike the rest of us, she has significant weeding help.
She toys with false eyelashes.
On Saturday night, Mrs. Obama will celebrate her 50th birthday with dancing and sweets throughout the state floor of the White House, drawing the nation's attention away from her husband, at least for an evening. Guests will sip fine American wines, consume delicate macarons and be entertained — the expectation is by Beyoncé.
The mix of Hollywood and quirky individualism (American caterers, ready yourself for the onslaught of dessert-and-cocktails-only party requests) underscores the conflicting diptych of glamorous mystery woman and regular PTA mother that defines America's first lady. Five years in, she has cobbled together a full life in Washington.


~~~~~~~~~~~~~~~~~~~~~~~~~~~~~~~~~~~~~~~~~~~~~~~~~~~
Welcome to the Black Kos Community Front Porch!
Pull up a chair and sit down a while and enjoy the company.