Good morning, readers and book lovers! Something happened with the diary promised for today so we are obliged to have yet another open forum. People, I desperately need volunteers to contribute diaries because I am running right out of ideas for open forums! Soon I will be reduced to writing about favorite songs. Or perhaps I'll retreat to a certain lamasery in Tibet--I know for a fact it isn't wired, so I won't be able to hear any howls of protest or sobs of nostalgia. Okay, game on--kosmail me with your offer and we'll make it happen!
This morning I'm in a mood for the tropics after all the freezing weather we've had, so for breakfast we'll have Banana Bran Muffins (with walnuts). Help yourself to Hawaiian Kona coffee, along with the usual condiments. Oh, and that cut-glass bowl over there holds slices of fresh, sweet, deep yellow pineapple. Help yourselves!
The first time I ever heard of Simone de Beauvoir's The Second Sex was in Ancient
& Medieval History class my senior year in high school. The teacher, Mrs. K., frequently referred to the book during that year of 1961. Possessing an M.A. in history, she'd very likely had a hard row to hoe in the sexist academia of those times. Always curious, I borrowed the book from the library but at 17 I was really too young to make heads or tails of it. It's not light reading even now.

The next book to arouse my curiosity was Betty Friedan's The Feminine Mystique. All four members of my family—my parents, sister, and I—read it. We were so fascinated that we attended Ms. Friedan's lecture at the Unitarian church when she toured the country a few months later. (I'll never forget my father's asking Ms. Friedan after the lecture whether she'd like a cup of coffee. She politely declined.)

"Women's Lib," as it was called, began to impinge on my consciousness in 1968, when as a newly married young woman living a nice, soporific life, I had time to watch the evening news after work. At first I wasn't sure what it was all about, but when news of demonstrations began to be covered week after week, the concept gradually sank in. After some time I was brimming with enthusiasm for the movement. For years I'd believed that all the rebellious thoughts I'd harbored about women's role in society meant there was something wrong with me; in 1970 I discovered there was something wrong with
them.
Lacking a car—as well as the ability to drive it even if I'd owned one—I carried my seven-week-old baby boy onto a bus on 26 August 1970 and went to a women's liberation rally in Lafayette Square, Washington, DC. It was enormously stimulating to listen to the speakers and soak up the charged atmosphere. There were even people roosting in the trees, clapping and calling out when one of the speakers said something particularly on point. From that moment I was a committed feminist.
Three years later the landmark book on women's health, Our Bodies, Ourselves, erupted into feminist consciousness. This was yet another revelation to me and many other women. The Boston Women's Health Collective, which wrote and published the book in 1973, addressed all the fears and concerns many of us had felt for years. We realized that our complaints about the male-centered medical establishment were justified; we also realized we could take certain health matters into our own hands. The book demystified women's physiology and health for many of us and made us feel empowered.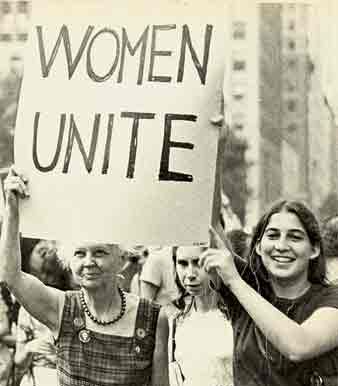 All the reading I did and the ideas I absorbed turned me into an activist. In the late 1970s I marched for the ERA in Richmond, Virginia. In the 1990s I defended women's clinics. Last summer I volunteered for a Democratic candidate for the Virginia legislature. Jennifer Boysko didn't win this time, but she will in 2015. If there's one thing the Virginia legislature needs, it's more women. When that happens, perhaps this commonwealth won't be fodder for late-night comedians.
Which book first introduced YOU to feminism? Was it a welcome concept or were you puzzled by it? What happened after you began to think of feminism as a movement and its goals?
Tell us! We're sitting in front of screens with coffee in our hands on a freezing morning, not roosting on a tree branch on a summer day, but we're all ears. The floor is yours!