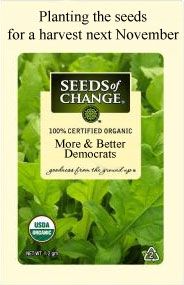 So.
After enlisting the assistance of navajo and others spread the word;
After weeks of urging kossacks to make submissions to the Saturday Morning Garden Blogging Seeds of Change local election fundraiser in the weekly Saturday Morning Garden Blogging diary;
After posting nagging diaries through the week last week — including risking bojo (;-D) by a call-out click-bait diary title;
After finally getting more submissions after the click-bait diary (and right at the Thursday-night deadline), spending time Friday assembling the candidate submissions — in between a couple of non-dKos related time-sucking ventures that couldn't be put off;
After getting up early Saturday morning, to finish fine-tuning the formatting of the diary, then queuing to post at the traditional 7:00 a.m. Mountain time;
After waiting until 7:00 a.m. then refreshing the screen — at what seemed to be that very moment came the final clusterfuckery:
dKos went tits up — at @6:59 Mountain time as far as I could tell. And then dKos struggled and lagged all weekend.
At least, that's what I'm blaming for the disappointing response.
So I ask for your indulgence for the re-posting, below the kos kalligraphy, of the entirety of the Saturday Morning Garden Blogging 9th Anniversary Seeds of Change diary.
I ask (as I rarely do) for your recs — to put this and keep it on the rec list; and if you are so inclined, to share on social media;
And I further ask (okay, I'll beg if you require it) that you click the links, and donate as generously as you can to the candidates listed, who are supported by other kossacks who took the time to submit their names for inclusion.
Now is when we can help get progressive candidates on the ballots, and when our small contributions can help get our kind of Democrats into governorships, into statehouses, and into the myriad other municipal and state and county offices across the country.
Please, plant the seeds.

Good morning, and welcome to Saturday Morning Garden Blogging's 9th Anniversary Seeds of Change edition.
Saturday Morning Garden Blogging is usually a politics-free zone; perhaps that's why we've avoided flame wars. But for today, it's dedicated to local elections, and you can blame this man, Aaron Silverstein, who is running in the primary for my district, Colorado House District 2. Late last year Aaron asked me if I'd be willing to host a fundraiser at my home. Well… we're in the midst of more renovations and the house won't be ready for guests until at least summer time, and by then it would be too late.
Last month it occurred to me that the Saturday Morning Garden Blogging anniversary edition could be a good opportunity for Aaron, and candidates like Aaron, to get some exposure and raise a few dollars.
Most people aren't paying attention; and in these local campaigns, a small donation can have a much larger impact than in the races about which the chattering class incessantly chatter.
So scroll on over the kos kaligraphy to learn a little more about Aaron, and about candidates from across the country, who can use your help. Heck, I'll even commit to making a donation to every candidate on the list — how does $9 sound? -- and challenge each of you to make a contribution to one, some, or all of the campaigns listed here.
[The donations have been made, excepting the one where I have to mail a check]
* * * *
Aaron Silverstein, Colorado House District 2

From Me

I started blogging over a decade ago. I knew that dollars were the gatekeepers to government, but I also saw that the gates themselves were information and access. The internet gave progressives an incredible new tool to pry open those doors, and I dedicated my life to help more people through.

In this blurb, I am going to try to pack in some of my netroots credentials, but you can learn more about my values and political experience at Aaron Silverstein for State House.

I am a child of the netroots. I launched or edited many blogs, including my home town's "Soapblox Colorado", which served as a model for state level blogs across the country. Later, as the Internet Outreach director for "Democrats Work", I contributed to sites in every state; inviting people to join in hundreds of community service projects.

In 2006, a New York Times OpEd named me as one of "the most influential bloggers who went to work for campaigns this year."

In 2008, Gov. Dean invited me to blog from the floor of the convention, when my state hosted the DNCC.

I even made my small mark here at DailyKos, first under the name TakeBackTheHouse, and then under my own name.

I helped build our Drinking Liberally chapter, hosted a Netroots Nation panel, made the top of the rec list here a few times, and even showed up occasionally on the front page, including my coverage of a transit strike in the very first Diary Rescue.

For the last 5 years, I have been working as a legislative aide at the Colorado Assembly. As a condition of employment I mostly had to stay off the websites, but my determination to bring more voices into the political process remained undimmed, and I served as a bridge into government for thousands of my neighbors. It is why I am running for the State House. I think it is time that the voices of the community are brought to the table.

I am in a very competitive race. If the vote were held today, I believe we would win, but the vote is not today and there is a huge amount of money out there working to trip me up before the finish line. If you believe we should elect experienced progressives, who are committed to broader democracy, I really need your help.

Please donate what you can at ActBlue.

(And if you are the NSA or just a diligent cyberstalker you can track my movements on Facebook.)

*Franki's endorsement

I met Aaron in my own back yard, at one of the early Garden Blogging Garden Parties. Aaron's gift, Bloggy the Garden Gnome — wearing a dKos Flagman hat — still guards my flower beds.

And that transit strike Aaron reported on? My husband was one of the striking workers and now, 8 years later, he is retired with a defined-benefit pension, thanks to people like Aaron who knows that "business-friendly" government needs to be balanced with worker friendly policies, too.

Colorado House District 2 encompasses central Denver and is solidly Democratic, so whichever candidate appears on the November ballot is almost assured to take office. Aaron faces an opponent who comes from a politically well-connected family. Alec Garnett is the son of Boulder County DA and former partner at the lobbyist powerhouse law firm of Brownstein, Hyatt, Farber & Schreck and his qualifications, as listed on his campaign website, appear to be his political connectiveness with the old-guard, third-way, centrist, corporatist political machine.

We deserve better. We deserve a representative who is there to hold the office he holds, not one who sees it as the stepping stone to the next, higher political office.

I ask you to please contribute to Aaron's campaign, and help one of our own take the next step forward.
Tim Larson, Connecticut Senate Third District

From Missys Brother

Tim has been a CT State Representative for six years and previously was the Mayor of East Hartford for eight years. He comes from a strong Democratic family with his oldest brother being U.S. Rep. John Larson (D-CT). Tim's biography is here.

Donations can be made at his East Hartford Office here, then click on the contact tab.



Rachel Zenzinger, Colorado Senate District 19

From Leftcandid

I met Rachel Zenzinger (then Palmer) at Regis University in the mid 90s. She was involved with Campus Ministry, & all manner of social justice concerns & pursuits at a very high level. At that time, for example, I had no idea that NAFTA was a bad deal, but she patiently explained it to me. She went to Ft. Benning at least once in November to protest the School of the Americas--something I wish I'd done. Half a lifetime later, I can't remember the full scope of what she was up to then, but her schedule was progressive and nonstop.

Read all of this:

Did you read it? Just in case you skipped, here's a 'graph:

In connection with her role as an Arvada City Council member, she filled numerous other capacities, including the following:

She served on the Jeffco Transportation Action Advisory Group, APEX Coordinating Committee, Gold Line Advisory Committee, Arvada Transportation Committee, and Metro Vision Issues Committee of the Denver Regional Council of Governments (DRCOG). She served as treasurer of DRCOG, and she when she left DRCOG in 2013 she was secretary of the Executive Committee. She was the City Council's appointed representative to the Metro North Chamber of Commerce, the alternate to Arvada Sister Cities International, and the alternate to the Adams County Economic Development Association.

SHE'S STILL IN HER 30S.

Those of y'all who are Coloradans are too familiar with the recent NRA-sponsored recall saga that claimed two Colorado Senate seats for the GOP, & was aiming at a 3rd for this year: SD 19, representing Arvada & Westminster. Senator Evie Hudak, the target of that recall, resigned her seat rather than allow the GOP to attempt a recall election against her, meaning that JeffCo Democrats would appoint a successor to that seat. They chose Councilwoman Zenzinger.

The NRA & the Tea Party will make a priority of defeating Rachel as she runs in her first Senate election. SD19 is a very purple district, one barely carried by Obama in '12, and as well, barely carried by Hudak in '12. (Rachel managed Hudak's campaign, in what would be for the rest of us considered our free time.) I'll be making her election a priority, too, and I hope y'all will as well.

Here's Rachel's Act Blue page.
Justin Wagner, candidate for Senate District 40 in New York.

From afox

A progressive, endorsed by the Working Families Party, Wagner came within 1% of defeating a tea party, incumbent Rethug in 2012. Reducing gun violence has been a foremost issue. A rundown on all the issues is on this page.

Here is an endorsement from the New York League of Conservation Voters.

You can make donations here.

In very blue New York somehow the state senate teeters between Democratic sanity and Republican insanity; please help remove a crazy.
Paul Davis, Kansas Governor

From skohayes

Paul Davis is running against Sam Brownback for Governor of Kansas. Brownback's policies continue to hurt many Kansans, including his decision to not participate in the expansion of Medicaid, and his decision to slash funding to education and other vital programs, all to pay for eliminating business income taxes.

Paul Davis has been a Democratic member of the State House for 11 years, and knows the issues our state is facing. He is a moderate Democrat, but in this state, that's what you need to win. He's polling pretty close to Brownback, and I believe has a good chance to win.

Here's a link to his homepage, where you can donate or volunteer; and here is his Facebook page.
Rep. Erin Molchany, 36th Legislative District of Pennsylvania

From Ironic Chef

Her district has been redrawn, and she is facing a primary challenge and can use all the help she can get.

I support her because she is truly progressive and has been with the Make It Our UPMC campaign to bring the SEIU into the University of Pittsburgh Medical Center from the beginning.
Website, Facebook and YouTube.
We had two submissions for the next candidate, and include both.
Lynn Mason, Michigan's 86th District

From peregrine kate

In constructing panels for NN14, I met a wonderful candidate for Michigan House, Lynn Mason, who is running in a seriously red district in the center of the state, east of Grand Rapids.

I don't know how to assess her chances, but she has been a County Commissioner in that area, and she seems to be very well known. She has been a public school teacher, active with the MEA, and she and her husband own a commercial apple orchard. Nice mix of experiences and qualifications.

It's crucially important for us in Michigan to flip the state House, to give us some leverage against the horrible, reactionary GOPers that now dominate the legislature and the governor's seat (and the upper level courts besides).

You can learn more and make a donation at her website.
Lynn Mason, Michigan 86th District

From: barrjus

Lynn Mason has been serving her community for over 30 years. First as a teacher, then as a leader of teachers, and most recently as a County Commissioner. Lynn Mason is a consensus builder who does her job with honesty and integrity. Lynn Mason goes the extra mile to see that everyone is treated in a fair and respectful way.

I support Lynn because she is a strong leader and a great person.

I also support Lynn because her opponent Lisa Posthumus Lyons does a terrible job representing the 86th district and Michigan.

Lyons insulted teachers everywhere by referring to them as greedy "Pigs" and "Hogs".

She was selected as "Michigan's Least Ethical Legislator by Michigan Populist Blog.

Lyons signed Grover Norquist's no new tax pledges in 2011, 2012, and 2013, but voted to raise taxes in 2011 on 51% of Michigan citizens to give an 83% tax giveaway to corporations and the rich.

She was a speaker at CPAC where she belittled former Governor Granholm's administration.

Lyons voted to slash billions of dollars from Public Schools, Community Colleges, and Universities.

Lyons was involved in a scheme to rig a State House Election in Michigan.

She voted yes for Right to Work (for less). After supporting RTW, she went to the microphone to ask for an exemption for Corrections Officers. Interestingly, her husband is a Corrections Officer!

She sponsored a "personhood" bill in regards to fetus.

She is the darling of the "right to life" movement.

You can make a donation at Lynn Mason 2014, and check out her Facebook page.
Mark Schauer for Governor of Michigan

From michiwoman

Rick Snyder in Michigan needs to go but it will be very tough race.

All his life, Mark Schauer has been Michigan tough.

He grew up in Livingston County, where he was one of the smallest offensive linemen you'll ever see play high school football. His dad was a teacher and his mom was a nurse, and by pumping gas and flipping burgers, Mark worked his way through Albion College.

When Michigan's economy took a beating and his neighbors were struggling, Mark made it his life's mission to help them fight back. He ran a nonprofit agency with over 200 employees – which helped seniors and children, and provided unemployed workers the tools to get back on their feet.

In 1994, Mark took his fight for his community to the next level, serving on the Battle Creek City Commission and later in the state House and state Senate – where he earned a reputation for fighting back against the outsourcing of Michigan jobs.

Mark was elected to represent Michigan's 7th District in the U.S. House of Representatives in 2008, where he was instrumental in passing tougher Buy American laws, helping to rescue the auto industry, ensuring quality health care for millions, and working to make college more affordable for middle-class families.

Mark and his wife Christine live in Battle Creek. Mark spends his free time herding his rescue dogs, Shelia and Shep, and chasing after his five grandchildren.

You can learn more and make a donation here.
Joan McBride for Washington State Senate, Legislative District 48

From princesspat

Joan McBride, who recently stepped down after 16 years on the Kirkland City Council, announced that she will challenge Senate Majority Leader Rodney Tom. Tom is a former Republican turned Democrat who handed Senate control to GOP conservatives in 2013.

McBride will run as a Democrat and will make education, transportation, and quality of life cornerstones of her campaign. "From my years of serving the people of Kirkland and the Eastside, I know the importance of great schools, transportation and transit investments, and protecting our communities' quality of life," said McBride. "We need leaders in Olympia committed to funding schools, passing a balanced transportation package, and investing in great communities. Unfortunately, the current leadership is unwilling to make common sense progress to maintain their partisan control. It's wrong for our families, and wrong for our region."

Washington State Democrats hope to Retire Rodney Tom.
We had two submissions for the next candidate — and I give you both in their entirety!
Allison Morrissey for La Plata County, Colorado Treasurer

From Plemon

I have been working with Allison for several months and am amazed at her ability to identify critical issues and come up with strategies to address them that are not obvious to most people. It is obvious that she is extremely qualified to tackle challenging jobs, such as a country treasurer position.

Allison is running for La Plata County Treasurer, against a long-time resident who has a lot of name recognition, but very little financial administration experience. Allison has a BA in Accounting, an MBA, and 25 years of experience in Fortune 50 companies. She currently volunteers as the treasurer for a non-profit, as well as serves on the Board of Directors of SW Community Foundation.

Allison writes; "My platform consists of the three pillars of business success: Financial Accountability, Operational Excellence, and Customer Focus. I have demonstrated success in all of these areas."

Allison will take very good care of our tax dollars. At a time when county revenues are declining due to dwindling oil and gas revenues, the Treasurer's Office needs to focus on ways to increase returns on investments, make collections and distribution processes more effective and efficient, and ask for and listen to feedback from the taxpayers - from the customers.

Without a broad base of support, Allison could easily fall prey to her opponent who feels he is entitled to the position based on his name alone. This would be a tragedy for the voters and for the residents of La Plata County. I hope that the "Planting Seeds for a Harvest" initiative can help Allison overcome these barriers and be elected the next Treasurer of La Plata County.

The link to donate to Allison's campaign is Morrisey4Treasurer, or checks can be mailed to "Allison Morrissey for Treasurer, PO Box 2905, Durango, CO 81302
Allison Morrissey for La Plata County, Colorado Treasurer

From Thinking Fella

I am Allison Morrissey, a life-long Democrat, who is running for an elected position for the first time in my life. And I need DailyKos readers' financial support to win.

I am running for La Plata County Treasurer, a professional position, against an unqualified, deep-pocketed Republican who can buy this job outright. He has bankrupted the companies his father gave him, and left the local jobs his father obtained for him without any major accomplishments. My opponent feels he is entitled to the position based on his name alone. This is bad for the voters, and all taxpayers, of La Plata County. And will send a bad message statewide if the most qualified candidate losses to a "name".

We need to have a qualified Democratic woman in this office. A Republican has been in this role for 28 years, and if my opponent gets elected, we could be in for 30 more years of Republican dominance. 60 years of Republicans! We cannot let this happen.

La Plata County has less than 1/3 registered Democrats. My qualifications and experience plays well with Independents, and even Republicans. But it costs money to get my name out, and that's why I need your help. I can win this if I can buy radio time, and mailers, and flyers to leave on doorknobs to reach all in La Plata County.

I am Allison Morrissey. I have a BA in Accounting and an MBA from a well-respected Business University. I have 25 years of experience in Fortune 50 companies. My experience closely matches the requirements for the County Treasurer's role: Auditing, Money Management, Process Improvement, Software Design and leading cross functional teams.

My platform consists of the three pillars of business success: Financial Accountability, Operational Excellence, and Customer Focus. I have demonstrated success in all of these areas. My opponent does not.

Please help me with your donations. Morrisey4Treasurer

Thinking Fella's statement of support: "I'm proud to support Allison's campaign for my local County Treasurer. We are a rural County here in southwest Colorado, and Allison represents the best grass roots has to offer. She brings excellent qualifications along with a Progressive attitude in her first attempt at public office. As Democrats in a conservative area, we need folks like Allison to step up & toss their hat into the ring. That we have such a well-experienced, qualified candidate to represent us is something that I will support not only with a financial donation, but I will also be working in any way I can to help elect her. WE could use your help too, kossacks, in getting Allison elected!

I'm Thinking Fella, and I approved this message!"
Judithanne McLauchlan, Florida State Senate District 22

From Joes Steven

My name is Judithanne McLauchlan. My husband, daughter and I live in Madeira Beach. I teach at USF-St. Petersburg and serve on my daughter, Peggy's, school PTA. This is my home and we love it here. But, right now middle class families across Tampa Bay are struggling. And instead of making it easier, the Florida legislature is making it harder for families to make ends meet, to find good jobs, and our kids aren't getting the quality education they deserve.

I have seen the damage Tallahassee caused by cutting education funding by over $1 billion. We need to support public education. We need to keep our Universities affordable. Florida's students at every level should have every opportunity to succeed.

In last year's session, the Florida State Senate passed a reasonable compromise Medicaid expansion plan by a 38-1 vote that would have used Federal money to subsidize private coverage. My opponent, Sen. Jeff Brandes, was the single vote against providing expanded healthcare coverage. Instead he chose partisan politics over sound public policy and refused to support this measure.

His refusal to expand Medicaid denies health coverage under the program to more than 1.2 million Floridians.

I'm a working mom so I know how difficult it can be to make ends meet and to raise your family. I've struggled to pay bills and for my health care.

My Father was a Colonel in the Army who served two tours in Vietnam. My Mother spent her life as an educator in the public school system. My parents passed onto me a sense of service and the importance of education.

And that's why I'm running for State Senate.

Our families should be able to afford to stay here and our children deserve a commitment to their education that means responsible investment in our schools that prevents teacher layoffs and protects arts, music and sports programs in Tampa Bay schools.

Tallahassee's got it wrong. Instead of making the middle class its priority, they are handing over billions of our tax dollars to the huge corporations and special interests that are funding their campaigns. Unfortunately, Sen. Brandes is part of the problem.

We can make Tallahassee work for the middle class, but I need your help so visit my website Vote Judithanne... get involved.
Don Harmon, IL-39 Senate

From julesrules39

I am eliciting support for my friend, Don Harmon, who is the Senate Leader in the Illinois State Senate and is running for re-election in Nov 2014. I've had the privilege of working with him both as part of the Democratic Party of Oak Park team and the Organizing For Action Oak Park team where I was the Climate Change and Environment Lead. Don is committed to progressive causes including environmental issues. His constituents are as well. Oak Park is one of the most progressive and diverse neighborhoods in the Chicagoland area. Furthermore, the village has now won recognition as Green Community of the Year two years on a row now from the EPA. We work as a team and are out and about frequently raising awareness of environmental and other progressive causes in Oak Park, the surrounding area and Chicago. And, Don is frequently with us, standing shoulder to shoulder. Both he and our Illinois Representative Camille Lilly are dedicated progressives who I hope that Kossacks will recognize and support.

You can see Don in this introductory video, and make donations here.
Mike Michaud, Governor of Maine


From Bill in Portland Maine

For the last three years, Maine's tea party governor has, through word and deed, made our proud state a laughingstock. From comparing the IRS to the Gestapo and telling President Obama to go to hell, to enacting a right-wing agenda that screws the poor, rewards the rich, rolls back environmental protections and fails to help make the Affordable care Act work for Mainers, Paul LePage has been a disaster.

Enter Democrat Mike Michaud, whose long career in Maine politics has served the state well. Mike comes from a mill town background, and has represented his constituents well as a member of the state House and Senate and six-term Congressman from Maine's 2nd District. Late last year he announced he is gay, and the news was greeted favorably, even in his conservative district.

Mike is heavily involved in veterans affairs, supports raising the minimum wage, believes in strong environmental laws, supports LGBT equality, and will both expand Medicaid and create a state exchange to help the Affordable Care Act succeed. And, unlike the current Republican governor, Mike has class, smarts, wit and a good-natured personality. It's the reason why his campaign slogan is: "I Like Mike!"

Mike Michaud's campaign web site is here. He'll make an excellent governor.
Marianne Williamson for CA-33

From ArthurPoet

Marianne Williamson is running for CA-33 as an Independent (in order to respectfully challenge BOTH parties, yet still support the Democratic Party). She is a life-long liberal Democrat/Activist and will caucus with the Democrats.

I support Marianne because she's got the cojones ... and the wit:
a) to make a difference...
b) to challenge the current political narrative...
c) to raise the dialectic...
d) to inspire an awakened electorate...
e) to speak truth to power, and...
f) she has the courage to listen and care, which, too often, with politicians these days, seems like a miracle ... and oh, by the way, she's quite exquisitely beautiful, in mind, body, and spirit~

Message From Marianne

Dear Friends,

I am running for Congress because I believe America has gone off the democratic rails. A toxic brew of shrinking civil liberties, expanded corporate influence and domestic surveillance is poisoning our democracy.

We are currently in the process of dismantling the most basic social contract between the American people and our government, as "a government of the people, by the people, and for the people" has transitioned before our eyes into " a government of a few of the people, by a few of the people, and for a few of the people." A purpose of American progress is to expand the democratic franchise, not constrict it. Yet today, that franchise is being narrowed for everyone.

That's the bad news, but there is good news as well: we can change this!

But we must do so quickly, for the trajectory of corporatism is already wreaking havoc on our environment, our economy and even our food supply. When banks, oil companies, chemical companies, health insurance companies, pharmaceutical companies, food companies, military manufacturers and prison builders are able to influence our lawmakers so disproportionately to the influence wielded by average citizens, we have a problem. Let us not be the first generation to wimp out on the work necessary to protect and foster our democracy.

Politics isn't something that only a few people should relate to. There should be no "political class" or "political elite" in America. In the words of President Eisenhower, "politics should be the part time profession of every American." The fact that it has in some ways become a spectator sport is unhealthy for our democracy, and I hope you will join with me in changing that. Let's all of us -- not just those of us "interested in politics" -- now awaken to both the perils and opportunities of this time, and the responsibility of each of us to be good stewards of our democracy.

A stale, inside-the-box conversation is inadequate to the challenges that we face now. Other candidates in the race will offer their ideas in this election as well, of course. But while the political status quo addresses the symptoms of our deeper problems, it's time to address the disease itself. Treating the effects of a problem is not the same as treating its cause.

The undue influence of money on our politics is the issue underlying all other issues, and we need a national movement supporting a Constitutional Amendment outlawing the undue influence of money on our politics. If elected, I will work with those in and outside Congress who are working on this already-- for I feel, as many people do, that getting money out of politics is the greatest moral challenge of our generation.

Thank you for visiting my site, and I hope you will get involved in the campaign. Please sign up for email updates, attend our upcoming events, become a volunteer, spread the word to your friends, and donate what you can to support a campaign that is doing all we can do to provide a genuine alternative to the political status quo. This is not simply a good idea. I believe that it is critical.

Please join us.
All my best, Marianne

You can make a donation at Marianne Williamson For Congress, and see her announcing her candidacy here.
Daniel Boone, Texas Senate District 25



From Kathy Scheidel

Hi, I'm Daniel Boone and I'm facing a tough race against Tea Party-supported incumbent Donna Campbell. You may remember her as the Texas senator who called the third point of order to end Wendy Davis' historic filibuster and inspired a "people's filibuster" that for the night killed HB 2.

Well, I'm here to take down Donna Campbell and ask your support to get that done. Ours is a small but enthusiastic group powered by grassroots volunteers. Don't let our small numbers fool anyone: we are scrappy and plan to win this fight for all the voices in Texas that crave a progressive voice to champion their needs.

We must not accept the concept of second class citizenship for women.
When we put a young man or woman into a uniform and promise them care in exchange for their service, we must keep our promise.
We must expand Medicaid in this state now and work to ensure healthcare for all as a universal right.
I vow to serve the interests of the Texan people, not moneyed special interests.

Whether you live in Texas or just want to see Republican insanity brought to a screeching halt in the second most populous state in the union, meet me at Boone for Texas and feel free to drop a few dollars to help the cause.

Drop on by for a chat at our Facebook page or follow us on Twitter: @BooneForTexas.
BayAreaKen for MountainView, CA City Council

From: remembrance

Silicon Valley Kossacks would like to bring your attention to Ken Rosenberg, BayAreaKen, who is running for City Council Member, Mountain View, CA. Ken is a life long democrat who be-lieves that people come before corporations.

"With a diverse set of education, career, and community leadership experiences, and a long list of volunteer involvement, I am ready to come to Council with a broad perspective. I am known for my ability to synthesize the thoughts and comments of others before coming to a conclusion. And I have earned the respect of my peers for my willingness and desire to include others and let their voices be heard."

Ken's website is here.

Donations can be made here.
Tue Feb 25, 2014 at 3:35 AM PT: Thank you so much, everyone. I was surprised to see this still hanging on the rec list this morning. A much better surprise than last Saturday's.
I'm grateful for your help; and even more grateful that I don't have to nag any more!