The GOP thinks they have a political winner in the IRS Audit controversy.
The GOP thinks Darrell Issa is a very effective enforcer for their 1-sided talking points.
The GOP thinks the other members of Issa's Oversight Committee, those from the Democratic Party, indeed have No Constitutional right to speak.

The GOP has now 'officially' said that the microphone-cutting actions of chairman Darrell Issa -- are just fine by them ... Grand-stand away Issa, let nobody challenge you ...

House won't censure Issa for shutting off microphones
by Gregory Korte, USA TODAY, usatoday.com -- March 6, 2014
[...]
The resolution from Rep. Marcia Fudge, D-Ohio, sought to condemn Issa for walking out of a hearing on IRS scrutiny of Tea Party groups and cutting off the microphone of the committee's top Democrat before he could question a former IRS official.

But Majority Leader Eric Cantor, R-Va., asked that the resolution be tabled, and the House did so by a party-line vote of 211 to 186.
[...]

Boehner said Thursday that Issa was within his rights to end the hearing. "Darrell Issa is the chairman. He's done an effective job as chairman. And I support him," Boehner said.
The GOP thinks this IRS Audit issue will sweep them back into office, this fall.
Long as the 'other side' of their non-troversy story, never gets told ...



This is the objective tally that the GOP leaders, are doing their level-best to make sure that America never sees:

Figure 4: Breakdown of Potential Political Cases by Organization Name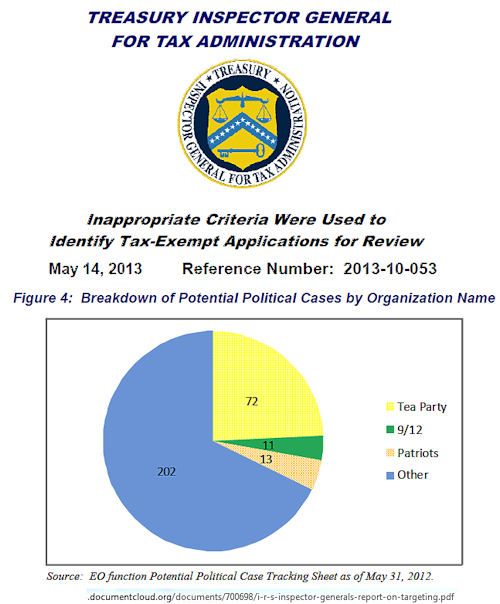 larger image

When it comes to identifying Tax Cheats and non-qualified political Front Groups -- the IRS is an equal-opportunity Auditor!
It is what is in that 70% slice of the IRS Audit pie (the blue section) -- that's the GOP, and especially spokesman Issa, NEVER want us to find out about ...

Danny Werfel, IRS Chief, Says Inappropriate Screening Was Used More Broadly Than Disclosed
by Sam Stein, huffingtonpost.com -- 06/24/2013
[...]
The Associated Press has obtained an internal IRS document that reveals the other terms the agency screened for when deciding which groups should be granted tax exempt status. The news cuts against the original storyline that the tactic was used to target conservatives.


An internal IRS document obtained by The Associated Press said that besides ''tea party,'' lists used by screeners to pick groups for close examination also included the terms ''Israel,'' ''Progressive'' and ''Occupy.'' The document said an investigation into why specific terms were included was still underway.

[...]

The revelation complicates accusations that IRS officials screened groups in a concerted effort to sideline tea party organizations during the 2012 election. Instead, it would suggest that the filters were applied to ensure that applications for similar groups were reviewed in a consistent manner.
The GOP wants us to think that these IRS Audits were
a one-sided effort
--
only focused on 'non-profit' groups with "Tea Party" or "Patriots" in their names.
When the Inspector General's report on this issue gives us the facts -- that show far more progressive groups were audited by the IRS, than were conservative.
If this unbiased report were ever (allowed to be) entered into evidence, in one of Issa "star-chamber" hearings -- then the re-election drum-beat message that the GOP messengers have been banging, would suddenly lose its urgency, its sting ... its dumbed-downed red-state, two-sentence outrage.
And Darrell Issa would never have that. And apparently now official House leaders too. They like the Issa 1-sided message about the Conservative-targeting IRS -- JUST THE WAY IT IS. Thank you very much.
No need to rock that boat, Boehner assures us. Issa is doing just fine by them! Keep telling 1-sided tales Darrell -- you're now GOP-approved. Full BS Speed ahead!