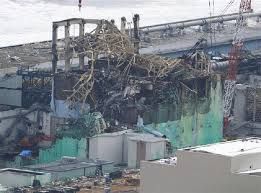 Michael Hiltzik, of the LA Times looks back to the Fukushima nuclear accident three years ago for lessons in, Three years later, the lessons of Fukushima are uglier than ever.
On March 11 2011, an earthquake and subsequent tsunami wave initiated what became, perhaps, the worst nuclear power disaster in history at the Fukushima Daiichi power plant in Japan. Hiltzik tells us that surrounding communities have been rendered uninhabitable for decades to come, and the cleanup will take a half a century and cost tens of billions of dollars.
Taking his lead from "Fukushima: The Story of a Nuclear Disaster" by David Lochbaum, Edwin Lyman and Susan Q. Stranahan of the Union of Concerned Scientists, Hiltzik finds the "careless regulation of nuclear technology in Japan and the lax management of Fukushima's owner, Tokyo Electric Power Co." should raise similar concerns for us here in the U.S..


Make no mistake: The same flaws exist among the regulatory agencies and nuclear utilities of the U.S. As Lyman observed in congressional testimony, "We have plants that are just as old…. We have a regulatory system that is not clearly superior to that of the Japanese. We have had extreme weather events that exceeded our expectations and defeated our emergency planning."

The history of nuclear power in the U.S. is one of hasty, sloppy engineering overseen by indulgent regulators who took their duty to promote nuclear power more seriously than their duty to make it safe. ... The implications of handing over to utilities a technology far more complex than anything they had ever dealt with became clear only later.

Fukushima is yet another reminder of a lesson that the nuclear power industry has had to learn over and over again--that one must prepare even for occurrences you think are safely out of the range of probability, like earthquakes and tsunamis. The heart of the disaster at Fukushima was a dreaded "station blackout" caused by flooding, in which the complete absence of electrical power made the entire array of safety valves and emergency cooling systems inoperable and rendered the plant operators effectively blind to what was happening inside the reactor containment vessels. A station blackout, as the authors of "Fukushima" observe, is a race against time to restore power before the emergency batteries run down; at that point cooling ceases and the reactor core begins to melt down.

Hiltzik notes that while the "station blackout" at Fukushima lasted for 10 days, in the U.S. most nuclear plants are only required to to have an emergency backup plan for a station blackout of up to four hours. He asserts our regulators show the same pattern as those in Japan, of "minimizing the risks and telling the public about all the reasons that such an accident couldn't happen here."
With renewable alternative energy generation such as solar, wind, geothermal, hydroelectric, tidal, and conservation already competitive, or near grid parity even when nuclear and fossil fuels are not required to include their enormous "external costs" not included in their market prices, I'm reminded why I find them to be such attractive alternatives.