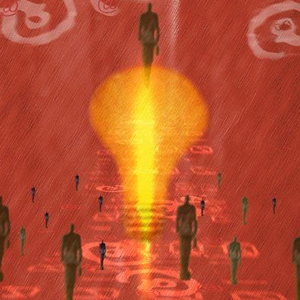 Commentary: African American Scientists and Inventors
by Black Kos Editor, Sephius1


Darnell Diggs and his twin sister are the youngest of 15 children who grew up in the small Alabama town of Brundidge to parents who did not finish high school. Their parents did value education. "Our parents inspired us to work hard at school, and if you didn't, you got disciplined. That was encouragement enough," Diggs recalls.
Thirty-four-year-old Darnell is now Dr. Diggs, a physicist working at the U.S. Air Force Research Laboratory at Wright-Patterson Air Force Base in Dayton, Ohio. Most of his siblings have at least undergraduate degrees in areas as diverse as chemistry, math, physics, business, and education.
Diggs was a 2004 Black Engineer of the Year Award winner in the "Promising Scientist in Government" category. He was also named one of the 50 Most Important Blacks in Research Science in 2004 by Science Spectrum magazine.
(con't.)
During his high school days Diggs was first-chair trumpet player in the school band and was in the ROTC. He preferred biology to the physical sciences and planned to become a physician. Yet when he went off to Alabama Agricultural and Mechanical University, a historically black school near Huntsville in Normal, Alabama, he took a cousin's advice and began to study business, hoping to prepare for the Medical College Admission Test (MCAT) on the side.
That all changed during the final semester of his sophomore year, when he took a required physical sciences class for nonscience majors. The instructor of that class told Diggs he was in the wrong field and that he ought to be majoring in physics. He even offered to help Diggs obtain a scholarship if he tried studying physics. Having paid for his schooling on grants and loans up to that point, the offer of a scholarship was enticing. Diggs enjoyed the physical science course, so he decided to take the instructor up on his offer.
But Diggs found inspiration in a book entitled Gifted Hands by Ben Carson, an African-American who grew up in inner-city Detroit and at age 33 became the director of pediatric neurosurgery at Johns Hopkins University Hospital. Diggs identified with Carson, who had to struggle to overcome many of the same hurdles Diggs did, and drew motivation from Carson's story.
With Carson's book in mind, Diggs dug in for the comprehensive final and came through with a grade high enough to pass the course. That academic near-death experience gave him the resolve to struggle on, although it was not an easy path.
[...]
As graduation approached, Diggs thought about what he was going to do for the rest of his life. During that period of introspection, he attended a seminar at the National Conference of Black Physics Students that discussed the low numbers of black graduate students in physics. The attendees were encouraged to go to graduate school if they were able, and Diggs decided to give it a shot. He was admitted to the master's program in physics, also at Alabama A&M, on the condition that he do well academically. The focus of his master's studies was fiber optics. He enjoyed graduate school and his grades continued to improve. By the time he received his master's degree in physics, his grade point average was 3.5, a considerable increase from the 2.7 at the beginning of his graduate career.......Read More
~~~~~~~~~~~~~~~~~~~~~~~~~~~~~~~~~~~~~~~~~~~~~~~~~~~
News by dopper0189, Black Kos Managing Editor
~~~~~~~~~~~~~~~~~~~~~~~~~~~~~~~~~~~~~~~~~~~~~~~~~~~


~~~~~~~~~~~~~~~~~~~~~~~~~~~~~~~~~~~~~~~~~~~~~~~~~~~
Boston Globe columnist Derrick Jackson has made a crusade of holding the feet of universities, the NCAA and athletic departments to the fire when it comes to the poor graduation rates of the African American players. This year the average graduation rate for black players on the 68 men's teams in the tournament is a record 65 percent, Boston Globe: Record Graduation Rates for Black Players in NCAA Men's Basketball.
~~~~~~~~~~~~~~~~~~~~~~~~~~~~~~~~~~~~~~~~~~~~~~~~~~~
It just could be that public pressure, embarrassment after scandals or NCAA rules that last year began banning teams with chronic poor graduation rates are finally having their effect. Schools I would have disqualified from the tournament two years ago for having black graduation rates under 50 percent that made my cut this year include: Colorado, Kansas State, Michigan, Florida and Virginia.
But before we say "Stop the presses!" it is a long way before we call off the full-court press on this issue. The top programs on the court still are disproportionately poor in the classroom. Of the 13 lowest graduation rates in the tournament for black men, 8 are ranked in the final Associated Press Top 25 poll: Syracuse, Arizona, New Mexico, Ohio State, St. Louis, Iowa State, Connecticut and Wisconsin.
And while two-thirds of black male players overall are graduating, massive disparities still remain as white graduation rates have also shot up at record levels, to an average of 89 percent. Of the 68 teams, 39 have a white graduation rate of 100 percent, more than three times the 12 perfect teams for black players. Top credits go to Harvard, Duke, Villanova and Kansas. Those schools are at 100 percent for black and white players the second year in a row.


~~~~~~~~~~~~~~~~~~~~~~~~~~~~~~~~~~~~~~~~~~~~~~~~~~~


~~~~~~~~~~~~~~~~~~~~~~~~~~~~~~~~~~~~~~~~~~~~~~~~~~~
Blacks in the U.S. are almost four times as likely as whites to be arrested for possession of marijuana, even though whites report higher rates of usage than blacks. Color Lines: How Bad Is the Black-White Disparity In Your State's Drug Arrest Rate?
~~~~~~~~~~~~~~~~~~~~~~~~~~~~~~~~~~~~~~~~~~~~~~~~~~~
Blacks in the U.S. are almost four times as likely as whites to be arrested for possession of marijuana, even though whites report higher rates of usage than blacks. Today the ACLU is putting those arrest statistics at your fingers with The Uncovery. The project, produced with the brand strategy company Interbrand, compiled statistics on drug arrests for marijuana possession broken down by state and race, as well as dollar figures for how much each state has spent on drug enforcement for pot.
Visit The Uncovery and check out the racial disparities in your state.


~~~~~~~~~~~~~~~~~~~~~~~~~~~~~~~~~~~~~~~~~~~~~~~~~~~
A black firefighters' group that had sued New York City, alleging discrimination, said Tuesday that minority fire department applicants will be eligible to receive back pay totaling $98 million. The Grio: Black NYC firefighters announce $98M settlement.
~~~~~~~~~~~~~~~~~~~~~~~~~~~~~~~~~~~~~~~~~~~~~~~~~~~
The settlement of the 7-year-old case was announced by lawyers from the Center for Constitutional Rights, who represented the group, the Vulcan Society. They say the figure includes more than $6 million to cover lost medical payments.
The city says the figure includes back pay, fringe benefits and interest to the test takers. It wasn't immediately clear how many people would be affected by the settlement.
Among other things, the Vulcan Society's lawyers said, the FDNY will create an executive position for diversity. The settlement pre-empts a trial that had been scheduled to start this month. The FDNY, mayor's office and city Law Department didn't immediately respond to requests for comment.
In May 2013, an appeals court ruled that the FDNY must undergo court supervision for five years to ensure it doesn't discriminate against blacks and Hispanics in its hiring practices.


~~~~~~~~~~~~~~~~~~~~~~~~~~~~~~~~~~~~~~~~~~~~~~~~~~~

~~~~~~~~~~~~~~~~~~~~~~~~~~~~~~~~~~~~~~~~~~~~~~~~~~~
President Obama moved to right old wrongs Tuesday afternoon in a ceremony that recognized 24 veterans. Slate: 24 Minority Veterans Receive Long-Overdue Medal of Honor.
~~~~~~~~~~~~~~~~~~~~~~~~~~~~~~~~~~~~~~~~~~~~~~~~~~
President Obama moved to right old wrongs this afternoon in a ceremony that recognized 24 veterans, who were passed over due to racial or ethnic prejudice, with the Medal of Honor. The group, the single largest to receive the award since the last World War, includes veterans from WWII as well as Vietnam and Korea.
"No nation is perfect," Obama said, "But here in America, we confront our imperfections and face a sometimes painful past, including the truth that some of these soldiers fought and died for a country that did not always see them as equal."
Only three of the honorees, who were identified through a review that examined the records of minority servicemen who received a Service Cross for possible upgrades, are still alive today.


President Barack Obama awards the Medal of Honor to U.S. Army Staff Sgt. (Ret.) Melvin Morris (R), at the White House on March 18, 2014 in Washington, DC.
Photo by Win McNamee/Getty Images
~~~~~~~~~~~~~~~~~~~~~~~~~~~~~~~~~~~~~~~~~~~~~~~~~~~

~~~~~~~~~~~~~~~~~~~~~~~~~~~~~~~~~~~~~~~~~~~~~~~~~~~
The next generation of news providers looks a whole lot like the old generation: they're mainly white and male. Color Lines: Diversity Critics Target New Media Start-Ups.
~~~~~~~~~~~~~~~~~~~~~~~~~~~~~~~~~~~~~~~~~~~~~~~~~~~
The next generation of news providers looks a whole lot like the old generation: they're mainly white and male. That's the new gist of an old and resurgent debate about diversity in new media newsrooms that NPR's Michel Martin tackled yesterday on "Tell Me More." It all boils down to who'll be providing news for 2042 America—and whether that group of talking heads and influencers will look much the same like the mainly white cast of today's Sunday talk shows.
In an open letter last week to new media ventures expected to become the next "New York Times" or "Wall Street Journal," (Buzzfeed, Vox, FiveThirtyEight, Politico, etc.) the National Association of Black Journalists invited principals for a diversity chat. And Buzzfeed editor Shani O. Hilton in awidely circulated to-do offered great analysis and one solution for both job seekers and employers: expand your networks.
Check out the above conversations. But other questions to ask if improving newsroom diversity in order to fairly cover America today and in 2042 is the goal: One, what's happening with the journalist pipeline? Namely, which students (and their families) can best afford to sustain multiple years of unpaid or poorly paid internships in order to become competitive in the field? And two, what's the FCC's role if any in ensuring that newsrooms accurately reflect and cover their communities—particularly those who are underserved? "


The offices of Slugline, a Politico-style start-up run by entrepreneurial twenty-somethings on Netflix hit series, House of Cards Photo: House of Cards


~~~~~~~~~~~~~~~~~~~~~~~~~~~~~~~~~~~~~~~~~~~~~~~~~~~
Welcome to the Black Kos Community Front Porch!
Pull up a chair and sit down a while and enjoy the company.