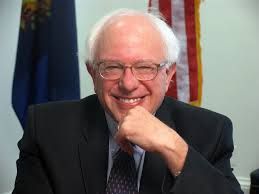 We can always count on Senator Bernie Sanders to have the courage to tell it like it is, as he does in Sen. Bernie Sanders (I-Vt.) said we're living in an "ugly moment in American history," where he blames the vast income inequality that has developed in our country.
"We're living in very, very strange and disconcerting times. We have more people living in poverty today than in any time in the history of the United States of America. We have the highest rate of childhood poverty," Sanders said last night on MSNBC.

"Meanwhile, the rich are doing phenomenally well and corporations are enjoying record-breaking profits. And it is astounding to me from a moral perspective that folks in the Republican party stay up nights figuring out how they can give more tax breaks to millionaires and billionaires and large corporations and then come back and try to cut food stamps for families who are hungry, for kids who are hungry, try to cut Social Security, Medicare, and Medicaid. It is really a very ugly moment in American history," he added. ...

"We have right now in real terms almost 13 percent of our people are unemployed. We have not extended unemployment benefits, long-term unemployment benefits. So you have folks out there now who have virtually no income coming in. They have families. They have kids. How are they going to eat? We have veterans out there who are trying to get into the food stamp program," Sanders said.

"So to me what you're looking at is an ugly kind of class warfare where the people on top want more and more and more. And they're pushing down in an incredibly terrible way the most vulnerable people in our country."

"Tax breaks to billionaires and cuts to nutrition programs for kids. If a kid does not have enough food to eat, how is that child going to do well in school? He or she is not going do well in school," he continued.

"So you're attacking the most vulnerable people in this country. There is a rise in poverty among senior citizens, elderly people. They don't have enough to eat. What kind of nation are we when we give tax breaks to billionaires, but we can't take care of the elderly and the children?"

Some have been speculating that Senator Sanders may be positioning himself to run to be the president in 2016, but at 72, and an independent, such a run would largely be symbolic. I hope he does run, in the Democratic primaries, because few other national leaders will tell the truth so squarely on, but have become mired in a sort of doublespeak that has drifted off to the right so much we seem to lose the big picture. Perhaps, Bernie Sanders could pull us back towards what should be, used to be, the center of America politics.

12:39 PM PT: Before anyone tells me we don't spell Vermount with a u, let me just say that this is how some foreigners spell it, and I can't change it now so can we just let sleeping dog lie. Or should I say lay? I often enjoy a little lie when I'm laying about. I've even been known to lie in my sleep, while laying around. Also, running in my sleep. Okay, so let's just move on, shall we? Please. I've having a rough day. Ruff! Ruff! Woof! woof!
2:45 PM PT: Clarification. I meant Senator Sanders should run in the Democratic primary, and yes, I know he is registered in VT as an independent. I'm not suggesting he divert any much need votes from our general election which I expect will once again be a 2% to 5% affair.
4:10 PM PT: Alright folks, what's going on here? 34% say you agree with Senator Sanders, and 64% say you agree with him, "only more so." That was supposed to be the funny joke response. How can you agree with Bernie Sanders "only more so?" that doesn't even make sense!
Now, by voting for it in a sincere overwhelming majority, you've out-done the Hounddog in subtle counter-culture intellectual wittiness thinly disguised as juvenile silliness. Do any of you appreciate how friggin challenging and frustrating it can be to stand out as the most fringe counter-cultural individualist in a community made of largely of fringe counter cultural individualists? Sheesh! WTH?
By a vast database of statistically significant findings, I happen to know that the hard core base of those here with antisocial personality disorder combined with those hard iconoclastic satirical cynics with unresolved oedipal issues here who are willing to intentionally screw up my polls by choosing the wrong answers is less than 20%.
What do I have to do to remain "beyond the fringe" of society? You people are impossible!
10:36 PM PT: I realize now from some of the comments that my 4:10 PM update should have been labeled with a (Humor alert!) tag. Sorry, I did not mean to imply I was frustrated in any way with the Kossack community, because, I finally, got 60% of you to go along with one of my funny poll responses after 9.5 years of trying. But, also after this much time I should know by now that a humor tag is needed on all jokes or latently whimsical expressions.
Thu Mar 27, 2014 at 7:58 AM PT:
Isherwood asks 5 Bridgegate questions he fears may never be answered