Initial unemployment compensation claims fall sharply: For the week ending April 5, seasonally adjusted initial claims for unemployment compensation fell to 300,000, down 32,000 from the prior week's revised figure. The last time initial claims were this low was May 12, 2007, when they were 297,000. For the comparable week of 2013, initial claims were 348,000. The less volatile four-week running average was 316,250, down 4,750 from the previous week. The total number of people claiming benefits for the week ending March 22 was 3,164,203, down 37,301 from the previous week. In the comparable week of 2013, 5,270,782 people claimed benefits in all programs. What may seem at first glance a vast improvement in year-over-year claims has a big caveat: 1.935 million of the decrease is due to the failure to renew the federally funded emergency unemployment compensation program.
Financial details weren't disclosed. Matthew Mullenweg, the chief executive of Automattic, says he'll add the Longreads staff of four to WordPress's editorial team, which highlights new material on WordPress.com and the company's mobile app. "The world cannot live on 140 characters alone," Mullenweg said. "Longreads embodies a lot of what we really value with Automattic and WordPress."
Americans' approval of Congress is 13% in April, inching down from 15% in March, and currently standing only four percentage points higher than the all-time low of 9% in November 2013. Congress' job approval rating has ranged between 12% and 15% since December.

In 2012, more babies were named Khaleesi (a Game of Thrones character) than Betsy.
http://t.co/...
http://t.co/...
— @elanazak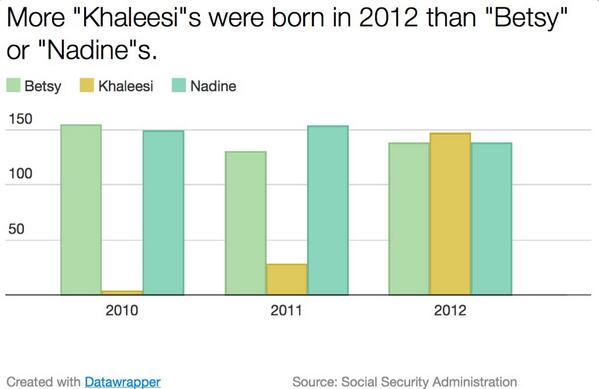 "Guys like to go fishing with other men. They like to go hunting with other men. Women like to go to the restroom with other women. I don't get that. I can tell you this much: if I ever say, 'I have to go to the restroom' and some guy says, 'I'll go with you,' he ain't goin' with me. That much I know."
We're all hurtling at tens of thousands of miles an hour through a solar system of unfathomable complexity, one that's just a tiny part of a universe of completely incomprehensible size. Yes, space is mind-blowingly awesome, and deserving of every superlative you can throw at it. But it can also be hard to wrap you head around how it works on a visceral level, which is why I can't stop playing Super Planet Crash.

Super Planet Crash is a deceptively-simple browser game developed by Stefano Meschiari, a postdoctoral astronomer at UT Austin. The game lets users build model star systems that are governed by a Newtonian model of gravity; the goal is to get the highest score—more complex systems with larger bodies rack up more points—while also surviving for 500 years.
Did you know that the federal government had nothing to do with freeing the slaves? That is, according to Heritage Foundation head Jim DeMint. Yup, that's how it went down. The slave owners were like, "so...if you can just pick one more bale of cotton, we're good, m'kay?" On today's show #TeamBlackness also discussed context and race, and how we're in the era of the proud black racist.

Subscribe on iTunes | Subscribe On Stitcher | Direct Download | RSS

On today's Kagro in the Morning show, everybody's in disarray! Greg Dworkin joins us to discuss Angus King, and Gop rumblings against Boehner & Bush. Google-er & OWS activist "Who Wants Silicon Valley To Run The Country." Trend: corporations buying their own news outlets.