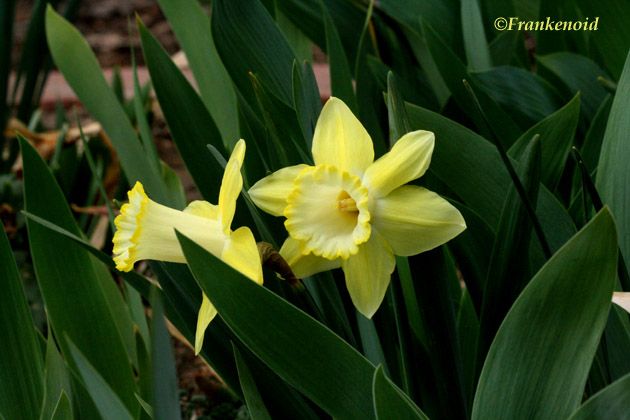 Good morning, and is it over? Welcome to Saturday Morning Garden Blogging.
Denver started the week wet and cold — Sunday was one of those days when the high temperature occurred at midnight. It dripped and drizzled during the day, gradually getting colder until by Monday morning, we had a couple of inches of snow — and an overnight low down to 18°. But the wet, sticky snow encased the emerging buds on the flowering shrubs and trees, insulating them against the colder-than-normal temperatures, meaning we should have lilac and daphne blooms this year.
And because I knew it was coming, on Saturday I took photos of the spring blossoms. I really love this daffodil with its delicate tracing of yellow around the white trumpet.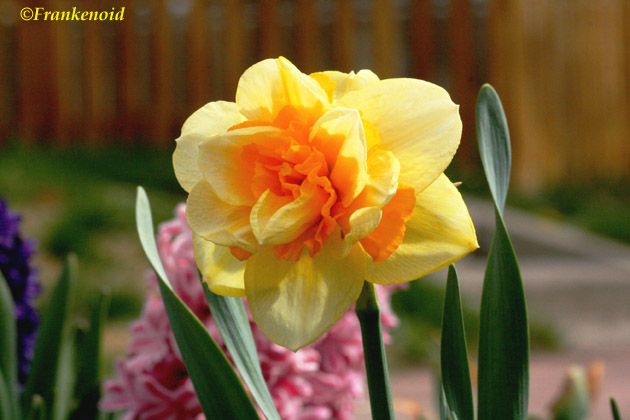 The snow quickly melted, and Thursday it was warm enough and dry enough for me to finally get the peas planted. Not sure how they'll do this year, because the peas were "over-sprouted".
Yesterday we topped 80° in Denver proper, although out at the airport it stayed at 78°. And today? Well, a possibility of thunderstorms with rain, rather than snow.
This weekend I want to get some of my cruciferous seedlings into the ground, and set up wall-o-waters so I can warm the soil preparatory to planting the squash, cucumber and melon plants, along with the tomatoes. I'm getting tired of watering all the stuff I have inside, and some of the plants are getting quite large.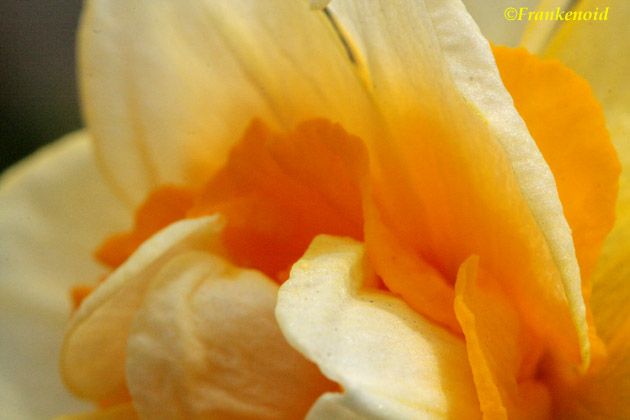 The Mister has been busy cleaning out the shed, preparatory to moving it a couple of feet so he can reconfigure the back fence and gate. We had talked about getting a larger shed, but the Mister has decided that what we have is adequate… at least until I prevail in my desire for a combination shed/greenhouse/chicken coop. Hey, if you're going to dream, dream big, right?
And it's 420 in the Mile High City, in the first year of recreational sales; my neighborhood is the current Hipster Central, and near major public transportation hubs, with light rail a few blocks south and west, and right on a major bus line so it's likely to be wild. We may wander down to the 420 Rally at Civic Center Park on Sunday; the Mister wanted to go to the Cannabis Cup, but alas, he delayed too long and it was sold out.
That's what's happening here. What's going on in your gardens?