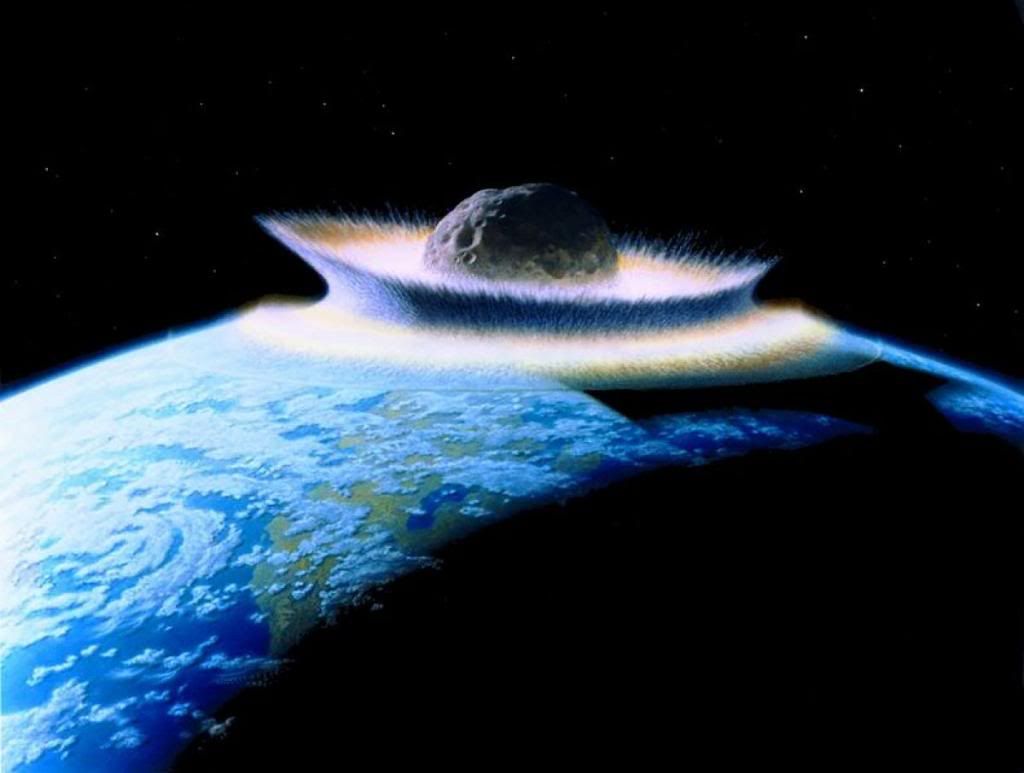 Artist's impression of 1000 km wide planetoid (about the distance from New York to Chicago) hitting a young Earth. Donald Davis/NASA this is much bigger than the asteroid we are talking about here.
Greeting fellow earthlings. I bring tidings of concern from our nuclear test satellite warning system which will be announced on Tuesday. Benjamin Hart warns us that Far More Asteroids Have Hit The Earth Than We Thought.
Satellite data shows that since 2001, earth has been hit 26 times by asteroids large enough to cause explosions of the same magnitude as those caused by atomic bombs! It has only been by pure chance, aka dumb luck, that none have it a major city reports a former NASA scientist who now works at the B612 foundation which is devoted to preventing a "deep impact" kind of explosion.

On Tuesday, the B612 Foundation, which is devoted to preventing the next deep impact, will present data from a nuclear-weapons test warning satellite showing that far more asteroids have hit earth in the past few years than previously thought, the organization announced on its website. ... The data, collected from a nuclear missile detection system that picks up large blasts on earth, shows that since 2001, asteroids have caused 26 explosions on the scale of an atomic bomb.

"This data shows that asteroid impacts are NOT rare, but actually 3-10 times more common than we previously thought," Ed Lu, one of the astronauts working on the project, said in a statement. "The fact that none of these asteroid impacts shown in the video was detected in advance is proof that the only thing preventing a catastrophe from a 'city-killer' sized asteroid is blind luck."

Last year, we heard news of the large asteroid that exploded in Russia.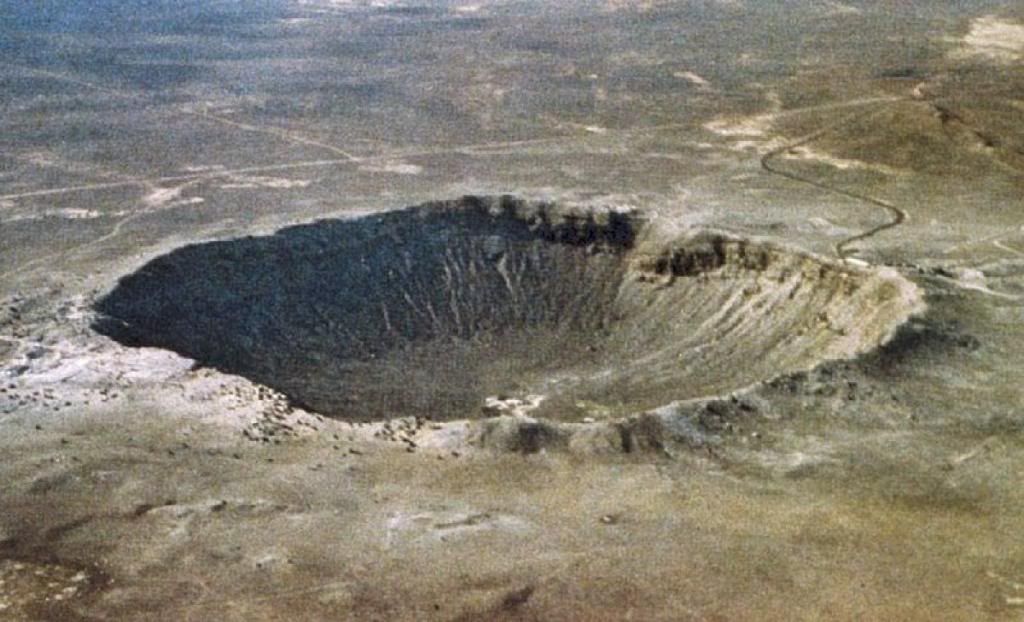 Umm! Benjamin Hart reports the "silver lineing" is that scientist are thinking about ideas that might "deflect any future space rocks from our planet."
Umm? This sounds like pretty weak tea, as far as silver linings go, at least where I come from. Let me summarize this, "it's just dumb luck any our major cities haven't been vaporized by one of the 26 nuclear bomb sized explosions from asteroid impacts hitting the earth since 2001. And this is going to keep happening, at a rate of about two per year, but don't worry folks.., because scientists are thinking about way of preventing this. And, speaking of good news, notice they report the plural of scientist(s) with an "s" so that means more than 1!

Lu, along with fellow ex-astronauts Tom Jones and Bill Anders, has been attempting to develop a better asteroid early-warning system, the Sentinel Infrared Space Telescope, which they hope will become "the principal means by which nearly all asteroid discoveries will be made." ...

NASA has made efforts to track asteroids, but they haven't been as aggressive as the B612 scientists would like. In 1998, NASA established the Near-Earth Object Program Office to detect potentially hazardous comets and asteroids.

Wow, the news gets better with every paragraph. We have three scientists working on this.
The other great news is that in March, NASA announced a contest for scientists to think up possible algorithms for detecting asteroids. So relax folks. Not only do we have three scientists working on this, but a contest as well. This is like an embarrassment of riches. And, we all know how scientists, and everyone else, likes contests. We could be making some progress on this problem right now even as we speak. (Snark Alert!)
Why weren't we informed of this before? I guess this classified data was considered to be on a need to know basis, and the powers that be figured no sense in alarming people about something they can't do anything about.
Does anyone else find it to be curious that now after at least 14 years of keeping this information secret, we are we suddenly being told this now? Has our population reached some kind of benchmark of maturity such that the power that be now think we are mature enough to handle this, while we were not previously?
Stay tuned!
PS I just thought of a great idea. Could we ask IAN our network where isolated Kossacks can check in to make sure they are OK, to take up this challenge? We could have representatives from major cities check in every now and then, so we know we haven't lost any to these nuclear sized explosions. (humor alert. Just in this paragraph.)