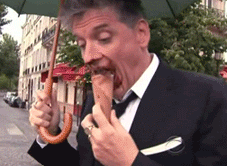 SPOILER WARNING: A late night gathering for non-serious palaver that does not speak of that night's show. Posting a spoiler will get you brollywhacked. You don't want that to happen to you.
The Insomniac's Vent - Hole (hereinafter known as IVH) is a noncontroversial topic, no flame zone. The IVH, if lost or stolen will not be replaced or purchase price refunded. Violation of IVH rules will result in expulsion without refund. A copy of IVH rules can be obtained from one or more members wearing tie-dyed oxford shirts after written requests. Admission to certain functions within the IVH may require additional innuendo, enter at your own risk. Frivolity and silliness are highly recommended for all riders. Flamewars are expressly forbidden and political ranting is strongly discouraged. Please consult your counselor, magistrate or religious functionary before usage. Comment below if you agree with said terms.
Addendum to above: First is first. Second can be skinkond.
Thank you and have an IVH night.
Hey fellow venthooligans another Thursday night IVH. How am I always doing something on Thursday nights, and hardly anything most other nights? Tonight I went out to dinner with Megan. The dinner really sucked, at least the company was good! I ordered a rib-eye steak with an interesting sauce of scallions, garlic and sherry. Excuse me, a reduction. The steak was tough, gristly and had woo much fat. The sauce was like lip tons french onion soup mix. I hardly ever send food back, plus Megan's friend was our waitress, finally she just took it off our bill. So, I'm late....
Eddie and Lyle were quite the guests last night, here's the clip: