With the time, the initial temporary maps, becomed in a series of maps, that find the limits for a Democratic Gerrymander of an increasing number of states. Being a person that like doable things I begin drawing the states where the Democratic Party can be closer to control the Redistricting process.
I think it is necessary the people know where are the real limits for a Democratic maps. Many times the people call Democratic Gerrymanders to ugly maps that are not well done and are far of being close to the limits for a state.
When you look at this maps, it is necessary that you keep in mind that the purpose of this series is not to draw good looking maps. The purpose it is to draw the most Democratic maps allowed by the overall regulation, including as example the Voting Rights Act. But if there is some local restriction that damages the prospect of a Democratic map, I skip it, with the hope of these rules being changed or removed before the following redistricting round.
Today's diary includes the maps for two related midwestern states.
MINNESOTA
The structure of the distribution of the population, and of the distribution of the Democratic vote makes that the goal of a 6D, 1 SwingR, and 1 R district map be difficult to reach. The margin for this result is so narrow, and it means that some district be not as nice (MN-06) as other times. But still there are uglier maps. In this case the 6 Democratic districts would be D+5 according to the Obama 2008 results, MN-07 would be R+4, and finally the Republican district, MN-06, would be R+15.
In this map the 6 Democratic seats come to the area of Mineapolis-Saint Paul. Other option would be to let MN-08 out of the area, but then, MN-07 must come until this area in order to keep the PVI, and the map gets uglier.
Finally another option would be to try 5 D+5 districts, 1 R+15, and two swing D districts, but the limit for this option would be 1 D+1 seat and 1 EVEN seat, that is not enough good for the purpose of this series, because it would be possible to see then 3 seats in Republican hands after C Peterson and T Walz retire. It is necessary to remember that MN-08 was D+3 in 2010, when the Republicans won the seat.
Overall map:
MN-01: T Walz (D) and E Paulsen (R)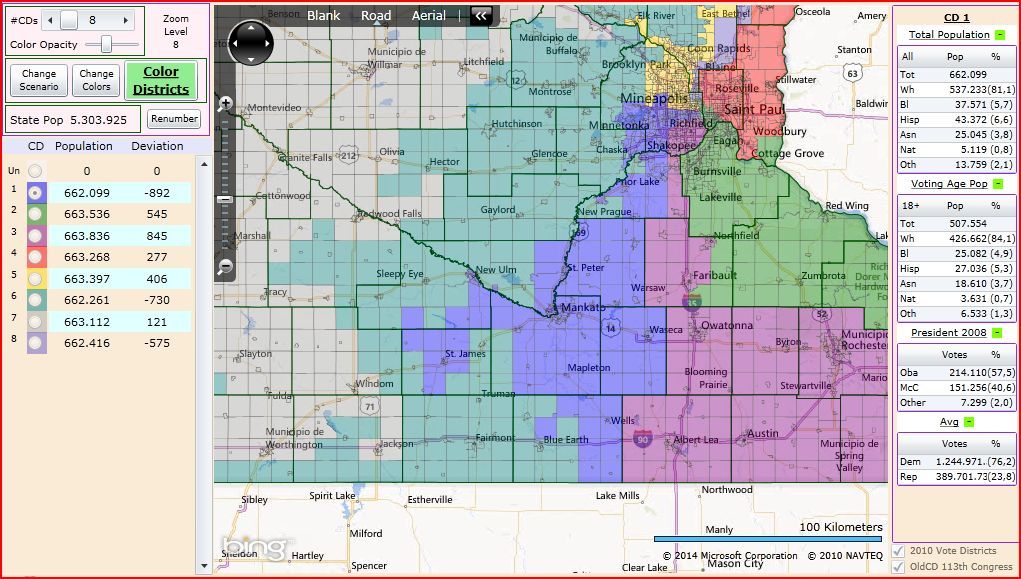 MN-02: J Kline (R)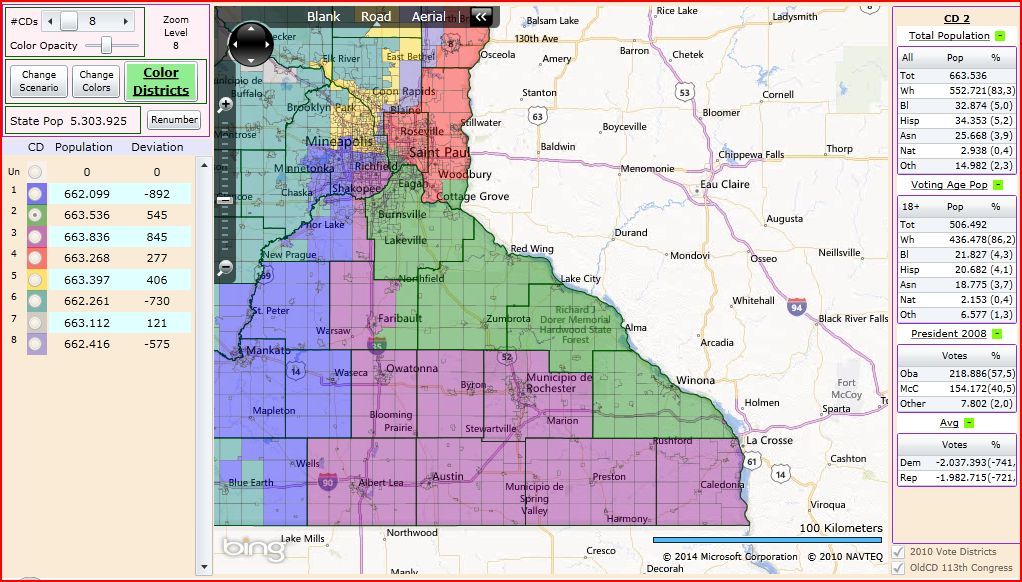 MN-03: Open by R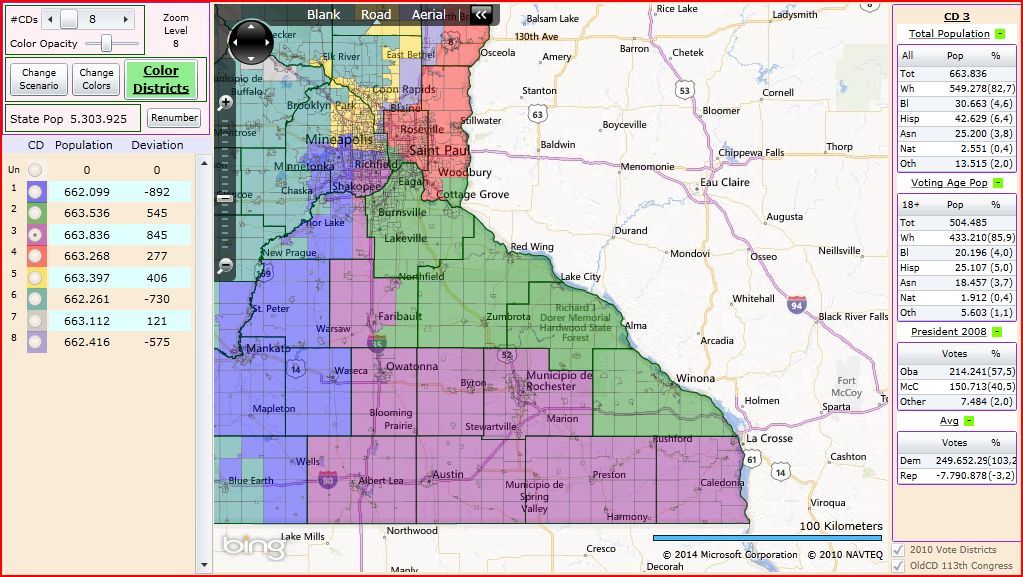 MN-04: B McCollum (D)
MN-05: K Ellison (D)
MN-06: Open by D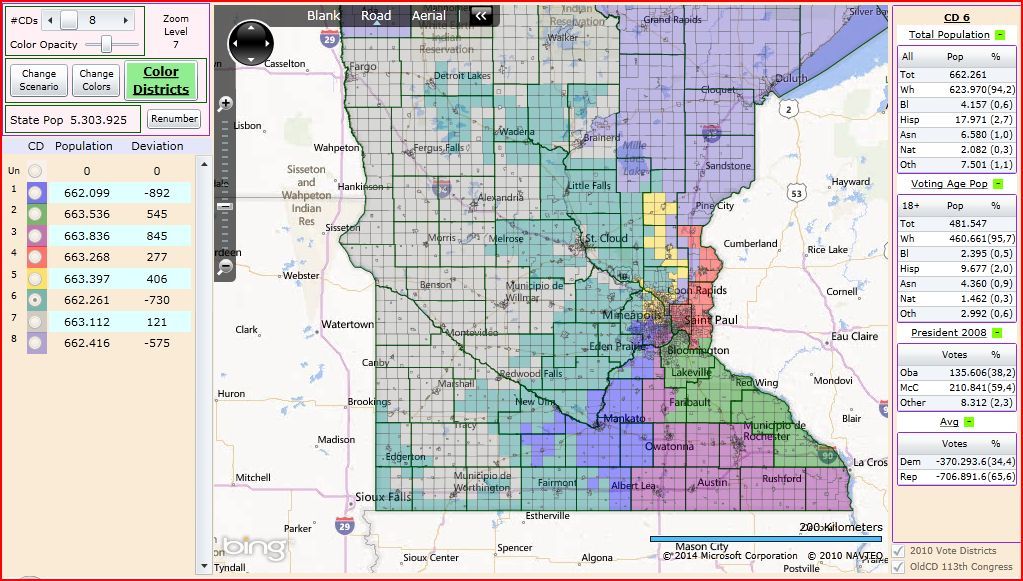 MN-07: C Peterson (D)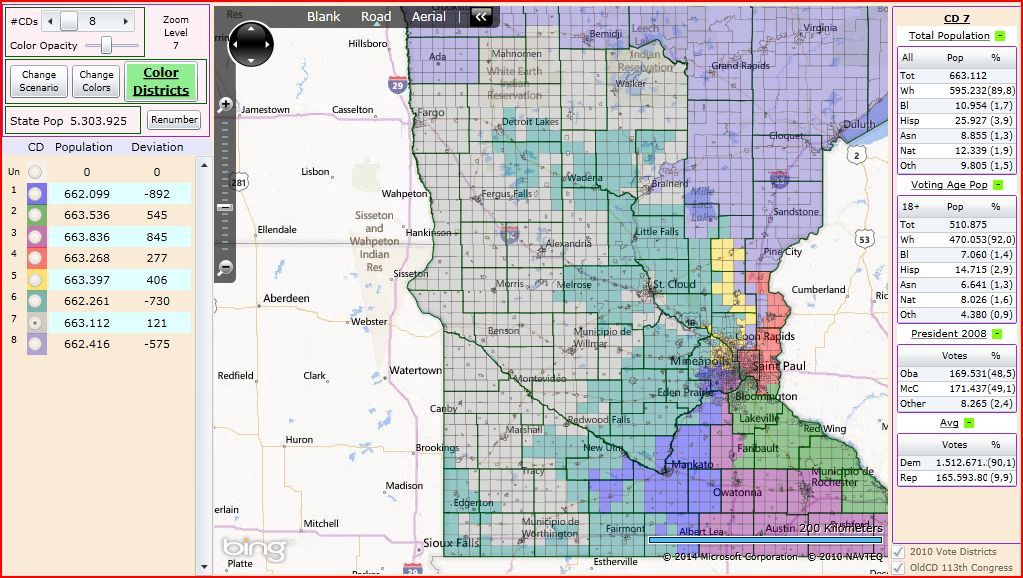 MN-08: R Nolan (D)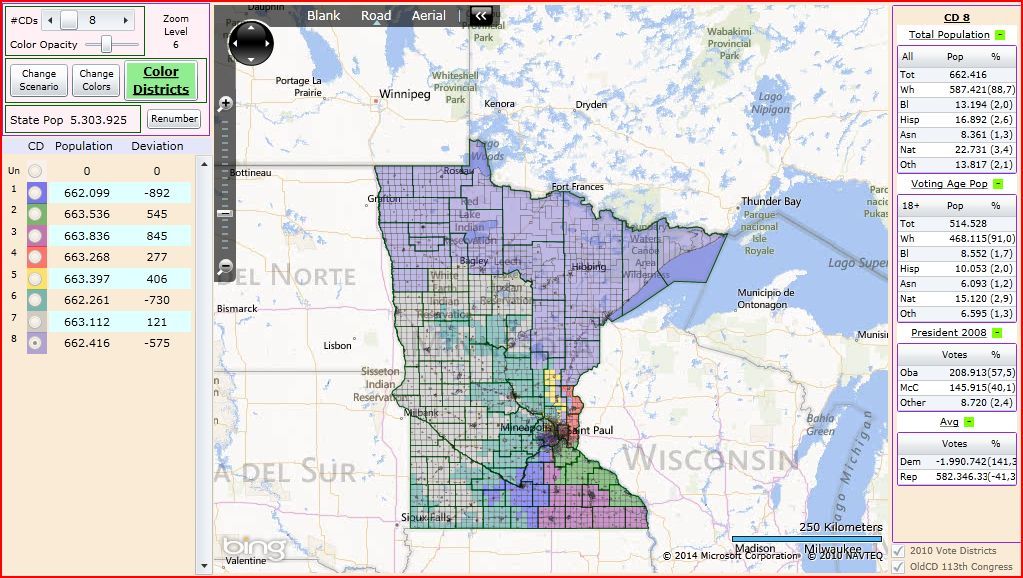 IOWA
In the case of Iowa, it is also difficult to reach the goal of having 3 Democratic seats in the state. The distribution of the population in the West half of the state makes difficult to find a D+5 seat in this part of the state. This map includes 3 D+5 seats according to Obama 2008 results, and 1 R+10 district (close to R+9).
While it is so easy to draw good and nice looking D+5 districts in the eastern half of the state, the history is very different in the western half. Without touch IA-04, the Republican side, it would be possible to draw some different options for the other 3, with the goal of doing a incer IA-03 but I wanted to show at least some nice looking part that would be valid for a less Gerrymandered map. It is necessary to forget not that the principal purpose of this series is to find the limits for a Democratic map.
Overall map:
IA-01: Open by D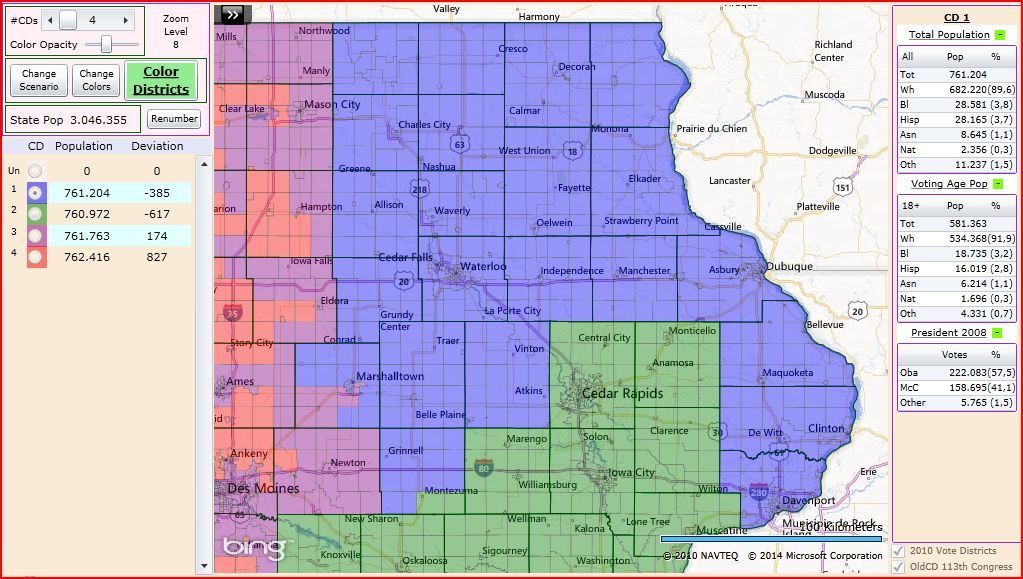 IA-02: D Loebsack (D)
IA-03: Open by R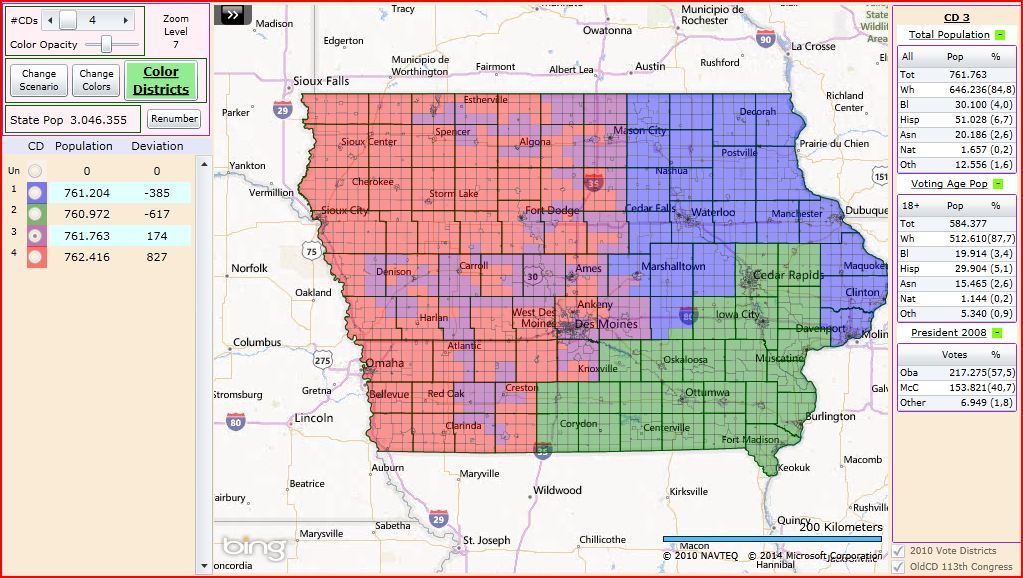 IA-04: S King R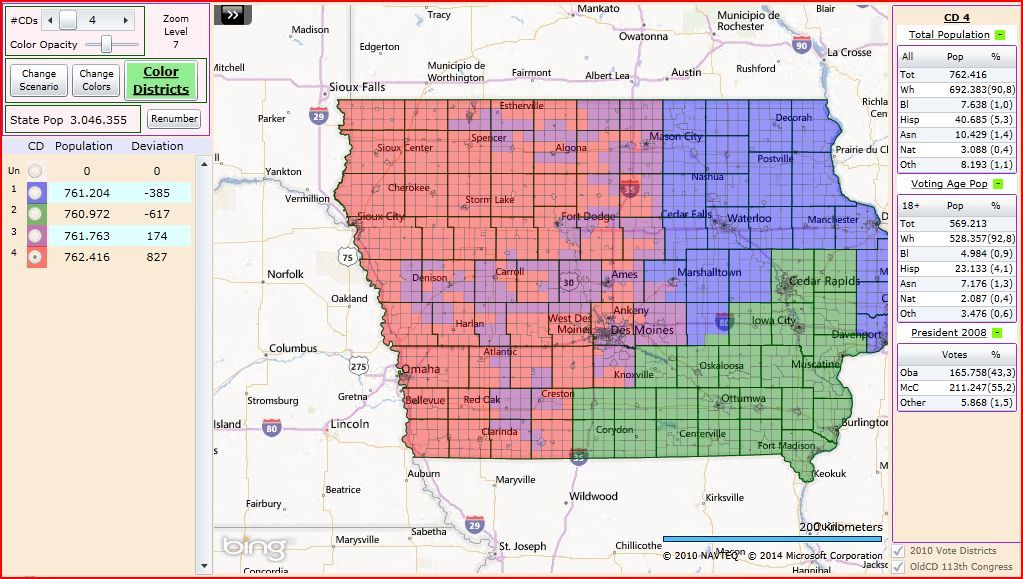 FINDING THE LIMITS FOR A DEMOCRATIC MAP FOR THE US HOUSE
01.- Hawaii 2D-0SD-0SR-0R map
02.- Vermont 1D-0SD-0SR-0R map
03.- New York 27D-0SD-0SR-0R map (28-0 then still)
04.- Rhode Island 2D-0SD-0SR-0R map
05.- Maryland 8D-0SD-0SR-0R map
06.- Massachusetts 9D-0SD-0SR-0R map
07.- California 53D-0SD-0SR-0R map
08.- Delaware 1D-0SD-0SR-0R map
09.- New Jersey 10D-0SD-0SR-2R map
10.- Connecticut 5D-0SD-0SR-0R map
11.- Illinois 18D-0SD-0SR-0R map
12.- Maine 2D-0SD-0SR-0R map
13.- Washington 10D-0SD-0SR-0R map
14.- Oregon
15.- Michigan
16.- New Mexico 2D-1SD-0SR-0R
17.- Wisconsin
18.- Minnesota 6D-0SD-1SR-1R
19.- Nevada 3D-0SD-1SR-0R
20.- Iowa 3D-0SD-0SR-1R
21.- New Hampshire 0D-2SD-0SR-0R map
22.- Pennsylvania
23.- Colorado
24.- Virginia
...
From a total of 171 seats, the maps for these 18 states are showing a potential of:
- 162 safe seats for the Democratic party.
- 3 swing seats with a Democratic lean (SD) and Democratic incumbents.
- 2 swing seat with a Republican lean (SR) and Republican incumbents (except C Peterson).
- 4 safe seats for the Republicans.
Then 166 of 171 seats would be in Democratic hands taking into account that C Peterson would run as incumbent. It gives a potential improvement of 41 US House seats (all them from 10 of the 18 states).
When a 27-0-0-0 map for NY can be done, it means that every option under this level can be drawed (26-1-0-0, 26-0-1-0,...). Only it is necessary to define the requirements. With lower level of requirements nicer looking maps can be done.
I'm looking first to the states where the Democratic party has better chance of being in control of the Redistricting process. While the maps for Oregon are ready in the DRA (David's Redistricting Application), the next step is Colorado.
Tue May 20, 2014 at 4:22 PM PT: I add a new map for Iowa maximizing the Democratic options for Iowa keeping whole counties. The map has two D+5 districts, one D+4 and one R+9 district.
Overall map: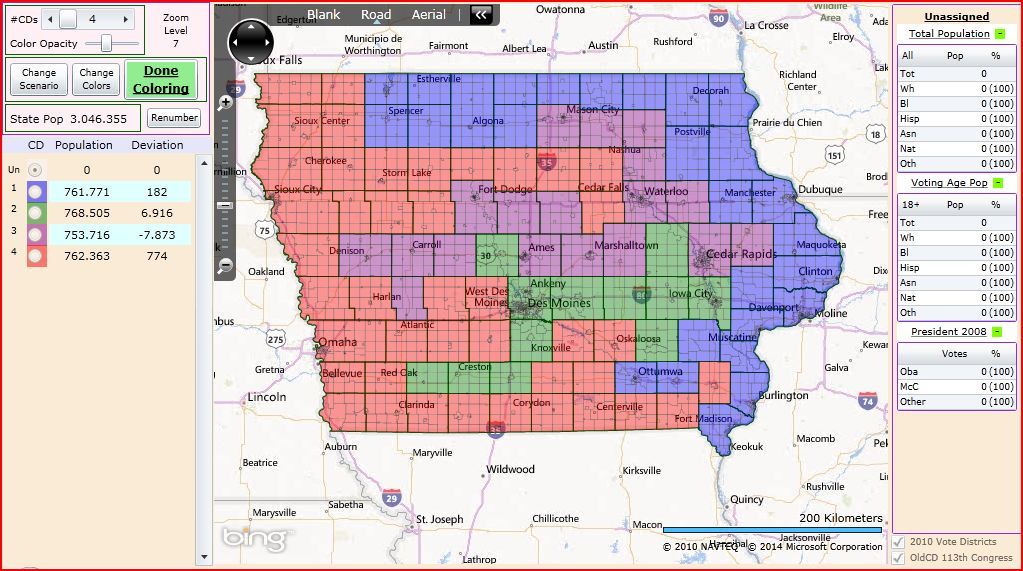 IA-01: Open by D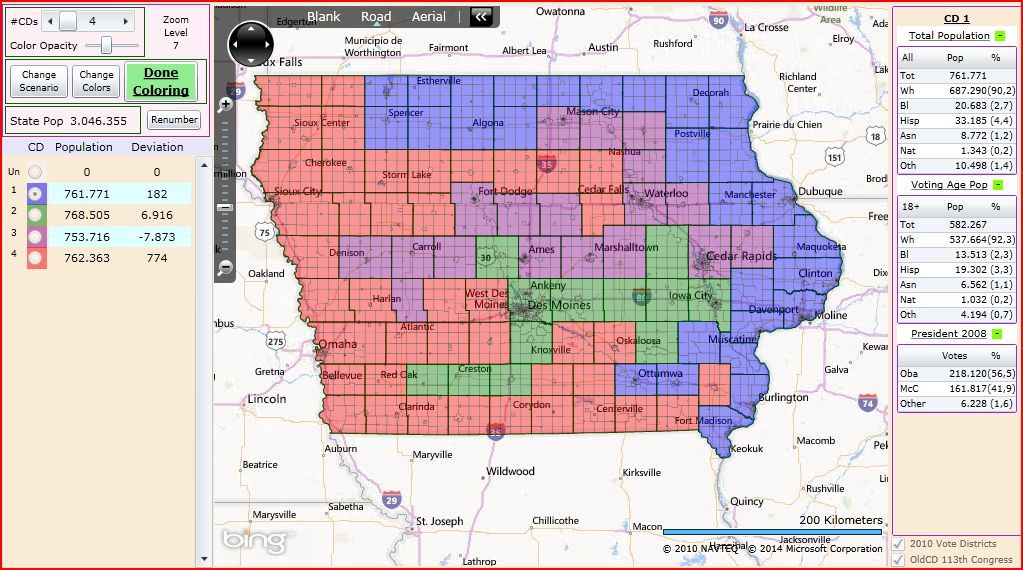 IA-02: D Loebsack (D)
IA-03: Open by R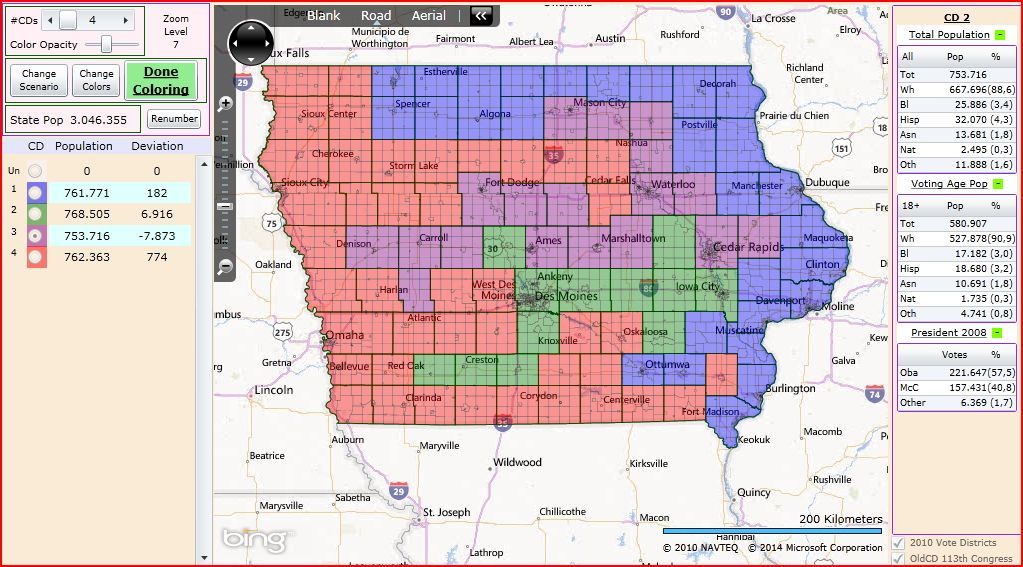 IA-04: S King (R)