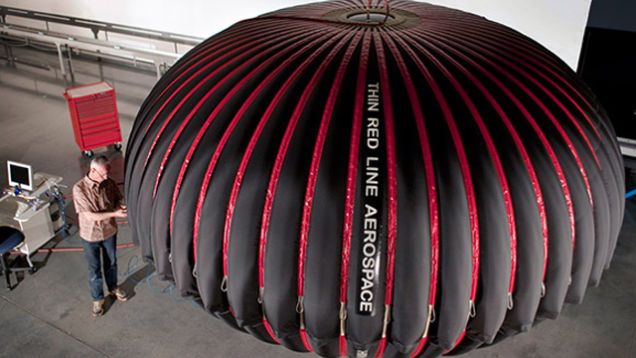 Sarah Zhang of Gizmodo brings us the interesting news of a The Plan to Store Wind Energy In Giant Underwater Air Bubbles, well, actually, they would be stored in compressed air inside giant balloons deep underwater, displacing highly pressurized deep sea water.
Like many good ideas, the seeds of compressed-air energy storage, or CAES, were sowed long ago, in the 1870s. Today, a handful of operations store energy as compressed air in sealed-off caves or pipe systems. But that's all on land. Bringing CAES deep underwater, where water pressure naturally keeps air compressed, is a novel and tantalizing idea for the massive offshore wind farms of the future.

In August, IEEE Spectrum reports, the Toronto-based Hydrostor will make the first commercial deployment of underwater CAES technology. It'll use electricity to fill several balloon-like bags tethered to the bottom of Lake Ontario with compressed air. To turn that stored air back into electricity, they'll run the compressed air through a turboexpander.

Proponents of CAES have their sights set on grand scales. Maxim de Jong, CEO of Thin Red Line Aerospace—a company that also makes the energy bags—recently calculated how underwater CAES would be used to store energy from the London Array, currently the largest offshore wind array in the world. One day's worth of energy from the array would require 812,000 cubic meters of compressed air, or a whopping 27,500 of his company's five-meter diameter balloons. If we made much bigger balloons, say 41 meters in diameter, de Jong calculates you'd only need 23 of them.

A commercially viable way to store large amounts of energy generated by wind would constitute a significant breakthrough, as the variability of wind places a cap on the fraction of the total electrical generation wind can make up.
Also, storage provides generators the ability to sell their energy a the most profitable time.
The article provide no details on the economics of this system, or how efficient this storage is. How fascinating it is to watch a new technology, and industry churn through such creative processes to seek solutions to every problem that arises.
I can't wait to see prototypes installed so we can start seeing data.