I woke up early while the fog was still thick on the Mekong.
Pak Beng, the town I'd slept in, remained a river town for the time being. Only one road led up and out of town, connecting the transportation route of the river to the greater world of the roads and highways, trucks and cars. It is the slack water created by the entrance of the river Beng that allows boats to unload and gives the town it's name (Mouth of Beng River = Pak Beng).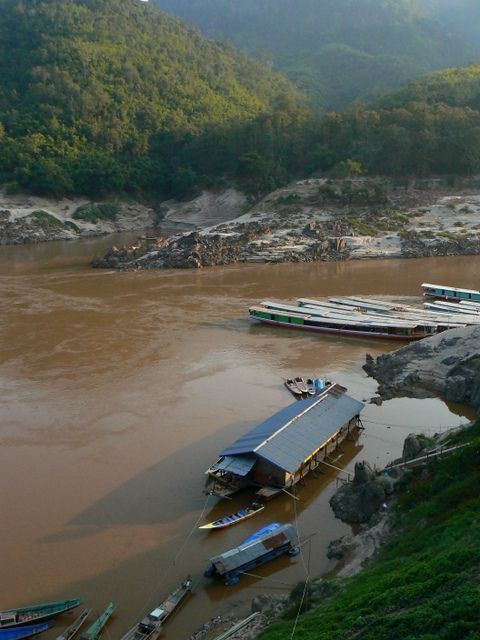 Above floating restaurant and freight boats tied in the slack water Pak Beng.
Pak Beng also serves as a tourist stop on the popular slow boat ride to Luang Prabang and brings in some income in the form of restaurants and guest houses. I took advantage of the opportunity to drink the last cup of espresso I was likely to taste for a few weeks. Trucks loaded heavy with rice that has been transported up or down the river head up and out of town destined for who knows where, maybe China by the writing on the truck.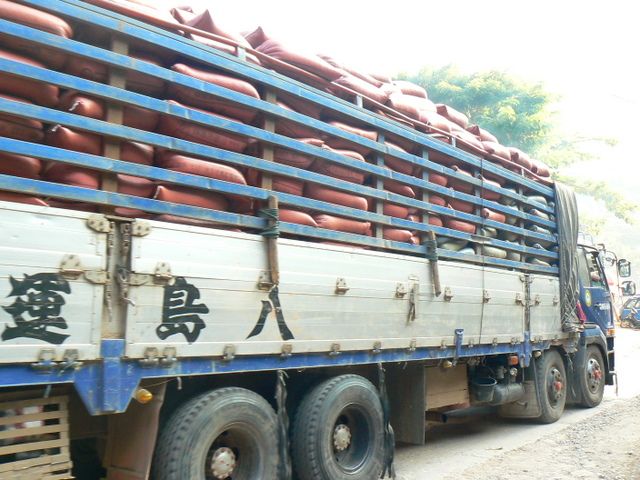 A vague melancholy filtered my view. I've seen many small towns on the upper Mekong, ridden many busses. The part of Laos I most enjoy seeing was now beyond my abilities. I like the part of Laos away from all roads, the part reached only by path. I had a hole in my foot much too deep and big to walk far. It would take two weeks before it stopped leaking, a month to heal. For the time being I was confined to busses and roads.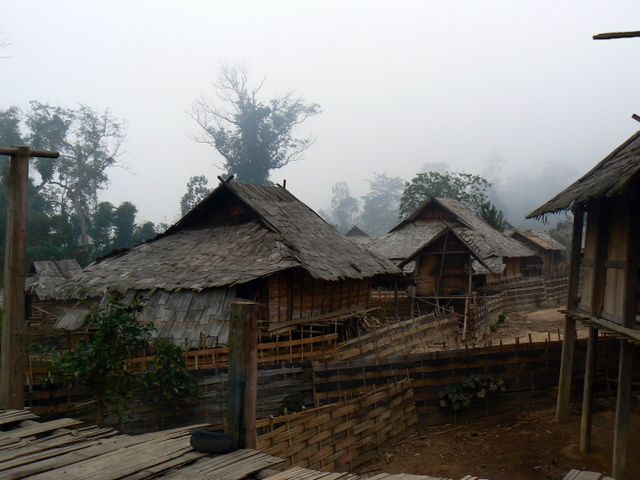 Above Mongla, a long long way from any road and never on a map except for a brief "Lima Site" designation on a topo from a war half a century ago, now for two years gone forever to logging, a dam, and copper mine. Forcible Relocation.
The bus leaves from the far end of Pak Beng past the small market. I was the only foreigner on it. Some don't like bus rides in Laos, they take a long time, they are dusty, sometimes the busses are crowded, dirt roads are bumpy. I slip into a stupor, half asleep, time passes, busses are fine by me.
We stopped for a couple minutes at some district capital, Muang Houn or Muang Beng. No signs in English, no tourism, nice little market towns. I like seeing Laos going on about it's business. The road became hard surface somewhere.
Udomxai was the same as always except a little bigger, more busses, more hotels. Usually I get a room in any place close to the bus station, this time I walked a few hundred meters further. Checked into a new hotel. Chinese. Mostly empty. Clean, everything new, guy spoke Lao at least as well as I did.
Big room, good value, maybe twelve bucks or so, one of those combined air conditioner heaters. Turned on the heat, then the AC, then turned it off. Turned on the TV, five channels all in Mandarin, I left it on the news and took my first hot shower in a couple weeks. Lying on the bed, staring at the TV, understanding nothing.
Dinner was problematic. I didn't see any carts around selling to Lao people. I wasn't walking well and didn't want to walk to the bus station. I'm sure there is someplace people go at night in Udomxai to eat and hang out but it wasn't where I was at. I went to the one tourist restaurant close by, and sat down. I asked for pork and vegetables with steamed rice when the owner came by, and settled in for a long wait reading an old guide book or something.
Some more people came but I didn't even look up, entranced as I was by a description by Joe Cummins of some old Watt in Southern Laos. When the late comers were served their food in short order I did notice, I was still waiting. "Baw ben yang" as they say. Then it got confusing. The Lao guy who'd been waiting on tables asked me to join him at an adjoining table to make room for more people and he brought my dinner and his too.
Turns out he was the guide for the two elderly Europeans who had been served first. Seeing how slow things were he'd cooked their food for them and waited on tables a bit. He ate separately maintaining a distance from his clients. He might have been their guide and man Friday, but not their intimate in conversation. Their loss. The guide was highly educated, spoke several languages, and was a native of the country in which they traveled. He helped me with my Lao throughout the meal, mostly helper verbs and tense changing words. He never asked me my story nor I his. His English was excellent.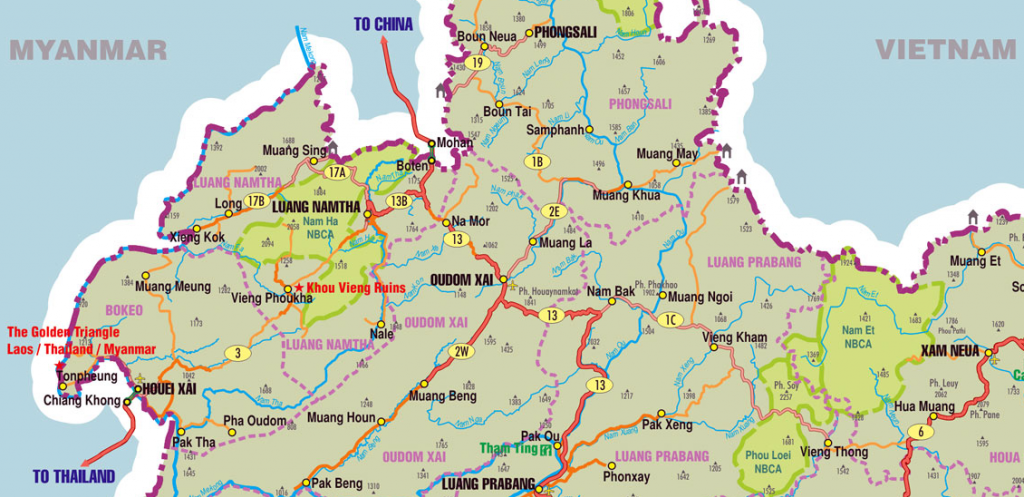 Click on map for some kind of out of control large screen shot.
I don't remember leaving in the morning. I took the road north east, which leads to The Ou river and Vietnam, south east the road leads to Luang Prabang the old capital, north west to Phongsali and China. I've stayed in Udomxai quite a few times, always on the way to somewhere else.