Within hours of Ted Haggard's exposure, the community was calling on folks to donate funds to Mike Jones, the man who exposed the evangelist of hate as a closeted, a crystal meth user.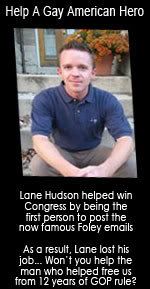 I was a bit confused. If we are to believe Jones, he was not a regular dealer of crystal. So, It's not like his telling the truth about Haggard cost him much. And, as I predicted the same day the story broke, Jones inked a book deal soon after going public. Not bad for a man who helped fuel the gay community's meth problem.
While I love exposing hypocrites (it's what I do at my blog, blogACTIVE.cvom) and am thrilled Jones did what he did, his actions had little, if anything, to do with the Democrats taking Congress. To find the start of the Republican decline one need look no further than the date that Lane Hudson posted the first set of Mark Foley emails on his blog, Sunday, September 24.
More on this American hero after the jump...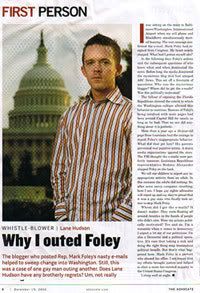 Lane tells his story in the Advocate.

Unlike Jones, Hudson has no income, no book deal, and no job. I believe Lane deserves -- and I know he needs -- our help; I hope you agree. I hope you'll consider clicking here to send Lane a few bucks so he can maintain his apartment through the holidays. When you sit down and think of how grateful you are that the right wing has lost Congress, toss a little gratefulness toward Lane -- he's responsible for a lot of holiday cheer out there.
If you need proof, take a look at the gambling and odds tracking sites. There are no better predictors of political winds and up until the day that Lane posted the emails the GOP had been enjoying a slow, yet steady, rise in the polls.
Before he was exposed as the blogger who posted the emails, Hudson did not seek the spotlight and went to great lengths to maintain his anonymity. His one misstep, sending a personal email while connected to his employer's network, cost him his job and Lane is still unemployed. (Lane has far too much class than to condemn the organization he worked for...the problem here is that no one else on the left is stepping up to help him.)
Given the choice between the publicity seeking meth salesman and an 'on the ground' field organizer who hoped to remain anonymous and lost his job by blogging, the answer is easy. In every case, I'll stick with the guy who has dedicated his life to long-standing social change.
I've been lucky. After two and a half years of this work at blogACTIVE, I have finally become able to regularly cover expenses and continue my work. Trust me, it's not easy. I completely identify with where Lane is right now and I hope folks will consider stepping up to the plate to give him a hand...every penny counts, especially for this great hero to our community and everyone else who stands for a progressive agenda.
I'm not asking readers to do anything I haven't done myself. I hope you will consider joining me in making a gift to Lane. And, as I write this, I've convinced myself to go back to Lane's site and send him an extra bit.
While Lane seeks work, he's using his years of experience on Capital Hill to continue to write about stories and, to me, it's all the more reason to give him a helping hand.
If you wake up and wonder "What could I do to really, really help someone who contributed to this past election?" The answer is a no-brainer, make a gift to Lane Hudson.
If you're a blogger, I hope you'll consider running this ad, with this link, on your site for a few days or that you will post about this effort.