There has been a lot of talk about the right wing and fundies going nuts now that Nancy and Co are in charge....
and for George and Co--- when the going gets tough...retreat even deeper into 1933
how to get back that power
it all comes down to this.............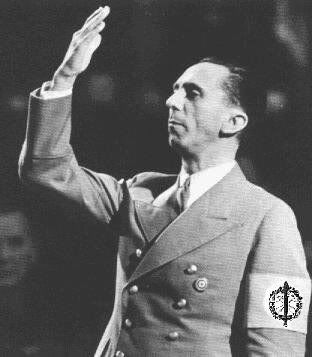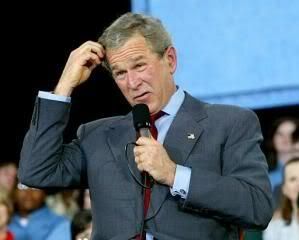 the words speak for themselves
from wikipedia....

never allow the public to cool off; never admit a fault or wrong; never concede that there may be some good in your enemy; never leave room for alternatives; never accept blame; concentrate on one enemy at a time and blame him for everything that goes wrong; people will believe a big lie sooner than a little one; and if you repeat it frequently enough people will sooner or later believe it
and of course
telling a lie so "colossal" that no one would believe anyone "could have the impudence to distort the truth so infamously". The first documented use of the phrase "big lie" is in the corresponding passage: "in the big lie there is always a certain force of credibility
the lemmings in congress, the complicit media, Faux News, redstate.com, Lieberman, Cheney, Condi, Karen Hughes, Laura, Tony Snow, Sean Hannity, Michelle Malkin, Ann Coulter
from George Orwell's 1984
"To tell deliberate lies while genuinely believing in them, to forget any fact that has become inconvenient, and then when it becomes necessary again, to draw it back from oblivion for just so long as it is needed..." (Page 223)
Tom Delay, Bob Ney, Mark Foley, Duke Cunningham, Jack Abramoff, Safavian,
and proof that President McDoodypants does read

Hitler wrote in his 1925 autobiography Mein Kampf (page 134):

All this was inspired by the principle - which is quite true in itself - that in the big lie there is always a certain force of credibility; because the broad masses of a nation are always more easily corrupted in the deeper strata of their emotional nature than consciously or voluntarily; and thus in the primitive simplicity of their minds they more readily fall victims to the big lie than the small lie, since they themselves often tell small lies in little matters but would be ashamed to resort to large-scale falsehoods. It would never come into their heads to fabricate colossal untruths, and they would not believe that others could have the impudence to distort the truth so infamously. Even though the facts which prove this to be so may be brought clearly to their minds, they will still doubt and waver and will continue to think that there may be some other explanation. For the grossly impudent lie always leaves traces behind it, even after it has been nailed down, a fact which is known to all expert liars in this world and to all who conspire together in the art of lying. These people know only too well how to use falsehood for the basest purposes. ...
blame Clinton, blame Carter, blame the New York Times, blame David Gregory.....
a six year nightmare