Greetings from the home of Anne of Green Gables, Cavendish, Prince Edward Island! We're shaking things up here at News of the North, moving our community feature to the front and then following with our usual roundup of dKos Canadiana posts–--this week ranging from BushCo follies, environmental lies to outright travesties of justice. There are also tasty tidbits from Canadian blogs to tempt you. So herd yourself below the fold and enjoy our hard-hitting analysis (and shameless pootie pic pandering!)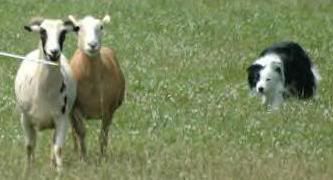 (Cross-posted to The Next Agenda .)
Featured Community: Cavendish, Prince Edward Island
Welcome to beautiful Cavendish, Prince Edward island! Nestled in Canada's smallest province, this Maritime community of around 5,000 people offers rolling farmland, golf courses, and beautiful beaches. The beautiful red Prince Edward Island soil offers a startling contrast to the green fields in the surrounding farmland, while currents of warm water help keep the climate surprisingly temperate for the Canadian Maritimes (the swimming's not bad either.)

History from Wikipedia
During the late 1800s, author Lucy Maud Montgomery, who grew up in the Cavendish home of her maternal grandparents, would often visit her cousins' neighboring farm which was named Green Gables. Montgomery's childhood formed a strong impression on her and she would later include much of her experiences in this part of rural Prince Edward Island in the literary blockbuster Anne of Green Gables...Prior to Montgomery's writings, Cavendish's primary claim to fame came on July 22, 1883 when the 3-masted world-record holding clipper ship Marco Polo grounded and broke apart on Cavendish Beach...

Cavendish was primarily a small farming community throughout the 19th and first half of the 20th centuries. Following the critical acclaim of Montgomery's writing, as well as coincident with the increase in vehicle-based tourism throughout North America following the Second World War, Cavendish began to evolve into primarily a resort community...In 1937, the Prince Edward Island National Park was established along 60 kilometres of the province's Gulf of St. Lawrence shoreline.... The national park also boasted many of Prince Edward Island's best beaches, of which Cavendish Beach was one of the most popular.
Cavendish for the Anne Fan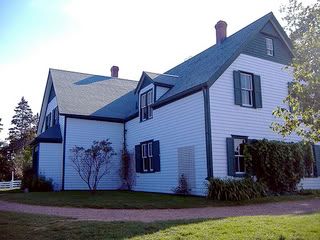 Prince Edward Island National Park has a lot to offer to Anne of Green Gables fan:
Green Gables, located in Cavendish in the Prince Edward Island National Park, is a popular tourist destination. Each year hundreds of thousands of visitors from around the world visit the site which inspired the setting for L.M. Montgomery to create her beloved tale of a red-haired orphan, Anne of Green Gables.
(If you can't get to Green Gables in person
this link lets you take a virtual 3-D tour.
) The property offers trails through the "Haunted Woods" and numerous outdoor attractions that helped inspire the Anne books.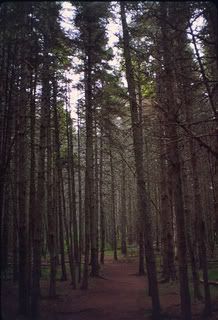 Anne of Green Gables fans should definitely also visit the
Anne of Green Gables Museum.
And the
Avonlea Village
mixes a recreation of life in 1908 with scenes from the Avonlea books, hay rides, goat milking, island dance lessons and all kinds of old-fashioned fun.
Outdoor fun in Cavendish
The magnificent beaches offer fun and relaxation; most of the time you can dig your own clams and steam them on the beach for a great dinner. There's parasailing, kayaking, and just about every water-related sport for you to enjoy. The park also manages the Covehead Harbour Light, a lighthouse well worth seeing.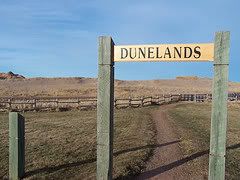 You'll want to be sure and respect the restrictions on visiting the park's sand dunes, so that the unique flora anf fauna of the reigon can be preserved for the next generation. Designated paths and boardwalsk let you enjoy the view without disturbing the ecology.
Got the urge to take a day trip? The Blue Heron Drive runs through the park and offers a magnificent trek through PEI's landscape. Boat tours offer deep sea fishing and more. Or fly with Tartan Air for spectacular views from the sky.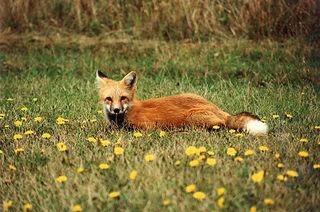 Shopping and Museums
Shop at theP.E.I. Preserve Company for local treats and delicacies. Get an antique style photo at Grandpa's Photos or just enjoy some miniature golf.
Believe it or not! There's more than Anne in Cavendish. The Ripley's Museum offers you incredible facts in 3-D. And how about visiting Wax World of PEI for full-figure fun.

The Rustico Fishing Museumoffers a historical and biological adventure:
Our touch tank features creatures of the sea. Follow the evolution and history of the lobster fishing industry here on the Northshore and learn of such historical events such as the 1851 Yankee Gale and other stories of the sea. Experience lobster fishing first hand via video in our mini cinema. Witness a life sized replica of the fishing boat and motor used by our fishermen in the early 1940's. Compare this small boat to the present day fishing boats docked in the Marina adjacent to the Museum.
Planning your trip
Get into the mood for your trip by listening to
Prince Edward Island radio
, featuring P.E.I. artists, or get the
P.E.I. news from CBC
. (Ain't streaming a wonderful thing?)
The Cavendish beach Resort offers luxurious accommodations for thsoe looking for nothing but the best. There are also plenty of great camping and B&B options nearvby and of course camping is available in the park. Enjoy happy thoughts of Cavendish!

And now, your regularly scheduled News From the North!
Action Alert
If you read NOTHING else, this week, be sure to read Canadian boy caught in Texas detention by edie. The insanity of Bush's America has now trapped a Canadian citizen, a minor, whose parents are guilty merely of flying through US airspace. Incredible. Read it and try to help.
The United States and Canada
Ooops, he did it again. Bush snubs Canada. by*sharkbite* is a great illustration of the Bush Administration's usual international skills.
Of Course Iran is meddling in Iraq by Scientician uses an alternative universe of Canadian-U.S. relations to make a point about Iran. Good stuff
Can Cons
Al Gore SMACKDOWN: Canadian Cons are full of it by wreck Smurfy is a satisfying correction of some Canadian Conservative propoaganda. Go Al!
Stephen Harper faces a possible vote of non-confidence by edie alerts us to 'Steeeeve's" downward spiral. Can the Liberals capitalize on his troubles?
Personal Reflections
To My Muslim Brother - Thank You by TheManWithNoPoint is a brief but meaningful thank you from one Canadian to another.
Canadian Bill keeps taking us Back to the Land–Part 3. Two young men go to the country int he 70s–with hilarious results. And it's funnier because it's true!
Northern Blogosphere
From The Next Agenda: CanadianBill has a refreshing example of athletes countering homophobia in Sports In Toronto Supporting Gays. Then check out So, lets trade some carbon. by willy be frantic. He walks through pros and cons of this environmental control.
I continue to be thoroughly impressed with The Galloping Beaver. Dave posts another great one in The guilty party will step out of the ranks, which answers why Canadian bloggers care about the recent Edwards blogflap. Powerful stuff.
Tured of hearing that feminism is no longer relevant?Guest Blogger: Laura Colella - The Age of Equality? at The Daily Canuck has a great answer to this conservative myth.
And while you're surfing the Blogs of of the North, take a break from politics and enjoy the sheer beauty of Parvum Opus a Canadian photoblog.
... That's it for News of the North! Join us in the comments for Canadiana and more, pimp good Canadiana diaries or websites, or just say hello. We'll leave the kettle on for ya! And be sure to visit The Next Agenda for a daily dose of progressive Canadian politics!
Image Credits: Cavendish beach photo by Dylan Kereluk Haunted Woods and Cavendish Beach w/ lobster traps bySheepGuarding Llama. Cavendish House bystorm.stayed. Flowers on windowsill by product of newfoundland. Cavendish Dunelands sign by Terry John Dune panorama bymattm. Fox photo bygreg7. All these photos used under terms of Creative Commons Attribution 2.0 License. They may not be altered nor used for commercial purposes. Their authors must be credited. All other images are believed to be in the public domain, either because of their age or because their creatrs have specifically released them into the public domain.