What could we do to unite Shias and Sunnis and even Kurds against American occupation forces?
Perhaps we could send GIs "care packages" that contained something that proved to every Muslim that the occupation is, as al Qaeda and Islamic extremists has been telling everyone who would listen, not just about oil but about converting them to Christianity.
It could be something that leaves no doubt that the Pentagon blesses the idea that killing someone for religious reasons is OK.
Ahhh!! There is such a thing. It is that video game based on the post-apocalyptic fundamentalist Left Behind book series where the goal is to convert or kill the non-Christians.
Read this scorching new article by Max Blumenthal in The Nation today and weep.
As an official arm of the Defense Department's America Supports You program, OSU plans to mail copies of the controversial apocalyptic video game, Left Behind: Eternal Forces to soldiers serving in Iraq. OSU is also scheduled to embark on a "Military Crusade in Iraq" in the near future.
You would think that after the spotlight on the Christian Embassy at the Pentagon, put on by Mikey Weinstein of the
Military Religious Freedom Foundation
and detailed in
troutfishing's diary
yesterday, people in the Pentagon would have re-read the 1st Amendment regarding "the establishment of religion" or related Armed Forces regulations.
But nooo! These people who have been relentlessly trying to turn the US Armed Forces into Christ's Armed Forces for years will apparently never learn. In my opinion they are either brainless or are quite willing to trash the Constitution when it comes to the separation of church and state.
They have learned nothing. When Bush first called the GWOT a "crusade" he was quickly disciplined by his superiors for obvious reasons.
But since Bush and Cheney have been in the White House, the James Dobson,Ted Haggard, John Hagee, James Kennedy, Pat Robertson crowd has been on the rampage.
Some of the dots to connect to get the whole picture include; the Christian Embassy film and religious intolerance at the Air Force Academy.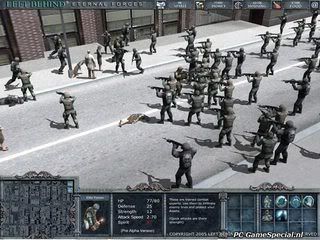 And now this new development of the care packages with the Left Behind game.
The packages also include a book in Arabic, presumably to give to Arabic reades, titled; "More Than a Carpenter" about Jesus, this is also going to be well received in the streets of Baghdad, I am sure.
But it goes beyond "care packages".
This Operation Straight Up is taking its show on the road to Iraq, sponsored by the Pentagon. Max Blumenthal quotes Mikey Weinstein;

"Thanks to the influence of extreme Christian fundamentalism, the wall separating church and state is nothing but smoke and debris. And OSU is the IED that exploded the wall separating church and state in the Pentagon and throughout our military." Weinstein continued: "The fact that they would even consider taking their crusade to a Muslim country shows the threat to our national security and to the constitution and everyone that loves it."
And if there is any doubt, Blumenthal quotes the OSU website;
"We feel the forces of heaven have encouraged us to perform multiple crusades that will sweep through this war torn region," OSU declares on its website about its planned trip to Iraq. "We'll hold the only religious crusade of its size in the dangerous land of Iraq."
To make the whole thing even more Repugnant, Steven Baldwin is behind this misguided effort. Here is an interesting Salon article that gives us an idea of the kind of show he will put in Iraq;

These days, Baldwin not only has the ear of young boys who cleave to his fundamentalist reading of the Bible, and whatever skein of celebrity still clings to his Jesus T-shirts. He has been named a cultural advisor to President Bush, a formidable follow-up to his invitation to speak at the Republican National Convention, where he announced proudly from the podium, "I'm here because of my faith."
Conclusion, there is some Chaplain in the Pentagon who has authorized these packages and these activities who is endangering the lives of American GIs for a chance to futher a religious movement that does not even represent mainstream American religious views and even if it did it would be equally brainless.
Also posted in My Left Wing