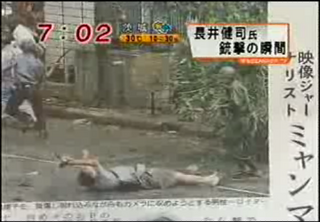 The death toll in Myanmar (Burma) may be much higher than its ruling junta has admitted publicly. The US charge d'affaires there, Shari Villarosa, told AFP that "she believed the death toll from last week's crackdown was much higher than the junta has admitted and that thousands of people may have been jailed."
Meanwhile two European newspapers have reported on accounts by exiles and others that the junta has been incarcerating many of those arrested in newly created internment camps.
According to exiles, some 270 monks are believed to be detained at Kyeikkasan, a former racecourse in the north-east of Rangoon (Yangon) that is being used as an internment camp by the authorities.
Also at
NION
.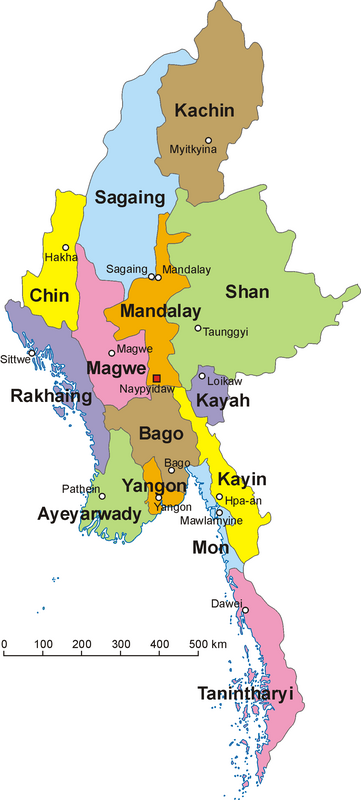 And Der Spiegel reports accounts of 3 different interment camps in Yangon (fomerly Rangoon).

One is located near the old British horse race track, between Yangon's 50th and 51st streets. Another camp is located near the Mingala international airport. The worst conditions, though, are to be found on the grounds of the Yangon Institute of Technology.
In north-western Yangon, "
about 300 cells
have been erected in recent days -- each measuring 3 meters by 3 meters (9.8 by 9.8 feet). Close to 800 monks have been imprisoned there. Sanitary conditions are atrocious and the monks are engaging in a hunger strike."
:: ::
Human Rights activists are calling upon the Bush administration and Chevron Corporation, which has lucrative natural gas holdings in Burma, to put pressure on the regime to end the violence.

"President Bush should order Chevron to cease operations in Burma immediately," said Nyunt Than, president of the Burmese American Democratic Alliance. "That would cut hundreds of millions of dollars from this military. It would create great pressure on them to come to the table."
In the first democratic elections in over 30 years in 1990, Aung San Suu Kyi's National League for Democracy (NLD) party won overwhelmingly. But the military regime refused to let her take office as Prime Minister. She is currently under house arrest in Yangon (Rangoon).
Where we line up is crucial.
:: ::
Hat tip to Turkana
:: ::
UPDATE: Some folks from NION and other places are going to protest on Oct 9th: details here.
Meteor Blade's FP post also offers up some protest tactics.