Welcome, visitor, to our lovely little town of Wasilla, Alaska. We may not be big, but we sure do have gumption!
As a first-time visitor, here is a tour of our great metropolis.
With a population of almost 6000 and a booming road, pipeline and bridge-building industry, Wasilla is the champion of bringing Alaska into the 20th century!
We begin our tour at Wasilla's most historic building, our first Meth lab!
Did you know that Wasilla is the proud meth capital of Alaska? It's true! We've got the building to prove it! We were going to have an historic plaque, but our former mayor really needed new wallpaper in her office.
Next up, the statue of our founder!
Erected way back in 1997, two weeks after the city was founded by Mr. Abner (shown above), we look to it as a symbol of progress!
And speaking of memorials, here's Wasilla's Ted Stevens Memorial Pig Pen!
Yes, we know Ted Stevens isn't dead, but he's in his 80s, so we thought we should have it ready beforehand.
You won't find any lipsticks on our pigs, just Ted Stevens' 100% Grade-A Alaskan pork!
Now, when you're done with the pigs, we'll cross the street to Wasilla city hall!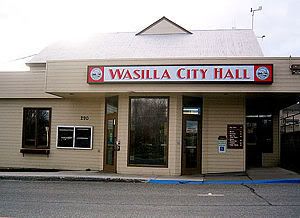 Built in the historic 1970s, we happily preserve it today as a fine example of the post-trailer home school of architecture and was designed by the famous architect, U.S. Steel Company, Blueprints Division.
Moving on, we have another statue, this time of our former mayor, current governor and soon-to-be Vice President, Sarah Palin!
This statue, which you see on the way into town, is, admittedly, in need of some restoration. The harsh Alaska winters have worn away the once bright-red lips of the lifelike statue. Take a good, long look at that statue, because that might be the face you see in the Oval Office one day... except it will have lipstick on it.
Next up, the beautiful Levi Johnson Hockey Stadium, home of the Wasilla Wolves, undefeated champions in the county league. Some say it's because they're the only team, but I say it's because they're that good.
And speaking of wolves, whether you like using a .22 gague high-powered sniper rifle or a sawed-off shotgun, you'll be able to shoot all the wolves you like from high in the sky at our brand new Todd Palin Heliport and Snowmobile Racetrack.
Even in Wasilla, though, we do have our problems. Sometimes, after a hunting accident or catching malaria, one of our precious babies might lose his or her mommy and daddy. Thankfully, the Governor diverted $12 million to build the Bristol Palin Orphanage and Childcare Center
You're probably looking for a place to stay. Don't worry, we have excellent accomodations at the Wasilla Bed and Breakfast!
What? Leaving so soon? But you haven't seen our church!
It's Thursday and Thursday's Witch Burning Day... you're not a witch, are you? Of course not. You can't leave without seeing our church. No, really. You can't leave.