Who is rich? He that is content. Who is that? Nobody.

-- Benjamin Franklin (1706-1790)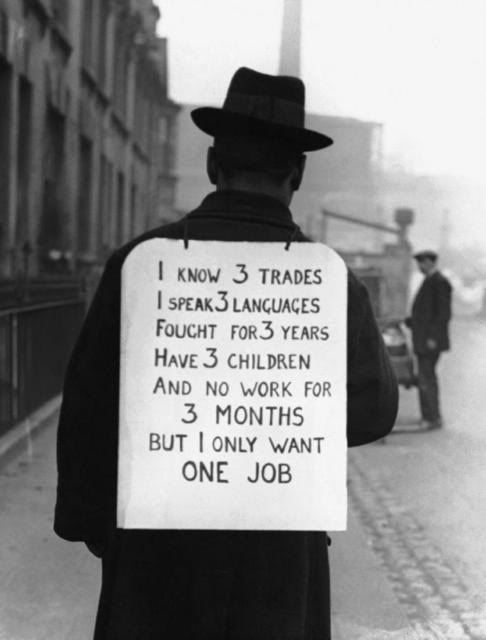 When I was practicing as a psychologist, we used to talk frequently of the family narrative. The family narrative is a story passed down from generation to generation that substantially affects the psychology of the family and how they "do business" as a unit. Every family has narratives; many tell of the family's immigration, relationships with famous people, or the family's roots. Sometimes the truth is stretched --instead of that Civil War soldier being a deserter, he is steadfast in his bravery. Most frequently, they reflect a sense of family pride at overcoming adversity.
But sometimes -- only sometimes -- narratives envelop the family like those dark rooms in the Tower of London that make you just a little uncomfortably cold. For our family, the Depression stories are our ghosts. And my ghost, a little farm boy, is keeping me up nights.
Rather than serving their intended purpose of shoring up family loyalty and engendering family pride, narratives sometimes etch themselves into the family psyche in a negative manner and continue to traumatize those who weren't even born at the time.
My grandfather, whom I have written about before, lived on a farm during the Depression. Some admiring and yet simultaneously critical stories about the stoicism of my great grandfather were woven into our narrative about that farm. According to lore, my great grandfather was plowing a field when my grandfather's sister ran up to him. Breathlessly, she squealed out: "Father, Mother's had twins!" Supposedly, my great grandfather merely grunted and kept plowing. After all, that meant two more mouths to feed.
My grandfather didn't speak directly about his experience with the Depression but it was apparent it left lasting scars, and those scars ran through many of us, solely because we loved him. I have one picture of my grandfather as a boy, with a wistful yet nearly hopeless look on his face. My father told me once that a particular family picture with my great grandparents and their children was taken with the children kneeling because the children's pants were worn through at the knees. They would get up at 4:30 am and go to bed far after sundown.
Even after the Depression, my grandfather refused to allow sour cream in the house because, during hard times, sour cream meant going hungry because they couldn't bring it to market. He was steadfastly loyal to one man in particular, and on his 50th wedding anniversary he invited this man and tearfully expressed his gratitude. He left the farm in an attempt to attend university, and almost had to come home because he was literally starving. This particular man at the university radio station gave him a job polishing microphone cords, and that job meant he could stay at the university.
That job led to a career in radio and meeting my grandmother, a beautiful, spunky woman who sung commercials at that radio station, and whose family was well off. The rest is family history. We haven't starved since.
So, by all rational thinking, everything turned out all right. But for some reason it isn't all right. Not at all.
That unspoken trauma of worrying every day whether he, his brother, and his sister will eat -- that is suddenly my trauma when I read the news, when the headlines include "since the Great Depression." My husband lost his job and I am working, but we need two incomes because I work in non-profit. I am holding my breath, and we could lose our home. We can't sell our house, even if we needed to.
I have remembered the whispered stories of the importance of having hard goods to sell to wealthy people that can still afford them, and I have taken inventory of my nicer things. I tell myself, "I don't really like this anyway, I don't mind selling it if I have to."
I remember the only time I really thought my grandfather would hit my father. My father, a Boomer, made the mistake of saying one day (at Passover no less), "I don't think the Depression affected you all that much." The look on my grandfather's face was absolutely terrifying and told me everything I needed to know.
Not much was spoken about the Depression in sum total. However, family... we all just know. Grandpa wasn't the kind of man to talk about how he was emotionally affected by things. But being a sensitive kid and a history buff, I was able to piece some things together from old photos, a love of history, and some observation. I don't know if the humanity and pain skipped my father, but I have held onto it while my father instead felt invulnerable. I felt like I owed it to my grandfather to not forget what he went through.
And so, the recent financial events...they have stirred up my family's ghost. He was always there, even though our family has been wealthy by many people's standards and we were a good example of the American dream. Farm and Russian ghetto to broadcasting empire. Neither of which describe me, and those people are dead and gone. In our economic climate, in the middle, the fall is easier than the ascent. I/We were there once, why not again?
Most narratives can be dismissed if necessary, or at the very least put in perspective. The Russian Jewish ghettos do not exist in that form any longer; we are not cramming ourselves into cargo holds to cross the Atlantic; we will not have to wait for days at Ellis Island and have other people bastardize our ethnic names.
But a Depression? Always a possibility.
I am hopelessly angry. I have a sense of the suffering of that time and am incensed that people would be so greedy to remove all of the safeguards that helped to keep us from experiencing that kind of suffering again. It's like no one listens to their own family's ghosts --like we forget where we came from. Shakespeare's wheel of fortune, why does it only turn for the middle class?
Has the narrative made me ready for the worst case scenario? Or just paranoid? Or both? I have no idea.
I wish I could talk to that boy in the picture that I have. I know that he knows more than I do.
I wonder if he is more forgiving.