It was Thursday. It was early. It was 7:30 in the morning. It's the Auburn Chamber of Commerce Eggs and Issues Congressional Candidates Forum at the Holiday Inn. It's so early I can't pronounce this. It's so early half the Auburn Democrats don't recognize me at first. Charlie Brown is here. We're missing the McClintock.

Here are Auburn supporters of Charlie Brown this morning waiting in front of the Holiday Inn for the candidates, Charlie Brown( D, Roseville) and SoCal Tom McClintock (R, anywhere my consultant says so)
When I spotted the Spanagel with the cell phone, and the other various McClintcock advance campaign consultants scurrying around with their cell phones, all looking worried, but still no McClintock, I suspected they were about to engage the cloaking device and take evasive manuevers. So I went upstairs and checked out the room. Charlie Brown is there, the crowd is there, the reporters are there... but no Republican candidate. Using my powers of logic, I figure unless he teleports in he has to come in thru the doorway so all I have to do is wait.
And then after about 15 minutes, one of our extra alert Democrats downstairs on lookout gives the heads up - He's coming thru the back door !

Busted ! Republican Tom McClintock sneaking into the lobby of the Holiday Inn in Auburn this morning, trying to avoid the peaceful, quiet Charlie Brown fans out front. McClintock , on the left, has the grey hair and grey suit.
*
*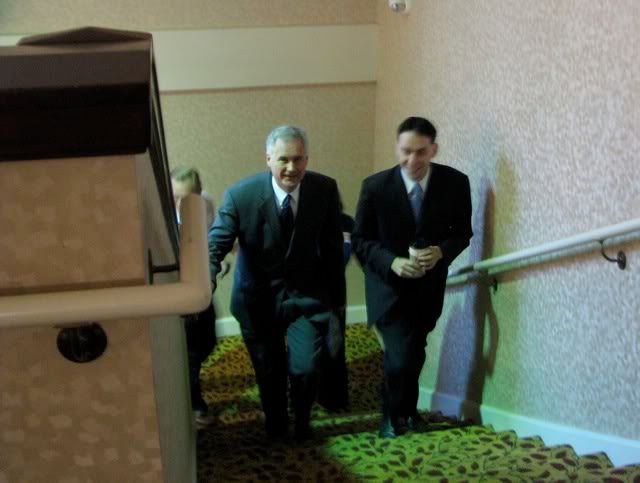 Here comes McClintock up the steps to the Candidates Forum, thinking he's avoided almost all the Charlie Brown people. Except that a person is asking him why he doesn't live in the district and he's ignoring her. I promised I'd mention that for her. Why don't you live in the district you're running in, Tom McClintock? Oh, yeah, you don't live in the district you represent now, either. Never mind. We're just a mailing address with rain melt.
*
*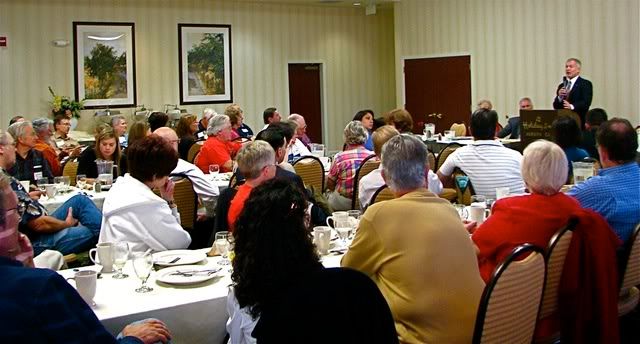 Charlie Brown addressing the room at the candidate's forum this am in Auburn

*
*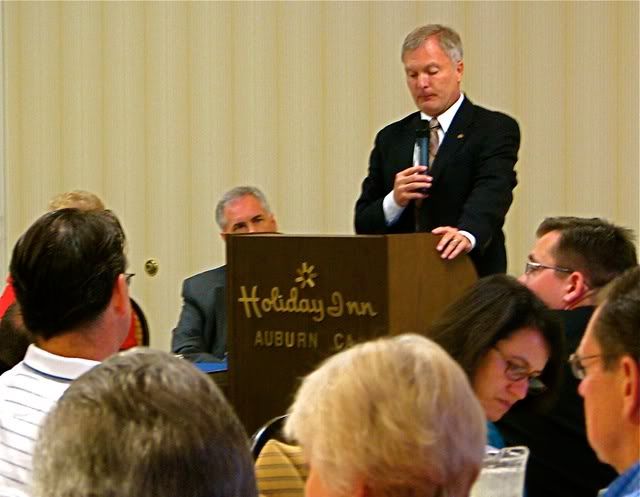 Charlie Brown, answering questions. That's McClintock behind the Holiday Inn Logo.
*
*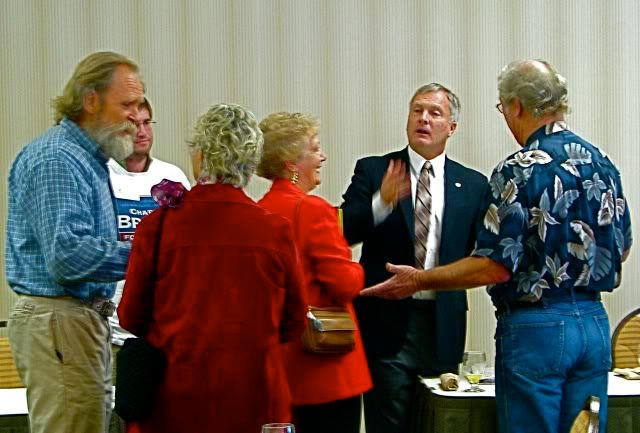 Charlie Brown, facing camera in suit, 2nd fr right, talking to people afterwards. The audience was very receptive to what he had to say. The best line of the morning was Charlie Brown telling McClintock, after he had mentioned Nancy Pelosi dozens of times ad naseum, that Pelosi does not live in this district and if he was interested in running against her, that district was closer to his place.
*
*

Tom McClintock talking to a reporter afterwards. I do not know why my auto focus camera does this whenever I have this one McClintock campaign manager in the photos, but it has happened more than once and in more than one location. It's very strange. They still don't look like happy campers.
*
*
I have text I will be adding to this later, but I wanted to get the pictures up. Tommorrow is the Candidates Forum in Quincy in Plumas County. Saturday is the Town Hall and BBQ in Orangevalle. Please check http://www.charliebrownforcongress.org events for details.
more to come. : )