As we wait for the last chance for Sen. Obama (Next President of the United States, IL) to drub Sen. McCain (Sad Old Fear Monger, AZ) face to face the Dog thought it would be worth while to talk about the state of play electoral college wise. This is the time of the election cycle where every gets to be a little lazy. It is close enough to the finish that the national tracking polls have something to say (mostly they are saying Phhhhht! to Sen. McCain right now) about the direction of the election. Knowing that, everyone from midlevel campaign staff to reporters in the traditional media to barstool (and internet) pundits focus on it and try to make pronouncements. This is not bad in and of itself (the Dog has done so in recent days) but it is never good to go too far while using a measure that in no way reflects the way we elect presidents.
To that end the Dog have been haunting the Pollster.com website and looking things over. As of this morning, Colorado has moved from the "leans Dem" to "strong Dem" for the election. This is on the strength of a new poll that confirms an older poll giving the state and its 9 Electoral College Votes (EV) to Sen. Obama. Florida, and Michigan have also moved into this status. This is makes the total of "strong" states for Sen. Obama 14 with a total EV of 256. Well within striking range of the needed 270, considering that there are seven states in the "leans Dem" category with a total of 64 EV between them.
Even better, there are now seven states that are considered toss ups by the Pollster crew, they are Nevada, North Dakota Missouri, Indiana, West Virginia, Virginia and North Carolina. It is these states that the Dog wants to talk about today. While we have more than enough EV's to win with our strong and leans states, it would be so much better if we could truly crush Sen. McCain and the Repugs pretty little hate machine (with apologies to Nine Inch Nails). Not only would be have clear repudiation of the Repugs policies and tactics, we have a chance to make the coat tails in these states really mean something, as most of them have been reliably Repug for years.
So the question becomes, which of these states are we really that likely to win in? As always it is hard to really know, but if we take a look at the average trend charts we can make a pretty informed guess, with the caveat that the assumption is that there will not be any real shifts of momentum or as the McCain campaign seems obsessed with calling them 'game changers".
First up lets take a look at the Sliver State, Nevada.

Right now the race looks to be 2.1% in favor of Sen. Obama. That is well and good, but it is the angle of the upward trend that makes the Dog think this state will go for the Democrats. Sen. McCain is trending upward as well but it is much flatter raise, which tends to tell the Dog that those who are deciding late in NV are breaking for "That One" over the senior (so very, very senior) Senator from Arizona. Put this one in the Obama column.
Now let's head north to North Dakota, the Peace Garden State (Peace Garden?!? Really?):


Here we can see that while this state has moved into toss up status it is not really all because of gains by Sen. Obama. There is a real cliff that Sen. McCain's support has fallen off of. This is due to one recent poll that showed for the first time in a while that Sen. Obama has a lead there. This is really likely to be an outlier, so until we see more polling to confirm this, we should put this state in the McCain column.
The Show Me State (Missouri) is really taking its time in coming down on a favored candidate:

Sen. Obama has been making slow but steady gains in this state while Sen. McCain has been flat in his support. If you look almost all of the recent polls show Sen. Obama above Sen. McCain's trend line. This is a strong indicator that his closing in the polls is a real one and with three weeks to go, should be enough to pull him ahead. It seems that turn out and resistance to Repug vote suppuration will be the key here, but the Dog is gong to put in the Obama basket, since a state has to go one way or the other on Election Day.
In Indiana, the Hoosier's are teasing us;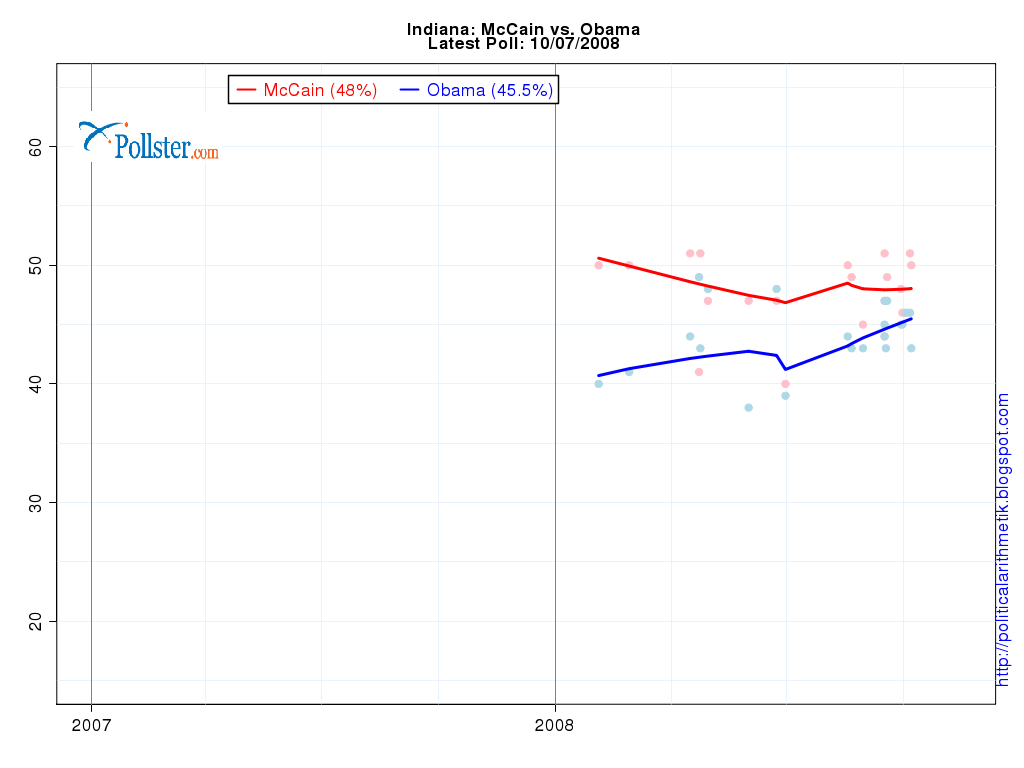 The trend for a long time was upward for both candidates, but Sen. McCain has always lead. His support has leveled, but it is very solid as well. Sen. Obama is making gains, which is why the McCain campaign (and the RNC) have had to spend time and money there to protect a state that should have been theirs in a walk, but it does not look like one that we can reasonably expect to steal. It has done it's job by taking resources from other states, but it is not one that we will win. Put Indiana in the McCain column.
In the home state of the Dog's Dad, West Virginia there have only been a total of 13 polls this cycle, so the chart is weird and hard to predict from.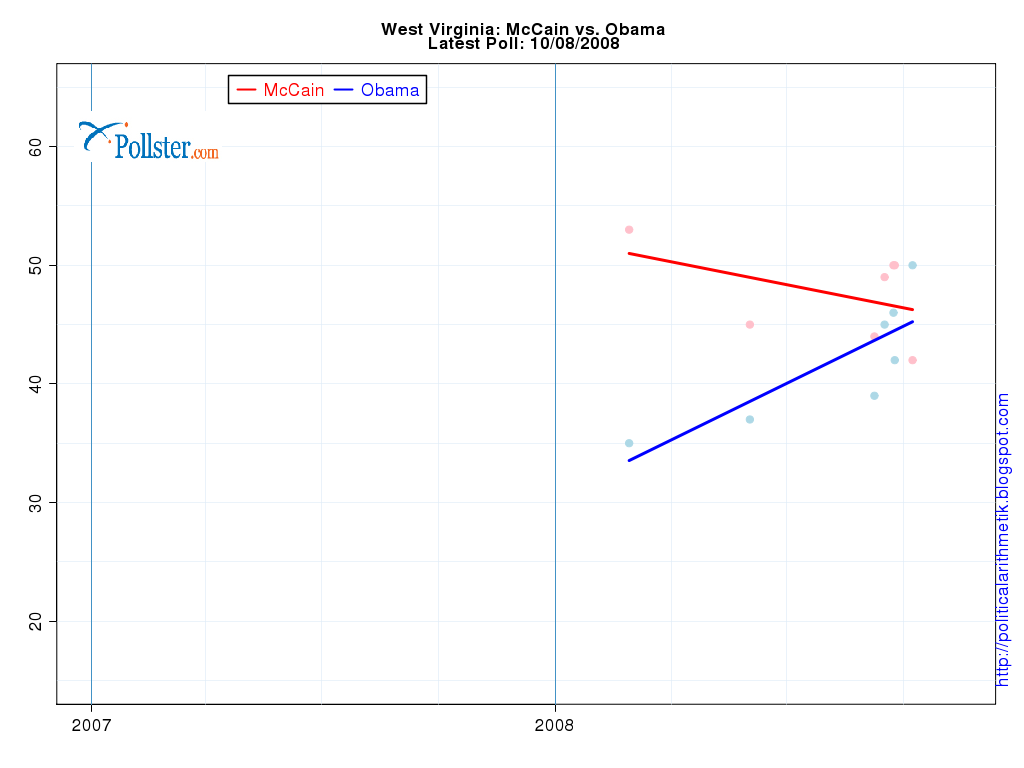 The trends look really good for Sen. Obama. He is on a very steady upward trend with Sen. McCain on a nearly mirror image downward one. As the Dog said above he would really like to have more data for this, but all things being equal, it looks as though the Mountain State will go for Sen. Obama this time.
On to Old Dominion and a really tasty chance to move a truly Red state into our lovely Blue!

Virginia has traded back and forth this campaign cycle mirroring the national trends quite well for most of the campaign. As with the national trend Sen. Obama is not only leading at above 50% but is trending upward with no deflection point in sight. Sen. McCain's has been steady with a slight downward trend (bandwagon effect?) for a couple of weeks. This state might narrow at the very end, but it looks like a win for Sen. Obama to the Dog.
Finally we come to North Carolina, the Tar Heel State.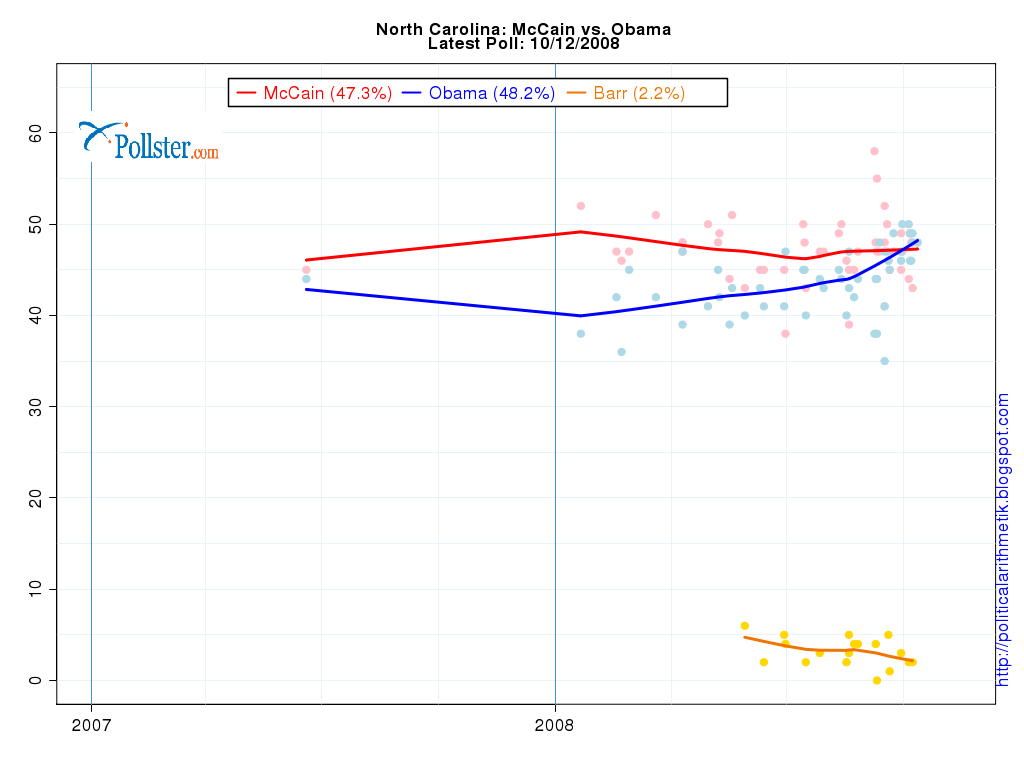 While Sen. Obama is pulling ahead, this one is really too close to call. If you forced a gut check from the Dog, he would have to call it for Sen. McCain. A last minute narrowing would put this one in the Repugs column and while we are setting up for a landslide win, it will not be a landslide in every state. Sad to say, this one will be in the McCain column come Nov. 5th.
So, lets recap, in the toss up states it looks like this:
Sen. Obama - Nevada, Missouri, West Virginia and Virginia with a total of 34 more EV's going to him.
Sen. McCain – North Dakota, Indiana and North Carolina with a total of 19 more EV's going to him.
If all states that lean go to the candidate that they lean towards, and the strong states do the same, that would leave us with a final tally of Sen. Obama 354, Sen. McCain 174. To uses a campaign cliché, that, my friends is a landslide we can believe in!