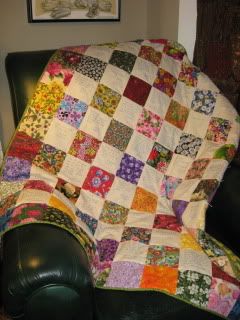 As part of an ongoing series of message-bearing community quilts, a quilt was commissioned for Michelle Caudle – the woman whose husband joined the Army in order to keep her cancer treatments going.
I sent the quilt (titled, "Flowers for Michelle") to the reporter who broke her story, Mark Johnson. As many of you contributed messages for the quilt and to its cost, I thought you would want to know that I just received an email from Mr. Johnson. And here it is:
Dear Sara:

I wanted to let you know that I gave the quilt to Michelle yesterday.
I'd waited a couple of weeks until some of the fuss died down. Yesterday
she had a chemo appointment, but was not well enough to receive the
treatment. I gave the quilt to her and she started reading all of the
kind things that people had written. How and where did you get all of
those comments from?

Michelle was so touched she wept. It was a difficult day, but it really
helped Michelle to see how much she was loved by perfect strangers.

Thank you for your humanity.

Mark
Thank you all for helping with this. It was a good thing we did – a really good thing. Eileen B, thank you for the initial suggestion of making a quilt for Michelle Caudle – it was spot on.
Here is a recent update diary on the quilt projects – I am still collecting messages for one bite at a time – and I'm thinking the next quilt beyond that will be for Timroff.
I welcome all suggestions for future projects. We are on a roll!
UPDATE: I've received some suggestions for quilts -- in addition to one for Timroff.
andsarahtoo (of Chronic Tonic)
sol fed joe
Brubs