Goodness h - grassy - a$$, there are a boatload of GREAT "this day in history" items for today! But first, an image to hopefully bring some smiles in the midst of some sorry times... ;D
Edgar Allan Poe was born in Boston on this date in 1809. And, of course, the greatest rendition of one of Mr. Poe's works EVER came from The Simpsons! :D

Janis Joplin was born in Port Arthur, TX on this date in 1943. I would've really REALLY like to have known her.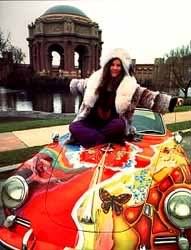 There's so many more events I could cover, but I'll end on one that's actually a "call back" to a comment I made in last night's diary. Tippi Hedren (actress & Melanie Griffith's mom) is 80 today. And, in relation to one of my comments last night...

Let's Countdown sparkin' live hopefully without bat$hit birdies - HA!