This is who you are helping.

This is what you are buying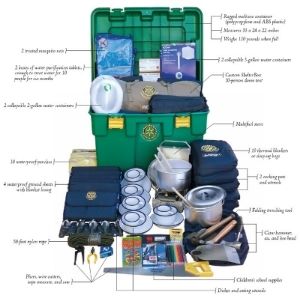 update with video.

ShelterBox USA Embraces New Age of Donations
LAKEWOOD RANCH, FL (January 23, 2010) –
"We are thrilled by the response of social and peer-to-peer fundraising on our behalf. Having someone recommend our organization is one of the highest compliments we can receive," said Miller. "The stories on how various donations are coming into ShelterBox shows the creativeness of people who can make a difference."
Thanks to these creative fundraising opportunities, now it takes less than a second to spread the word about an organization's latest need. One email blast from a supporter of ShelterBox constituted a $23,000 donation from her friends, and more than $10,000 was garnered on a single Twitter comment.
Elsa Cade, a reader of the blog DailyKos.com under the name TexMex, spurred the blogosphere to focus on ShelterBox and their urgent need to send shelter and life-saving equipment to Haiti. The blog has already raised $100,000 to help 1,000 disaster survivors in just a matter of days. "ShelterBox is such an ideal project for what is happening in Haiti. The product is something our readers are willing to invest in because it gives tangible results," Cade said. "People can visualize that a simple $100 donation can house one person for up to a year."

Since its inception in 2000, ShelterBox has provided shelter and dignity following over 100 disasters in more than 60 countries, bringing the organization to the forefront of international disaster relief. ShelterBox instantly responds to earthquake, volcano, flood, hurricane, cyclone, tsunami or conflict by delivering boxes of aid. In many cases "ShelterBoxes" have made the difference between life and death.

For more information please contact Veronica Brandon Miller at 941-907-6036 or by email at vmiller@shelterboxusa.org.
See! All you hard work and hard earned moeny has been very important.
Thank you!
It is not light but these two university students could get it upstairs to the meeting and then back to their car.

Thank you