I got a bunch of pictures to show you guys. I didn't take them, a fellow blogger directed me to the Flicker site where these photos were posted by "Fibonacci Blue." (A link to the original site appears at the end of this post--it's really worth looking at because there's video there, too.)
This was a "tea party" event in St. Paul, Minnesota last Saturday (March 13, 2010) featuring crowd favorite Michele Bachmann as a highlight. (She also rounded up folks to attend via email invites.) Eric Kleefeld of Talking Points Memo wrote a spectacular analysis of Bachmann's speech--pointing out that she was telling the crowd that the health care reforms would not be law even if they were passed. (Link to that Kleefeld piece below, too.)
By their signs ye shall know them. Yes, Obama will kill our grandmas:
(MORE PICTURES AND LINKS BELOW THE JUMP:)
As I regularly explain here, there's crossover between the evangelical conservative political movement and the tea party movement (the New York Times doesn't want to hear that, though:)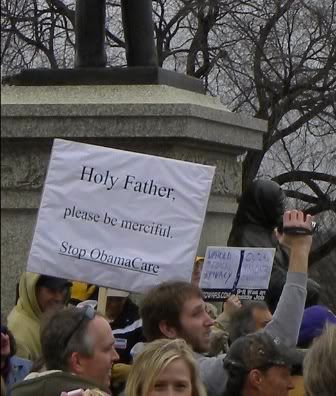 Obama, Pelosi and Reid are communists, in the eyes of these voters:
Obama's a tyrant, Bachmann made that charge publicly on the Hannity show: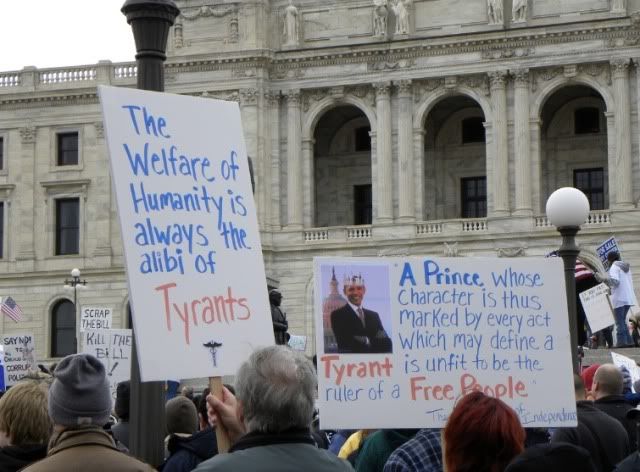 All of the above photos by Fibonacci Blue. Yeah, I wrote for and received permission to print them here. Thanks to Avidor for directing me to Fibonacci Blue's photos. Link to Fibonacci Blue's Flicker presentation:
http://www.flickr.com/...
I can post some more of these in the comment thread. Many alarming claims, a demonstration by an estimated 2000 Minnesotans who operate on this basis every day.
And here is the link to the Talking Memo Piece on how attorney and congresswoman Bachmann advised the crowd that they don't have to obey a law, just because it becomes a law:

"But mark my words, the American people aren't gonna take this lying down," Bachmann later said. "We aren't gonna play their game, we're not gonna pay their taxes. They want us to pay for this? Because we don't have to. We don't have to. We don't have to follow a bill that isn't law. That's not the American way, and that's not what we're going to do."
http://tpmdc.talkingpointsmemo.com/...
ACTION LINK: Here's the website of Tarryl Clark, Bachmann's liberal opponent in this year's race. Do what you can:
http://www.tarrylclark.com/