Also at The Albany Project
Albany, NY-area teabaggers have been harassing Rep. Scott Murphy, NY-20, for months about the health care reform legislation inching through Congress.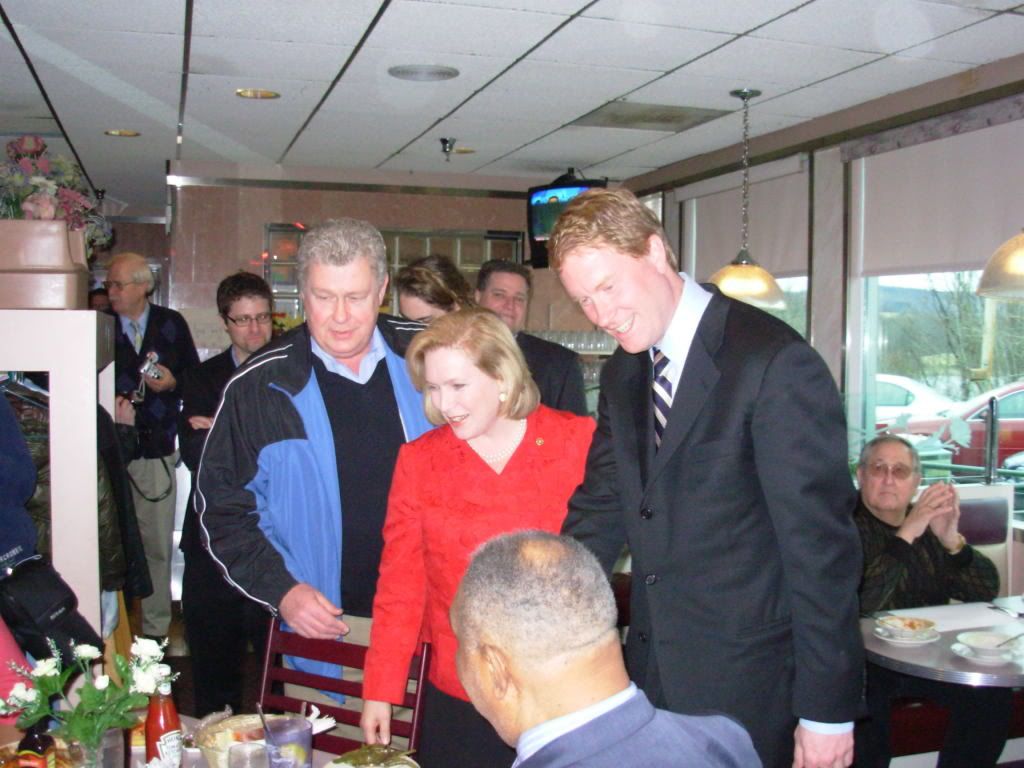 So when Murphy announced yesterday that he would vote for the bill, teabaggers went nuts in the comments at the Times Union's Capital Confidential blog.
Most of the teabagger comments (of which more below) were weirdly triumphant, because they are dead certain that Murphy signed his political death warrant.
It won't surprise anyone here that right-wingers who consider Glenn Beck a political prophet are totally deluded about Murphy's re-election prospects.
Why, below.
Murphy narrowly won the NY-20 seat in a March 2009 special election to fill the vacancy created by Kirsten Gillibrand's appointment to the Senate.
Like many special elections these days, it became a national race, with money pouring in from all over for negative ads. NY-20 in November will not be such a special contest.
The local teabaggers hounded Murphy about health care at every opportunity (examples here and here), but he handled them well.
And I'm sure he came to understand that the teabaggers are fringe Republicans who would never vote for him, no matter what.
These verbatim comments at CapCon today underscore that basic political fact:

THIS BILL IS LIKE A FORM OF CANCER. IT WILL EAT AWAY AT THE U.S. CITIZENS,COUNTRY,CONSTITUTION,POLITICANS AND RUIN HEALTH CARE FOR THOSE OF US WHO HAVE A JOB, AND PAY IN TO THE SYSTEM, TO GET HEALTH COVERAGE. I SUGGEST THAT MR. MURPHY LOOK FOR A NEW JOB, SOMETHING WHERE HE DOESN'T HAVE TO LISTEN TO PEOPLE, BECAUSE WE SEE HE'S VERY BAD AT THAT!!!!!

I actually thought Mr. Murphy might do the right thing. But no, instead he caves to Nancy, and spits out some Democrat talking point drivel as justification. We are not that stupid Mr. Murphy. Start looking for a job. You are a disgrace.

Scott Murphy should read the consition. Its probably a shorter read than the health care bill – taxation without representation should be a thing of the past.

Scott Murphy is a worthless weasle who does not reflect the views of his constituents. Bye-bye in November, Jerk.

Murphy should have held out for an Air Force One plane, like Kucinich. He sold his vote cheap – only a half hour Kool-Aid session with the Blessed Messiah.
The local teabaggers are, like teabaggers everywhere, convinced by Fox News and Republican radio propaganda that they represent the notional new conservative majority, when in reality they are a minority faction in a minority party.
The local teabaggers will find that out in the September GOP NY-20 primary, when one of their own loses to a GOP establishment candidate who is unknown and has never run for any office before.
Though NY-20 is the most Republican-by-registration district in the state, Charlie Cook rates it as Likely Dem this year.
Cook's rating no doubt reflects that Murphy has followed the Gillibrand playbook -- good constituent service, lots of public appearances on weekends and recesses, a voting record that supports popular Democratic programs, bringing home some jobs-related bacon, and a solid fund-raising operation.
Murphy's support of health care reform will certainly help him win in November, and cause the local teabaggers' heads to explode some more on Nov. 3.