I have never been in the UK through the fall as it becomes colder and colder and the days become shorter and shorter. The latest I had stayed before was the end of September, and I had visited for a day at Christmastime, on my way to somewhere else (generally in the Middle East). It gets dark early and, while I knew it would be the case, it is still shocking that by 3 it is clearly getting toward evening, particularly when the sky is cloudy (as it usually is). My afternoon walks, which used to be at 5 or even later, now have to start about 2, if I want to take advantage of a sunny day.
Yesterday was sunny, but cold (high in the mid 30s), and I took a leisurely walk from where I am staying down to the Saatchi Gallery near Sloane Square.
I walked past beautiful streets and racks and racks of the "Boris bikes," ones that are available for hire every two or three blocks in this photogenic part of the city.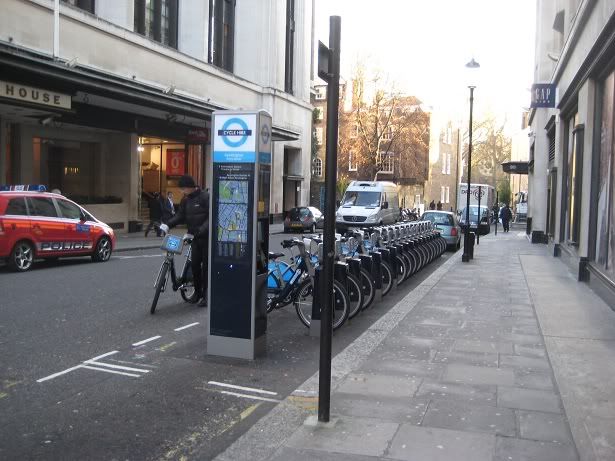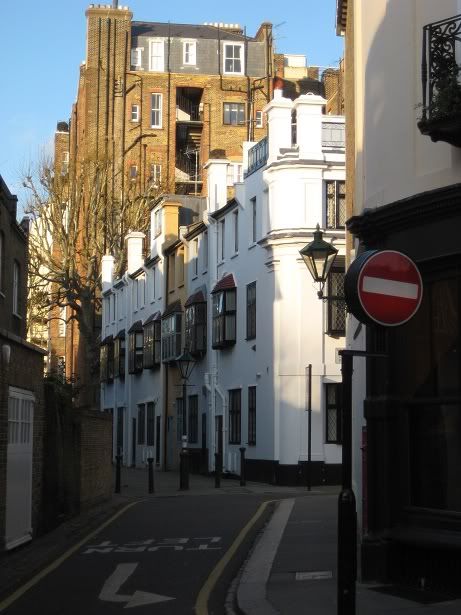 I enjoy walking in the small town I live in in the States. But I must say it is a bit dull compared to this part of the world. I have less than a month to go here and I have been looking and counting up the things that will cause culture shock when I go home. For example, there are no buildings taller than six storeys at home, and there is only one of those -- a dormitory. The hospital is perhaps that tall, but I think it only has four storeys above ground. Here, however, everything is tall. Or at least there is one tall building among the shorter ones on almost every block. And then, when you step back a mile or three or more and look at the city, everything is remarkably tall. Those days I feel quite like a small town girl. With the small being both vertical and horizontal spreads.
This image is from the gardens of the Horniman Museum in Lewisham, on the south side of the Thames. The building beautifully spotlit in the noontime sun is, of course, Christopher Wren's St. Paul's Cathedral.
And this is the cap of the Victoria and Albert Museum over the roofs of South Kensington, from the tube station a couple of blocks south of the V&A. I love the fact that it is a crown, the building is wearing a crown: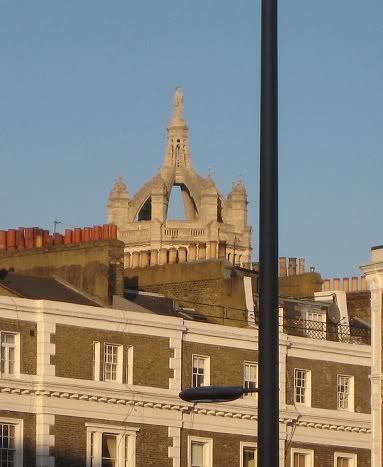 On my way south I walked past the home of T.S. Eliot. I love this neighborhood.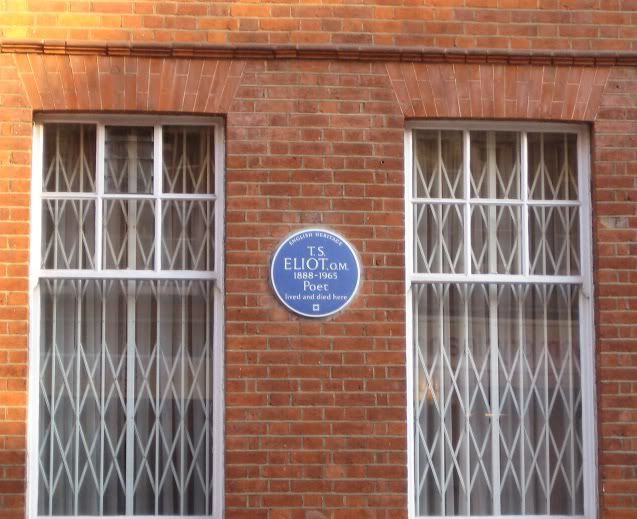 I was on my way to the Saatchi Gallery, which has the second half of its exhibit "Newspeak: British Art Now" on right now. I got there about 3, just as the sun was beginning to show long shadows. But taking advantage of the sunny day were a group of school children playing soccer (football) beside the giant lit-up Christmas balls in the park before the museum: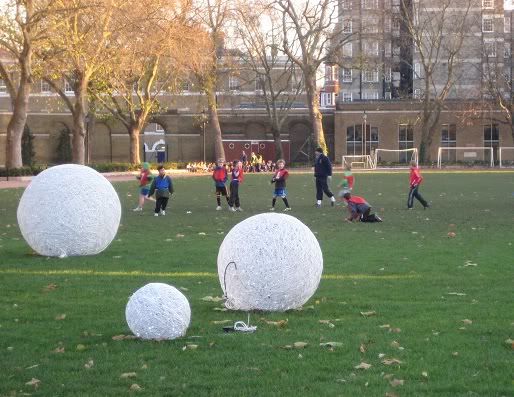 I did not really like most of the first half of the show, but there were fewer really pretentious works and some that were really intriguing. I was not the only person who found herself enraptured by the piece "Swarm" by Tessa Farmer.
It was a large aquarium filled with dessicated bugs and tiny figures made from insect parts and bits of other organic materials. The tiny fairy creatures ride on the back of bugs and are less than a centimeter tall. I was fascinated. And clearly others were as well.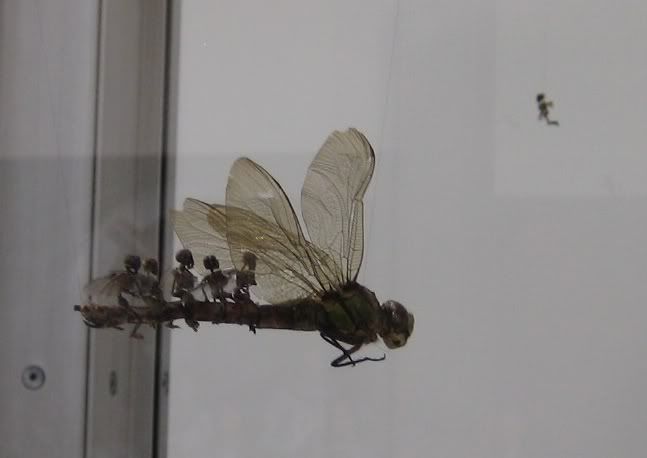 Other pieces were not quite as riveting -- just were odd, or tacky.
This one was made of latex and cheesecloth, and was recently enough made that it smelled like a newly-blown up balloon. This is Juliana Cerqueira Leite's "Oh":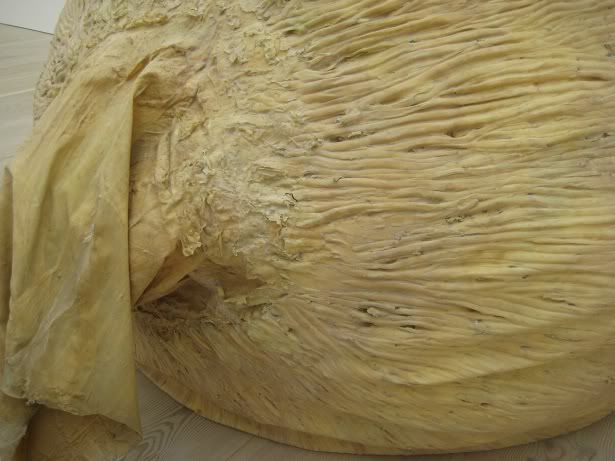 The sunset was beautiful from the museum, and when I left I walked to Sloane Square to take the tube home:
The thing I am finding myself absolutely fascinated by is the elaborate holiday decorations in the window of the shops. They change with some regularity, and I take lots of pictures, hoping they will inspire me in the future when it comes time for decorating my table for my annual Christmas party.
I think I am more likely to use the second image as an inspiration. It is the Christmas display at Fortnam and Mason, my favourite store (Liberty's runs a close second, of course). I love the richness, the combination of silver and dried fruits, sweetmeats, alcohol-soaked cakes, and chocolates.
I think probably I will decorate my Christmas table next year with purple cloths and peacock feathers, and we can pretend as if we are in a late 19th century formal dining room. One must have things to aspire to. This will be what the crackers will look like: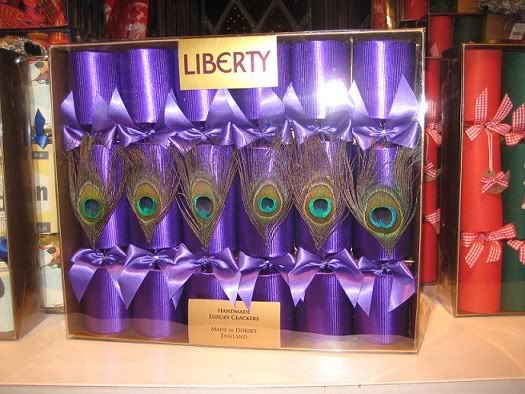 Of course, as we are further south, and not nearly in as interesting a location, we won't be able to wander out at 5 in the evening and walk across the Millenium Bridge to come home or go somewhere even more exciting.